Gambling is very popular all over the world, and so in New Zealand. Although there are many online casinos available to NZ players, all lovers of gambling know that feeling when you sit in the casino, sip a drink and play your favorite casino game among the other players.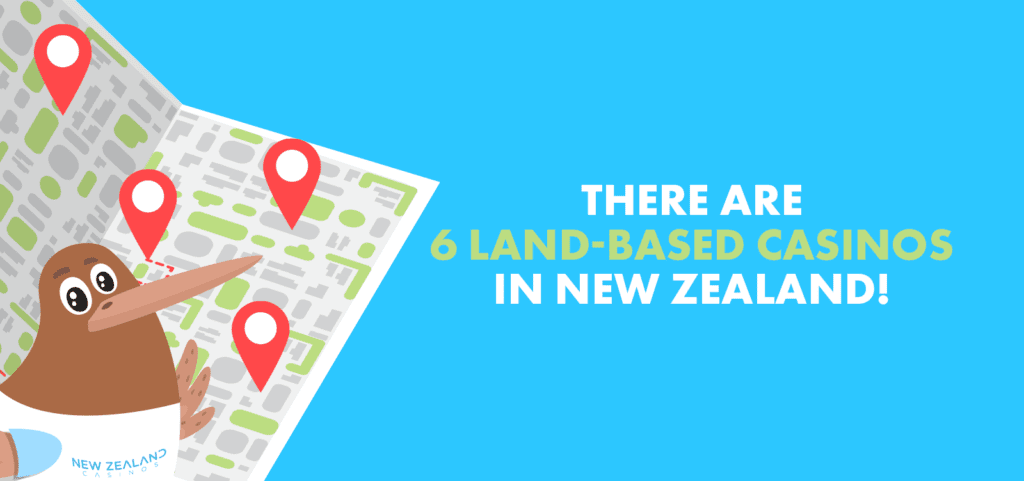 Casinos give visitors a special feeling with their exclusive interiors, cozy staff, luxurious restaurants & bars.
There is also great entertainment programs, and elegant hotel rooms.
Land-based casinos are defined as brick and mortar casinos that are located in objects that we can visit physically and play for real money.
Land-based casinos offer their players great entertainment with the most popular casino games such as Poker, Roulette, Blackjack, Pokies and many more.
If you have decided on an adventure and want to visit the land-based casino in New Zealand, on this page you can find information about the 6 largest and most exclusive casinos in New Zealand.
New: Skycity casino online launched by Skycity in Auckland!
2250+ games

SkyShop online

Online Club loyalty program

What's on

ALL BRICK-AND-MORTAR CASINOS IN NZ

New Zealand has 6 land-based casinos, each in a different city. 

Here are all six state-owned land-based casinos in NZ:

SkyCity Hamilton casino

SkyCity Hamilton is a casino located in the beautiful city of Hamilton. The casino is really an attraction for locals and tourists who visit this city.

The SkyCity Hamilton Casino is truly an incredible casino that offered its visitors a selection of the most popular casino games, a fantastic offer of live entertainment, great food, and a bar.

The casino owns 23 table games of the most popular titles such as poker, baccarat, blackjack roulette, and beyond. In addition, there is a range of over 330 gaming machines.

The staff is friendly, kind and always at the service. The casino is open 24/7 every day of the year.

More info

Opening date: 2000
Address: 346 Victoria Street, PO Box 954, Hamilton, New Zealand
Telephone contact: +64 7 834 4900
Email: hamilton@skycitycommunitytrust.org.nz
Age limit for entry: 20+
SkyCity Hamilton casino opening hours: 24/7

SkyCity Wharf casino

In 2000, SkyCity purchased the license and opened a new casino called SkyCity Wharf that really attracts New Zealanders and tourists in the Queenstown city.

Wharf casino offers its visitors 6 gaming tables with the casino most popular games. In addition to table games casino offers over 60 machine games.

Wharf Casino is characterized as a 'boutique' casino and offers its players a great gaming experience. On the southern island of SkyCity Wharf, gambling enthusiasts offer a great experience and a glamorous atmosphere in which they will definitely enjoy.

The casino is not huge but offers an interesting experience, and the staff is very friendly.

More info

Opening date: 2000
Address: Steamer Wharf, 88 Beach Street, Queenstown 9300, New Zealand
Telephone contact: 03 441 1495
Email: info@skycityqueenstown.co.nz
Age limit for entry: 20+
SkyCity Wharf casino opening hours: Every day from 4PM

SkyCity Queenstown casino

One of the best gaming houses in New Zealand is definitely SkyCity Queenstown. The casino was opened in 2000 and was the fourth casino in New Zealand. SkyCity owns two casinos in Queenstown.

SKYCITY Queenstown got eight gaming tables, plus four gaming tables in the VIP room and 86 gaming machines.

SkyCity Queenstown got varieties of table games just to make sure you do not run out of options like Blackjack, Roulette, Midi-Baccarat and Caribbean Stud Poker.

For the new players, there is an awesome team that will help you get familiar with our games. There are also brochures on 'Learn-to Play' available on the main Casino floor. There is also a lot of events that this casino sponsor.

More info

Opening date: 2000
Address: 16-24 Beach Street, Queenstown 9300, New Zealand
Telephone contact: 03 441 0400
Email: info@skycityqueenstown.co.nz
Age limit for entry: 20+
Casino SkyCity Queenstown opening hours: Every day 12noon – 4am

Grand Casino New Zealand

Grand Casino in Dunedin is the jewel of New Zealand if we talk about land-based casinos. The casino was opened in 1999 and is located in the city centre.

The Grand Casino offers many popular board games and over 180 slot machine games. Glamorous and super service are the characteristics of this casino.

The casino is an attraction for many tourists because it is located in the area of many hotels, restaurants, and bars.

The casino itself offers Room 118 Lounge & Tapas Bar. There you can be sure to drink a drink or some other drink. In addition, there is also the Grand Bar and Cafe.

There you can also be awake, and go over from something in their marvellous cuisine. Also, the casino offers many privileges to its visitors, and we can say that every visitor will experience a great experience when visiting the New Zealand Grand Casino.

More info

Opening date: 1999
Address: 118 High Street, Dunedin New Zealand
Telephone contact: 0800 4770 4545
Email: enquiries@dunedincasino.co.nz
Age limit for entry: 20+
Dunedin casino opening hours:
Every day 11AM – 3AM (Christmas Day and Good Friday closed)

Christchurch Casino

Christchurch Casino is a land-based casino in Christchurch, located on the southern island of New Zealand. The Christchurch Casino is owned by SkyCity Entertainment Group and is located in the city centre. Christchurch Casino offers its visitors 500 pokies machine games and 45 table games.

The most popular casino games such as Poker, Roulette, Blackjack, and others are available to players in different variants. The casino is open for visitors 7 days a week.

The casino size is about 4000 square meters with a luxurious interior. In addition to the games hall, the casino has three restaurants and two bars where you can relax, have lunch or have a drink. Check more about this casino in our review.

More info

Opening date: 1994
Address: 30 Victoria Street Christchurch, New Zealand
Telephone contact: 03 365 9999
Email: generalenq@christchurchcasino.co.nz
Age limit for entry: 20+
Christchurch casino opening hours:
From Monday till Thursday: 11AM – 3AM
Friday: 11AM, open all night
Saturday: 24 hours
Sunday: 24 hours, closes 3AM Monday

SkyCity Auckland casino

SkyCity Auckland is the largest land-based casino in New Zealand. It is located in the city centre of the second largest city of New Zealand Auckland and is the only casino in the city.

The casino is part of the Sky Tower facility, a casino is the main event but the visitors will be able to enjoy many good entertainment offers. Visitors can go to the theatre, attend the convention centre, numerous restaurants, 12 bars, and two hotels.

The whole complex of the facility is in a luxurious and glamorous style. The casino itself has over 2000 real money slot games, over 150 table games with games such as Poker, Blackjack, Roulette, and others.

The Sky City complex is a real attraction for all casino enthusiasts but for the other benefits offered by this casino. The casino is opened 24/7 every day in the year. Find out more about this casino in our review.

More info

Opening date: 1996
Address: Corner Victoria and Federal Streets
Telephone contact: 0800 759 2489
Email: enquiries@skycity.co.nz
Age limit for entry: 20+
SkyCity Auckland casino opening hours: 24/7

History of NZ land-based casino

Brick and mortar casinos are in most cases buildings that offer their visitors a diverse offer of games of chance.

These buildings or facilities are arranged to look luxurious and attractive to visitors and are usually in conjunction with hotels, restaurants, discos, luxury cruise ships, and other tourist attractions.

Of course, not all casinos are luxurious but we must admit that they give us a special feeling when to visit them.

As for New Zealand, the first gambling beginnings began in the 18th century. then gambling in New Zealand was banned.

The history of gambling in New Zealand is not as interesting and picturesque as we did in Hollywood movies, but it had defects in its rise and fall. In 1908, betting on horse racing was permitted, but the state prohibited it for a long time.

1994 in New Zealand welcomed the first land-based casino Christchurch Casino.

In the next nine years, new luxury casinos have opened in New Zealand, which offers great entertainment and the environment, whether you are a tourist or a local citizen.

Location of all New Zealand land-based casinos

New Zealand is a beautiful country that offers its citizens and tourists plenty to see and visit. One of these offers is, of course, a land-based casino.

Gambling lovers who live or have visited New Zealand have the opportunity to enjoy 6 really great land-based casinos.

They are located in five cities. Cities, where you can feel adrenaline playing your favourite game, are Christchurch, Auckland, Hamilton, Grand Casino, and Queenstown.

In addition to the service of the most popular casino games, many casinos offer numerous entertaining events, great restaurants, and bars.

Of course, some of these casinos are part of a luxury hotel that will provide all-inclusive treatment for visitors.

Each casino offers private parking to its visitors, and besides, casino staff are friendly and always at your service. If you want to see the exact locations below the text we put a google map and tagged these 6 great casinos.

5 best tips for land-based casino players

The Kiwi who come to the casino needs a few tips so that they can win the most possible cash in all these games. The games are fun, but everyone wants to walk away with more money.

The only way to make that possible is to give the player tips that make the casino a profitable adventure:

Choose games that are easy to understand
Be small especially when starting out
Play slot machines with the smallest currency value
The games stop when the player wants to stop.
The casino has a lot of food and drink, but it is better to gamble with a clear head

Benefits of land-based casinos

We compared the difference between land casinos and online casinos, both leaving good and bad effects on players and it's up to you to decide which one you like more. But if we had to extract the benefits given to us by the real-life casino they would be these three:

The thing that highlights a real-life casino is definitely a special feeling when staying in the casino and the atmosphere of the casino itself. This feeling is really special and no online casino and even a live online casino can provide.
Besides great atmosphere, there are services that come along with land-based casinos such as luxury hotels, restaurants, bars and many entertainment events in which in addition to gambling, you can enjoy and feel special.
With all this, when visiting the story we have the opportunity to socialize and meet other people when playing. This effect is different because, since the beginning of casinos, people have had the opportunity to meet other people, whether they are other players or dealers.

Land-based casino or online casino?

Land-based casinos give their visitors a special experience and feeling because they have their own special charm.

These are places where in the company of other people we have the opportunity to experience a special atmosphere and unforgettable fun and adrenaline.

We should not forget that apart from fun and relaxation, there is a chance to double our money.

Online casinos, on the other hand, give their players a completely different experience and feeling, because at anytime and anywhere they can start playing their favorite online casino games.

Today, online casinos can be accessed via their mobile devices or computers and break the monotony of a boring day or evening with the exciting online casino games.

Good & bad sides of casino gambling

Gambling in a land-based casino is a way of entertainment when we use money as a betting tool. Playing in a real money casino is definitely an exciting and fun experience.

The casino offers good effects to its players, but unfortunately, there is a bad side.

Excessive and uncontrolled gambling is risky, especially if you exceed your budget. As there are many casino lovers, and of course, every player needs to use the good side of the casino and always plays responsibly.

In many countries, gambling is also prohibited and casinos, especially in the countries of the Middle East. But in the rest of the world, gambling and casinos are a legitimate branch in which over 1 billion people try their luck at every year.

If you decide to try your luck on one of the popular casino games, you will have two outcomes. A good outcome is a chance we have to make two, three or even five times more than we have invested, which is relatively possible.

And the other outcome would be to lose all the money. But if we first start the game of entertainment and adrenaline, then the casino definitely does not have a bad side.

If the casino fills us and makes us entertained, what actually is there is bad if we spend a certain amount on the betting casino.

For example, the money would be spent on shopping or other things.

The casino is a unique way of entertainment for people who go with the intention of having fun.

But…what about sports betting in New Zealand? Most of Kiwi`s prefer to bet online throw TAB.

Frequently asked questions?

How many local casinos does New Zealand have?

New Zeland has 6 local land based casinos. All 6 are reviewed in this article.

What are the opening hours during Covid-19?

All reviews are updated with the most important info during Covid-19. Click on a review and you can se opening hours during Covid-19 together with evrything else that is important to know right now.

How old do you have to be to play at landbased casinos in NZ?

You have to be at least 20 years. To play online you only need to be 18.