The number of online casinos has increased hugely over the years. As it stands, while the majority are safe and reliable, there are a few illegitimate casinos that scam players for their money.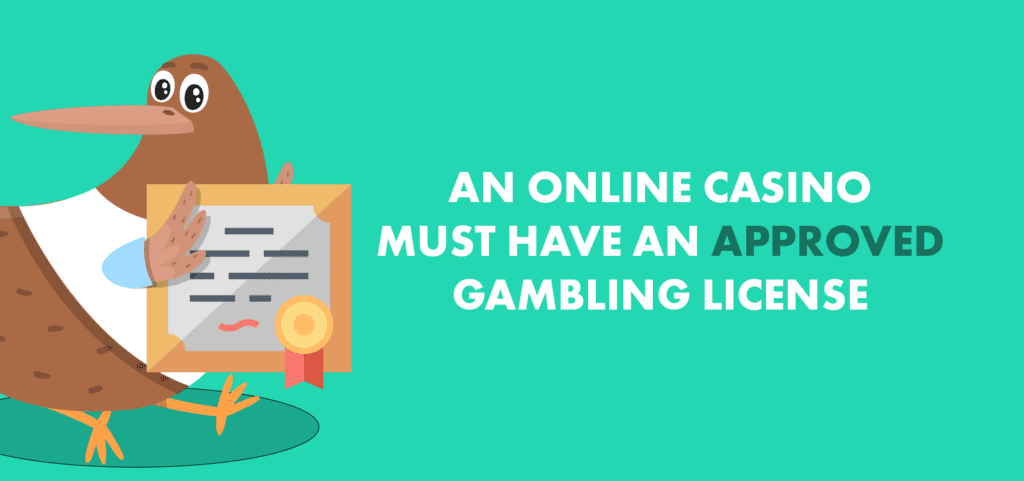 You need to make sure that the license any casino you want to join holds is from a reputable jurisdiction in the online gambling industry. In that case, you can rest assured that you will not fall for fraudulent online casino sites.
What is the most secure license for NZ players?
As a player in New Zealand, you need to note that there is no commission or authority that offers online casinos licenses.
As a result, if you want to play online, you need to ensure that you join a casino with the most secure license for NZ players.
As it stands, casinos with casino licenses from the UK Gambling Commission have to follow the most stringent regulations.
However, you can also join casinos with licenses from other regulatory bodies, such as those listed below:
Our casino license guide
Casino licenses are offered by different authorities and regions around the world. Before a casino can begin its operation it needs to obtain a proper license from any of these jurisdictions.
For brick and mortar casinos, they must get their license from the state or country where they are planning to operate. Online casinos, on the other hand, can operate without a licence since there are no restrictions in cyberspace. All they need is a domain name, hosting server and a game engine.
Even though online casinos can operate without a license, obtaining a license helps to improve their trustworthiness in the eyes of their clients. In that case, they can get their license from popular universal authorities like the Government of Curacao, Malta Gaming Authority, Isle of Man and others.
Aside from that, some countries restrict their citizens from playing at casinos without proper licenses from a government-recognized commission. This is to ensure that players in that country are protected from scams and sub-standard online casinos.
There are many different licensing authorities
Casinos that do not follow the required regulations risk getting their licenses revoked or suspended.
---
What is the license for?
The license is meant to ensure that the casino works in compliance with the laws set by the jurisdiction within which they want to operate. In addition to that, the casino license will allow the casino to attract players since it shows that they are reputable.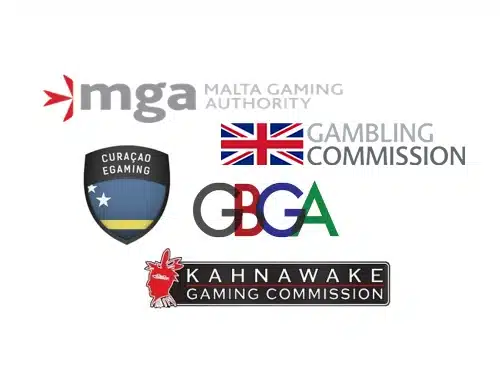 Besides that, it shows players that they are likely to be safe from scams and that their financial transactions are protected from hackers and unwanted third-party sites. It also shows that the casino is likely to follow fair gaming practices.
It does not end there, as operators need to obtain an online casino license if they would like to increase players' trust as well as loyalty, which comes with trust.
The reason is that any player that gambles at a fully licensed casino will be sure that each spin or card dealt in the various virtual table games is determined by a proper RNG system.
A reputable and stringent licensing authority will ensure that there is no room for software manipulation.
Does the license protect me?
When you choose to play at a properly licensed casino, you will be protected because there are rules and regulations set by the licensing authorities.
These regulations are mostly set to protect players from fraudulent casinos and online gambling sites.
As a result of that, players are advised to only join properly regulated and licensed casinos, which will also have protocols in place for dealing with complaints. In the list below, you will find some of the top regulations set by popular authorities.
Casinos need to provide RNG certified games only
Casinos must ensure that players provide their personal information for verification and KYC
Payment methods need to be verified and provided by reputable financial institutions.
Players funds must be separated from business or operating funds
Casinos must not offer players misleading advertisements or promotions
Ideally, you need to make sure the casino you want to join is regulated by an authority that demands compliance with all of their listed regulations.
As a result, you can rest assured that you will be protected from fraud and there will be a clear route for resolving complaints.
In addition to that, you can trust the casino you choose to join since they risk losing their license if there are too many complaints from players.
What licenses are there?
As it stands, there are many different licenses available. As we have mentioned earlier, a casino should get a license from the jurisdiction they want to operate in. Or, they can get a license from a licensing authority that allows its use in many regions.
As it stands, many new casinos today hold a license from the Government of Curacao. In some cases, a casino can have more than one license, especially if they want to give access to players from different countries and regions.
As a player, you need to ensure that before you go ahead and join an online casino, you check that the casino holds a license that your government recognizes. That way, you can be sure that you will not have any problems verifying your account at the casino.
This is because your government issued ID card will work perfectly. In addition to that, you can easily fund your account as well as withdraw to your local bank account with no stress.
Different types of licenses
Aside from the Government of Curacao, there are several other top licensing authorities that regulate online casinos across the world.
The following are among the top jurisdictions and regulatory bodies: the UK Gambling Commission (UKGC) and the Malta Gaming Authority (MGA).
Some of the less popular authorities include Spelinspektoinen (SGA), Alderney, Isle of Man, and Gibraltar, to name a few.
At casinos holding a license from any of these jurisdictions, you are guaranteed a safer online gambling experience.
Summary and conclusion
Before you choose to join an online casino, you need to ensure that you take a look at the casino's license.
This is to ensure that you do not fall for fraudulent and sub-standard casinos.
You need to check if the casino holds a license from any of the jurisdictions that we have mentioned in this article.
Once you find a casino with proper licenses, you can then go on to create an account to begin your online gambling journey.
FAQ
How can I see if an online casino is licensed?

All regulated and licensed online casinos must display their credentials, including valid licenses issued by the regulatory body on their website.

Players can find these credentials in the footer of the casino website.

To find a license, scroll down to the bottom of the casino page and you should see a logo, stamp, a crest or a name of a regulatory body, license number, company info and address.

We have highlighted in yellow the credentials that reveal information about the casino license, owner and company address. Example taken from online casino Vegasoo footer page.

If you can not find casino license, head to the offical website of regulatory bodies such as MGA or UKGC, and trough a search page find a particular casino brand.
Can i trust overseas reguatory bodies?

These regulatory bodies are approved by the governments of the countries in which they are based.

They are completely legal and credible, such as the Department of Internal Affairs for gambling in New Zealand.

Therefore, NZ customers can completely believe in the correctness and legality of these regulatory bodies.
What is the most reliable casino license?

The reliability of the regulatory body (license) is reflected in the strength of the requirements that a particular casino brand must meet in order to be licensed by the same.

With this in mind, the most rigid regulatory bodies include Malta Gaming Authority and the United Kingdom Gambling Comission.

All online casinos licensed by these two regulatory bodies must meet vast requirements in field of security and safety, transparency and fairness of games, support options, and more.

Other less quality but reliable regulatory bodies include Curacao Gaming Authority, Gibraltar Licensing Authority, and Alderney Gambling Control Commission.

There are plenty of other stringent and reliable casino regulatory bodies. Still, here we have just mentioned the ones that are common at New Zealand online casinos.