Casino Auckland (Sky City) is a land-based casino in Auckland, New Zealand. In today's fast-paced world, there seems to be less time for adults to do anything but keep up with the hustle and bustle of modern life.
Making meeting appointments, catching that 7:00 AM train, grinding in the office, it seems we are either commuting or working.
Everyone needs and deserves a little fun and excitement, personal time to unwind, enjoy the more excellent things in life and have fun.
Allow yourself to let loose and satisfy the urge for excitement and joy, in the Skycity online casino, and experience that feeling of being a little kid again in beautiful Auckland.
What's on
About SkyCity casino Auckland
SkyCity casino Auckland is a state-of-the-art casino and is housed in one of the unique structures today for gambling. At the top of 328-meter Sky tower, skycity casino Auckland offers the adrenaline junky the perfect playground to experience what no other place in the world can offer.
At Sky City casino Auckland, the gamer can satisfy any gaming thirst imaginable, providing over 2000 game machines, and 150 Table Games elegantly set in a comfortable and gratifying setting. SkyCity casino Auckland is indeed an experience of a lifetime.
Skycity casino dress code
Before visiting, players should know that there are the dress standards or the dress code in beautiful Skycity casino.
Here we have listed all Skycity casino dress code that must be obeyed in order to be able to enter this casino, so the dress code in Skycity casino says that including are not permitted:
Tops without sleeves
Damaged or Torn clothing
Trade or safety clothing (Safety Vests)
From 9pm to 5am Flip flops or Jandals
Dirty and damaged shoes and clothes
Gang colours patches or any other insignia
Any types of Sunglasses ( allowed only inside of Poker Zone)
Caps or Hats ( allowed only for medical reasons and religious or inside of Poker Zone)
Skycity casino age
Age restriction in Sky City casino is very strict and it must be obeyed or your entrance ca be illegal. In order to enter the Skycity Auckland casino Gaming Areas player must be 20(twenty) years or older.
If you are younger type and you are 20 years or older, in any case, bring your id document so you can avoid any unnecessary check-ups. during Skycity casino age restriction.
Games at Skycity casino Auckland
The wide range of Table Games available at this land-based casino, SkyCity casino Auckland is sure to satisfy the casual gamer, to the middle of road table game player, to the elite. If you crave the Table Game classics like:
SkyCity Auckland is a perfect place. SkyCity casino Auckland includes as part of their impressive selection of table games Rapid Roulette, EZ Baccarat, and Player Select Black Jack.
If it's the luck of roll of the dice you love, SkyCity Auckland has Tai Sai, and Snake Eyes to choose from.
If you like the fast-paced Table Games, the casino has Rapid Roulette, The Money Wheel and Viva Roulette. The casino also offers Table Gaming exclusively for the VIP members located in the luxurious EIGHT room. EIGHT takes the Table Game experience to new heights.
For the Baccarat enthusiast, the casino has its unique Baccarat room, which includes more than 20 Baccarat Table games.
Gaming rewards & casino bonuses
SkyCity casino Auckland has offered great bonuses and loyalty programs for visitors. So with this offer, every player must be satisfied and entertained in full. This offers includes
Return Play
The Kiwi gamer can take full advantage of the awesome rewards and points from playing at the casino. There is the Return Play, whereby Kiwis who are Premier Reward members can earn points from Table Games, restaurants dining and Gaming Machines.
Power Winners
The Premier Reward members earn $ 1 in gaming credits for every 100 Premier points. The casino's Power Winners offers ways for the visiting Kiwi to win Premier Bonus Dollars.
Bonus Play
With the casino's Bonus Play, each Premier member can win reward points and premier bonus dollars.
Celebration Bonus
Is one of the more exciting bonuses offered, because it's an unannounced invitation to members to receive additional Premier Bonus Dollars
Free Play
Offered exclusively to Premier Reward members to take advantage if free play days. Free play days are days when gaming is 100% free!
Players club and bonuses
The casino Skycity in Auckland offers loads of rewards and bonuses for Premier Rewards Platinum and the casino's VIP members. Exclusive to VIP members are private rooms for Table Games. The Eight, Platinum, VIP Black and the Domestic Table Room and Gaming Machine Rooms.
Skycity Casino Auckland food selection
The land-based casino is home to one of New Zealand's (NZ) best options for the food aficionado and possible the best in Auckland. With virtually every food choice imaginable, the casino can satisfy any inkling for a specific taste or style of cuisine.
The beautiful MASU is a Japanese restaurant offering indeed uniquely arranged backdrop with traditional fused with modern comforts including a full bar.
The Huami is a Chinese restaurant that serves exquisitely prepared traditional dishes in a warm, inviting environment.
The world-famous Austrian born, Sean Connolly's prepares his award-winning signature dishes. The Grill has one New Zealand's (NZ) most extensive selections of meats serving both lunch and dinner.
The Orbit 360 offers one of the most spectacular views of Auckland, New Zealand (NZ). This stunningly beautiful restaurant rotates at one-hour intervals, offering different views of the breathtaking scenic experience.
Casino bars
If you want to take a gambling break and enjoy this land-based casino's five exquisite bars, each with its character and atmosphere is sure to satisfy whatever mood you happen to be during your visit.
The TwentyOne is an upbeat bar, with a live DJ, and a very welcoming atmosphere including top of the line materials, giving that prestigious look and feel.
Peter Gordon, the New Zealand (NZ) based chef brings you the Bellota, a Spanish themed bar offering unique taste and delicacies as part of an ever-changing menu.
The casino's Sky Café offers an unforgettable view of Auckland, serving many tasty treats, ranging from cheeses, pastries, coffees, and teas.
Skycity Auckland hotels
The casino's three hotels,
the SKYCITY Grand Hotel,
SKYCITY Hotel
and the Horizon.
Each has a unique feel but includes the highest level of concern to detail to make your stay unforgettable. The SKYCITY Grand is a luxurious five-star hotel with virtually every imaginable amenity.
The SKYCITY Hotel includes a theatre, full spa, a massive selection of restaurants and almost something for everyone.
The Horizon will be open to the public in 2020 and is slated to be a five-star hotel, to include an upscale restaurant, full gym, offering both suites and rooms.
Entertainment in the Sky City casino
The land-based Sky City casino Auckland has some of the most entertainingly interactive activities everyone can enjoy during their visit. With the Easter Egg Hunt, BINGO, and The Huawei P30 Street Festival you are sure to have an unforgettable, unique experience during your stay at the casino
Casino gambling
The Department of Internal Affairs regulates all legal gambling in the country, from horseracing to the lottery to casinos. In 2009, it was required by law that all slot machines in the countries six casinos, including hotels and bars, must display the time the user spends and the amount of money they have lost.
Sky City Tower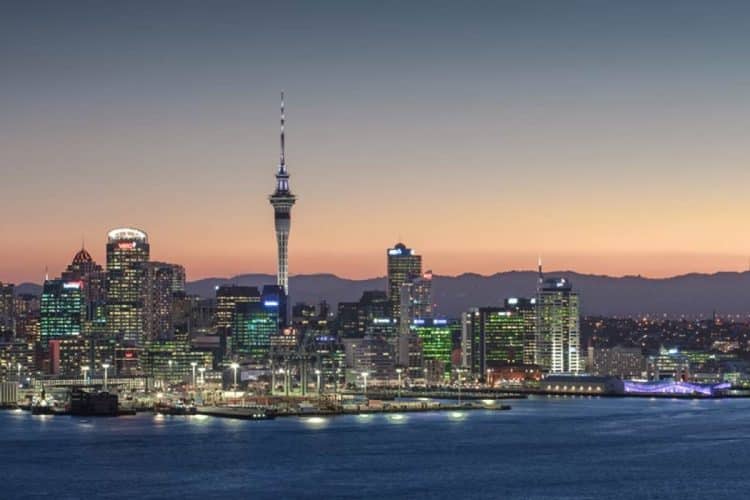 The 20-year addition to the beautiful Auckland's downtown area, the Sky City Tower is one of the most memorable sites in the city. Standing over 300 meters above the city offers breathtaking views and lasting experience.
Skycity casino Auckland location
Casino Auckland Sky City is located in Victoria Street & Federal Street Auckland 1010, New Zealand,
SkyCity Casino Online
In 2019 SkyCity has launched the first new Zealand online casino by the name of Sky City Online Casino. The casino is based in Malta, so it is completely legal and is not touched by the law of New Zealand.
About
There has been much controversy in the New Zealand ministry over this casino as well as another casino overseas which, as they say in the New Zealand government, over casinos draw money from people without any tax and have a bad impact on the population because they operate without control.
Sky City online casino is launched by SkyCity Entertainment Group Limited with Gaming Innovation Group Inc. (GiG) and its popularity already grows in New Zealand. The casino is only available for the New Zealand population, but in the future, it is expected to available to the whole world.
A short review of Skycity online casino
Sky City casino online is a really great online gambling site for NZ players. It offers a wide range of most popular casino games like slots/pokies, baccarat, poker, blackjack, roulette and others.
Game providers at Sky City online casino are NetEnt, Microgaming, Evolution Gaming, Play'n GO, Quickspin, Cayetano Gaming, SG Digital, Yggdrasil, Red Tiger Gaming (NETENT), Relax GamingPush Gaming and Nolimit City,
SkyCity online casino accepting New Zealand Dollars (NZ$) as deposit and withdrawal currency.
Sky City online casino has live chat service for customers and email support that can be reached at help@skycitycasino.com.
Conclusion
The Skycity Casino in Auckland is a must-see for all that visit Auckland, with the broad array of award-winning chefs, restaurants, and actives the entire family can enjoy. this complex has a lot to offer its visitors and gambling fans.
From the great restaurants, hotel, beautiful view from the SkyCity tower to the gaming areas with over of 2000 different casino games, this complex will keep you entertained whole the time. this is really leading land-based casino in New Zealand.
All landbased casinos in NZ
Frequently asked questions
Who owns Skycity casino in Auckland, New Zealand.

Skycity casino Auckland is owned by SkyCity Entertainment Group, they own few other land-based casinos in New Zealand and in 2019 despite the great controversy, they also launched the first online casino owned by people from New Zealand. Of course, the online casino is registered outside NZ territory which makes it totally legal and Sky City Entertainment Group does not violate any laws.
Is there any available Skycity casino jobs?

If you are looking to work in Skycity casino and find a job there, you should check out and contact them online via www.skycitycareers.com. There you can see all Sykcity jobs that are available and you can apply online.
Is there any Skycity casino parking available and how much it costs?

Yes, for all visitors of the casino there is The SkyCity Main Site Car Park with 3 entrance and 1960 parks. they offer top security and full-time surveillance, with proper motorways access in the great maintained facilities. Skycity casino parking rate is nz$ 8.99 for 30 minutes. For the first hour is nz$15.00 and every hour after is charged with nz$5.50. If you want to buy 24h parking it will cost you nz$48, and that is a maximum charge per day.
Source:
https://skycityauckland.co.nz/about-us/car-parking/
https://skycityauckland.co.nz/casino/
https://skycityauckland.co.nz/about-us/host-responsibility/dress-standards/
https://www.skycitycareers.com/auckland