Slot machines now offer so many different functions and game patterns that no slot machine is the same as the other. Back in the day, there were only one-armed bandits with 1 payline and 3 reels.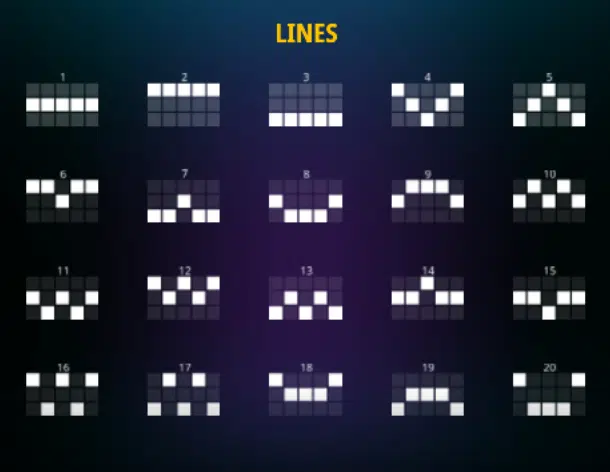 But today we find slots games with 20, 50 or hundreds of paylines. Below, we want to share with you the most interesting slots machines available based on paylines.
243 paylines
243 paylines is a slot strategy where the fixed paylines are omitted and instead gives us 243 different ways to win. All that is needed is 3 symbols in a row from left to right.
243 paylines slots:
Cluster pays
Cluster pays are slot machines where paylines have been completely removed. instead, wins are generated by clustered symbols. That is, get a cluster of the same symbols and get a win!
Cluster pays slots:
1 to 3 paylines
The least common slots games today are those with just one payline. This is how the very first slots looked and since then one-armed bandits have been developed with more functions and in some cases with up to 3 paylines.
1 payline slot:
3 to 10 paylines
Games that have a low number of paylines are simpler slots games that originate from one-armed bandits.
3 to 10 paylines slots:
20+ paylines
20, 25 and 30 paylines are among the most common payline bets in slots. It is in this category that we find the vast majority of slot games, in other words.
20 paylines slots:
50 paylines
50 paylines or more are slots that are not cluster pays or megaways but where you still bet on having many paylines in the classic way. However, not many games offer more than 50 paylines as Megaways and Cluster Pay have taken over this feature.
50 paylines slots:
Megaways paylines
Megaways is a feature developed by a gaming company in Australia and anyone using the feature today must have a license from the BGT.
The so-called Megways feature eliminates paylines and instead creates thousands of ways for us to win with everything from clustered wins to mega-sized symbols and wins.
Below you see an example of a couple of different Megaways slots with different numbers of winning combinations.
Megaway slot with 321,489 paylines
Megaway slot with 200,704 paylines
Megaway slot with 117,649 paylines
Diffrent types of paylines
Slot machines can have two different types of paylines. These are either fixed paylines or variable paylines.
Fixed paylines
This means that the game has x number of win lines that generate profit and we cannot change these.
Slots with fixed paylines:
Variable paylines
These slots games have a fixed number of winning lines, but we can choose to change which ones we want to bet on. If the game has 20 paylines, we can for example choose to play on only 1 payline.
Adjustable paylines:
Win both ways
Slots where you can win both ways do NOT offer more paylines but have only made it possible for us players to win from both left and right.
Slots with win both ways:
FAQ
Do more paylines mean a greater chance of winning?

No, all games have individual RTP settings and the paylines have no influence whatsoever on how big a chance you have of winning, only how you win.
How do you know how many paylines a game has at the casino?

You can open the game's info box and see how many paylines the game has, but it's even easier to sort the games or search for 1 payline and instead you get a list of all games that have a certain number of paylines.