Game features
Game rating
7.9
RTP
95.62
Max winnings
12.000x
Max bet
2
Min bet
0.1
Paylines
10
Reels
5
Volatility
Low-Medium
Arabian Nights Review
Arabian Nights slot is a progressive jackpot game that since its launch in 2005 is still in trend and with its original features still competes with the latest launched pokie games.
Arabian Nights is a 5-reels and 3-row pokie game with an Arabic theme reminiscent of the fairy tale Alladin and the magic lamp.
Features that make this pokie game interesting and attractive for pokies fans even 16 years later are:
A magic lamp as a scatter symbol that takes us into a bonus game with 15 free spins.
Doubled wins with a landing wild symbol represented by a sultan with a turban and a diamond in his hand.
Option with 10 fixed bet lines with up to 10 bet levels and different coin values.
Extremely high progressive slot jackpots with an above-average RTP percentage of 95.62%.
This progressive slot machine has paid out millions of dollars in jackpots since its launch, while the biggest payout was around an incredible $4.8 million in 2010.

by NetEnt.
Within the pokie, there are instructions and explanations that are available to you with one click on the info icon and questionnaire. Below the review, we have highlighted the most important things you need to get acquainted with this popular progressive jackpot slot game.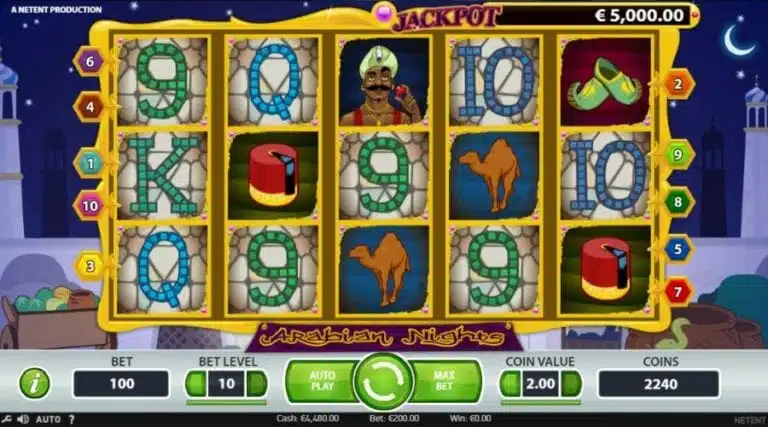 Basic instructions
In this image we took from the Arabian Nights game functions menu, we see explanations for the basic button that launches the game rounds, as well as navigation and game information buttons.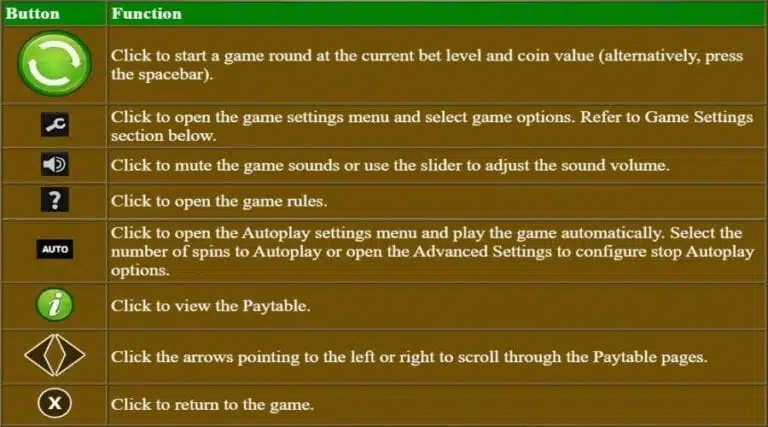 But in this image above, a couple of basic buttons are left out, which are very important for new players.
That's why we've screenshots the other important buttons below and given you explanations for each one.
See below:

Here we have numbered each function of this slot game.
See the explanation for each Arabian Nights function below:
1. Bet size: The function marked with the number one shows the size of the bet in coins. It ranges from 10 to 100 depending on the bet level you set.
2. Bet level: Under number two you set the bet level.
3. Autoplay: On the function marked with the number three you can set the autoplay option which allows you to set the game itself to turn reels from 10 to 1000. Also, this function has advanced settings where you can set when to stop the autoplay function.
4. Max bet: Pressing the autoplay button turns on the function that automatically sets your bet amount to maximum and immediately after the wheels turn.
5. Coin value: Under number 5, we have a coin value or bet size function, where we set how much the game will take us off balance during each slap. The minimum bet is 0.01 while the maximum is 2.00 coins.
6. Coins number: Under number 6 in the image above I see the number of coins. This screen does not show real currency but imaginary coins.
7. Cash (balance): Here we see the amount of balance in the real moneythat we have in our casino account. Image shows 4,400 EUR.
8. Actual bet size: Here we see the actual bet amount in one of the offered currencies. In the image we see that the bet per slap is 200 EUR.
9. Win: Here we see the amount in real money after winning combination lands onto reels.
Arabian Nights features
As for the features on Arabian Nights, they are simple and amazing but considering that this low-mid volatility slot game is very common and generous.
Players should pay attention to two symbols, which are:
The symbol of the magic lamp, which is also a scatter symbol that leads us to free bonus spins.
The Sultan with a turban is a symbol that is a wild symbol which transforms itself into a winning symbol that is needed in the payline.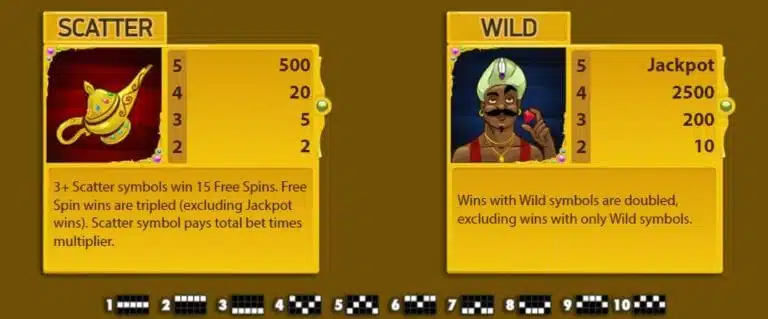 Free bonus spins
The bonus game at Arabian Nights are the free bonus spins that appear once you get 3 scatter symbols in your reels.
The scatter symbols in this slot is magic lamp.
That scatter bonus will afford you 15 free spins in the Arabian Nights slot game.
Then your spins will get a 3X multiplier on winning lines which helps you to continue to play.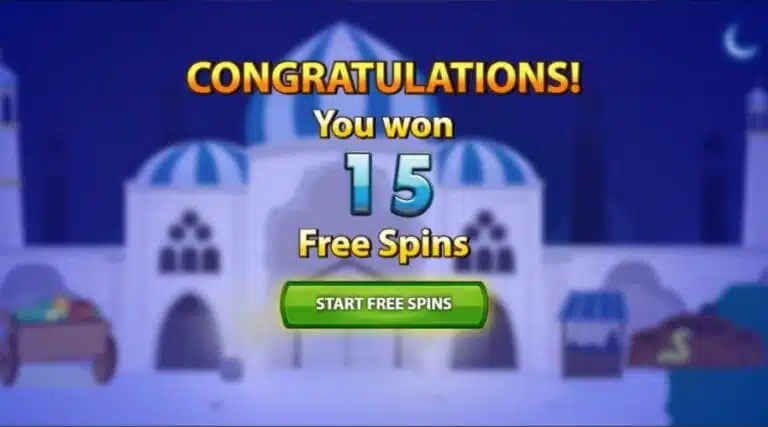 Wild symbol
There is also a wild feature who is sultan with turban, that will double your amounts for your winning lines.
He is the one to look for extra points.
It is also important to note that by landing 5 wild symbols on the active bet line we win the jackpot.
Wild symbols are transformed into any symbols other than scatter symbols.
Jackpot
Arabian Nights is a progressive jackpot, which means that with every real-time bet, it grows.
In order to win the jackpot, there must be 5 wild symbols in the winning lines to collect your jackpot payout.
The jackpot cannot be won if you play free play for fun.
In order for the jackpot to be won you must play a max bet. If you do not play max bet and get a combination of 5 wilds symbols, you will be paid 10,000 coins.
Frequently asked questions
How to win the jackpot?

To win the Arabian Nights jackpot, you must land 5 wild symbols on any active bet line using max bet. Wild symbol is a sultan with a turban.
Who is the developer of Arabian Nights slot game?

The developer of Arabian Nights slot games is the popular NetEnt.
What is the return to player percentage (RTP) of the Arabian Nights video slot jackpot?

The return to player percentage RTP of the Arabian Nights jackpot slot is divided into two levels for the global is 95.22% and for the local jackpot is 95.62%.
What is the volatility level of the Arabian Nights slot?