If you want to earn money at a blackjack table with zero investment and zero risk, then it is time to change the sides and become a blackjack dealer.
A dealer in a casino also called a croupier is a person who runs the bets, payouts and deal cards in casino games.
As a dealer at a casino, you will not just be in a charge of blackjack games, but also you will be responsible for roulette, poker, roulette and any other table.
So if you decide to become a blackjack dealer in New Zealand, firstly there are a few requirements that you need to complete.
In the following article, we will explain to you the whole process of how to become a blackjack dealer and more related information about it.
Tip: Play online Blackjack for free. No registration is needed!
Requirements to become a blackjack dealer in NZ
To become a blackjack dealer you must complete a dealer course in your country.
The course itself lasts from 8 to 12 weeks, and upon completion, you will be able to pass an audition for a blackjack dealer and possibly be hired at a casino.

To apply for a dealer course, there are several conditions that you must meet for admission to the school.
These include:
You need to be at least 20 years old
Secondary education is not required
A guality standard of English and mathematics is necessary
You must not have criminal offenses of theft or any other felonies (clean police record)
Own a Certificate of Approval from the Department of Internal Affairs (National Certificate in Casino gaming Level 3)
Tasks at audition for a dealer
Applicants will do a basic math test
Undergo a skillfulness test for chip handling skills
Good communication and customer service skills
Introducing to casino procedures and rules
Learning relevant laws to a casino venues and rules for casino games
See the example of a blackjack dealer job offer
What will you do as a blackjack dealer?
The role of the dealer is a significant duty and a demanding task that is an integral part of casino organization.
The responsibility of a dealer in land-based casinos is to manage everything that happens at the blackjack table, from the player's bets and chips going in, to the blackjack winners and the chips that going out.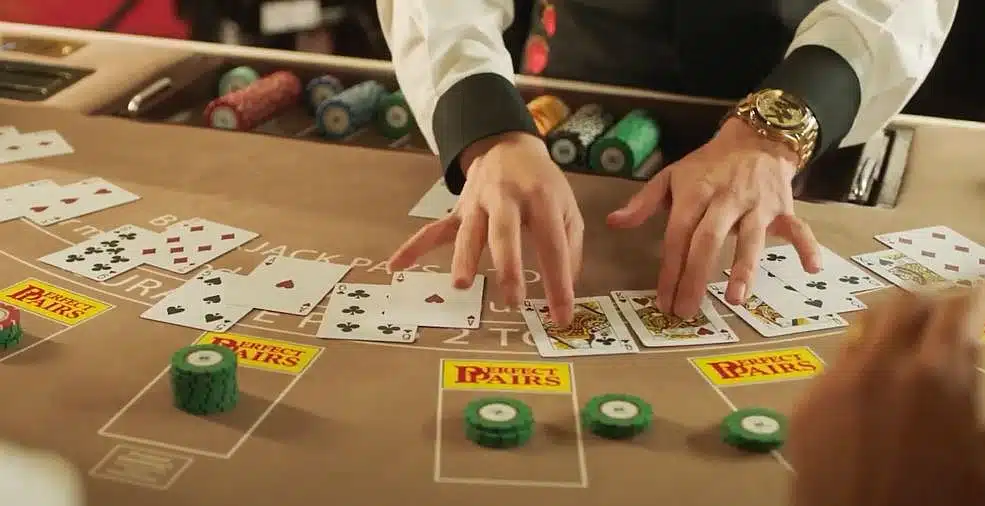 Also, blackjack casino dealers must follow casino procedures, make correct payouts, and also help new players to learn the rules of the blackjack game. Cards and chips being organized is a must. Below we have listed more essential responsibilities of casino dealers.
Opening the money float and casino game table
Inspecting the equipment and cards that will be used
Exchanging cash for casino chips
Starting and control of the gameplay
Estimate the number of chips players lost and won
Paying out chips
Closing the money float and game table,
and make sure that all is balanced
What skills do blackjack dealers must have?
In order to become a blackjack dealer besides being interested in this profession, you will have to go through a dealer training school.
But even if you apply for school, you will still need to have other skills that are required to work this job.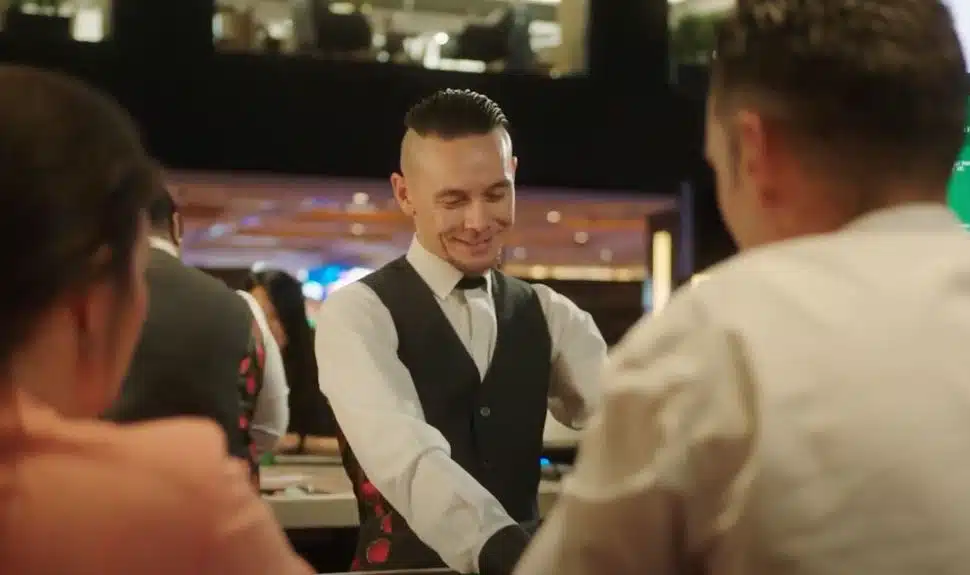 The job of a blackjack dealer is not just dealing cards through your work hours.
Many have given up and casino dealer is not a job for everyone.
Here we have added some of the most important skills that a dealer should have, including:
Understanding of the game rules, and the procedures
Familiarity of bets meaning and its values
Security risks consequences that may emerge on the casino floors
Very good mathematic knowledge and patron service skillfulness
Fantastic mechanical skills when dealing cards, throwing,shuffling, dealing, the style of a rolling dice, and more
Good personality, warm and gentle approach to the customers
Be able to create a bond and quality interaction relationship with the customers
Physical conditions
To know how to recognize colors (normal color vision)
Dealer must be tidy and neat
That you are in good shape and able to stand for a long time
Social requirements
Dealer must be a outgoing and friendly person
Be able to listen and communicate good, even with patrons that are not so good in English
Be able to manage and keep happy difficult customers
Reliable, honest and tactful person
Be quick and accurate in work
Chances of getting a job as a casino dealer in NZ
According to a 2022 report by the Waikato Institute of Technology, there is a high demand for casino dealers in New Zealand.
They say job requirements for "table game dealers" including blackjack, roulette, baccarat, sic-bo, pai gow, roulette and other casino games are good because there is a shortage of employees available for this position.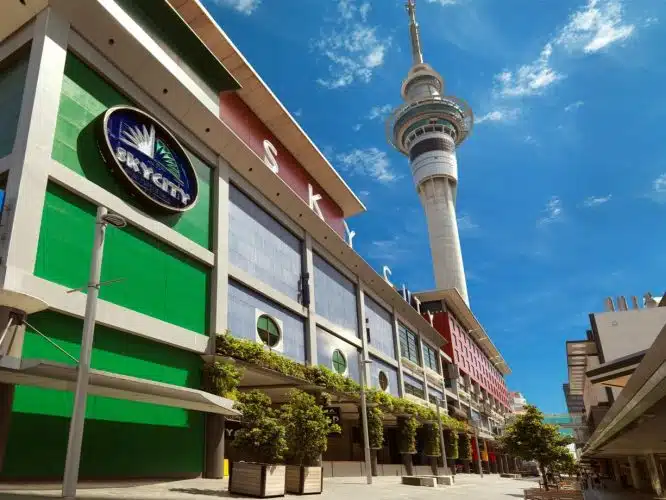 When it comes to employers, the largest venues are definitely Sky City Entertainment Group. In Auckland Sky City casino employs the highest number of casino dealers in NZ. This casino is open 24/7, and most of the casino dealers are on part-time contracts.
Other following venues in NZ that employ casino dealers include:
Besides physical casinos in NZ, Kiwis can get a table games dealer job on cruise ships.
Oportunity to work as a live table games dealer
When you think of working as blackjack or other table games dealer, the first thing that comes to mind is working in a land-based casino.
However, the development of technology and the rise of live virtual casinos is creating a new profession that requires employees.
When it comes to online gambling, not only live dealer jobs are in demand, but many other employment professions are also opening up.
For more information, you can browse the list of all casinos and explore the companies behind it and their websites where they post new job opportunities.
One of the first live dealer studios was Evolution Gaming launched in 2006.
Today, there are hundreds of other studios that broadcast live casino games around the world. Today, Evolution operates in more than 20 countries and has over 10,000 employees.
FAQ
Where to apply for casino table game dealer training?

If you want to become a blackjack dealer in NZ you need to finish full training and get a licence from National Certificate in Casino gaming Level 3. In most cases you can apply for training to become a dealer in the same venue where you seek job. In NZ for example Sky City will provide all candidates with full training that last 3 weeks. For more information of training and requirements be free to contact (04) 495 7200, casino.compliance@dia.govt.nz.
What are the working conditions of casino dealer?

Casino games dealers mostly work in shifts. Not so many game dealers will be fully hired, but only part-time with up to 40 hours weekly. Shift can be during day or night having in mind that casinos are open 24/7, also be ready to work on weekends.
How much can casino dealers earn up in New Zealand?

The pay for casino table game dealers can vary due to expirience. If you are in trainings you will ear the minimum wage, while with over 150 hours of expirience you can earn around 21$ an hour. If you are expirienced table game dealer who knows more that 3 <a href="https://newzealandcasinos.nz/card-games/">card games</a> can earn up to 22 dollars an hours.
Source:
skycitycareers.co.nz
seek.co.nz
trademe.co.nz