Reporting an casino online is not always the easiest because most of the time you are never in the same country as the casino has its company in.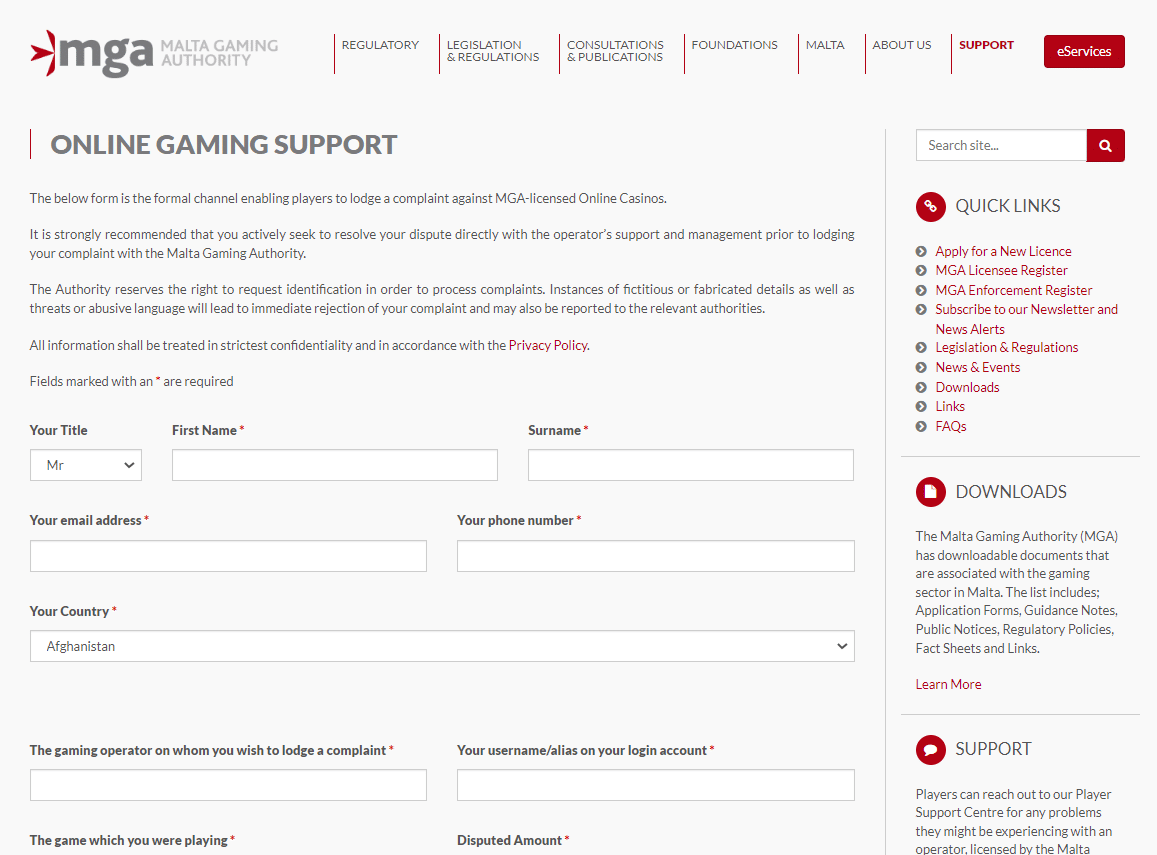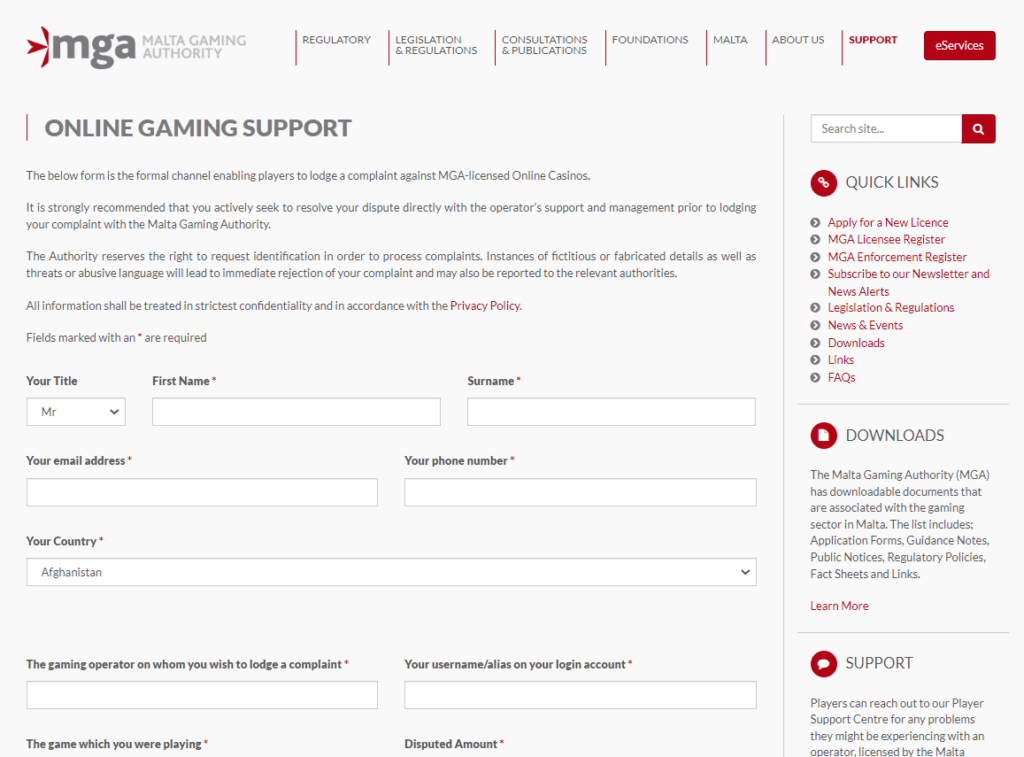 So to report a casino against fraud requires that you report the casino in the country that they have legal rights in.
In today's article, we take a closer look at which organization there is that we players can turn to to report an online casino and we recommend a couple of other methods also that can get the casino pushed against the road in many cases.
How to take legal action against an rouge online casino!
Report MGA casinos online
So let's start with the most important thing that is why MGA (Malta Gaming Auhtority) online casinos that we recommend here on the site are the safest choice both for players from New Zealand but also for the rest of the world.
The reason is that they offer the safest online casino license on the market and also online support where you can file your complaint for a casino with their license so that you get help to solve the twist.
On the page https://www.mga.org.mt/support/contact-us/, you will be met by a form where you can quickly and easily fill in your details, your complaint and also attach files such as evidence.
Note: It is extremely important that you do this via this support page because if you only send an email, no one will answer it.
More info about Malta Gaming Authority
Report Curacao online casinos
Just like Malta, Curacao also offers help with twiter between you and the casino.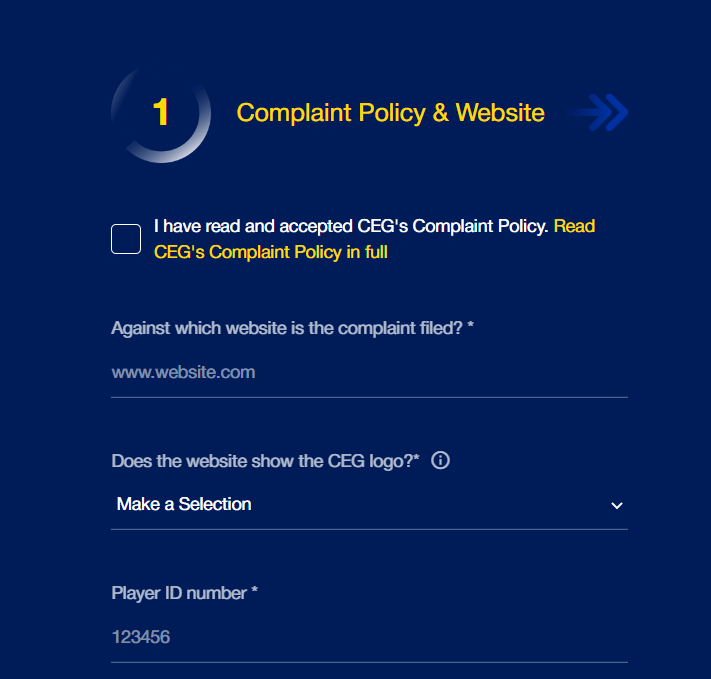 You go to https://www.curacao-egaming.com/public-and-players/complaints-landing where you can read through what applies before submitting an complaint against the casino.
You then continue with your report where you fill in the casino's website, your player ID and everything else that is needed to submit a legal complaint against the casino.
More info about Curacao Gaming Auhtority
Use thirdy-part services online
In New Jersey, 14 players signed up for not paying out their jackpot win.
Here is the article if you want to read more about it Gambling company sued by customers who claim they were cheated out of big payouts – nj.com
But to stay on topic, in this example you will also see how players use the media to inform about this bad online casino.
In other words, contacting a loka magazine and telling them about a bad casino experience can be a very interesting news for the newspaper that is more than happy to publish an article about it.
Another very good example or channel for this is services like Quora.
Here https://www.quora.com/If-someone-had-proof-a-casino-was-cheating-what-would-actually-happen we see a related thread where players ask themselves the question, how do I report a casino for cheating
Your particular answer may not be in this or any other thread on Quora but then you, like everyone else, can ask your question and get lots of helpful answers.
Report to NewZealandcasinos
Last but not least, you can send us your report and tell us what has happened.
The casinos we present on the site have a contact with us and we can therefore ask them to check out what has happened.
If there is a misunderstanding, we will help you solve it, but if the casino is really not serious and unhelpful then it results in them being removed from our register and ending up on the list of blacklisted casinos instead.
In that case, this may not help you, but you make sure that other players can't suffer the same scam.
What about casinos that don't have MGA or CIL license? These we do not recommend here at newzealandcasinos.nz and precisely for this reason.
There is no one to turn to for help should you need it. So to save yourself a lot of frustration make sure you play at the safest casinos online.
More about what these are and how safe they are, you can read more about here: https://newzealandcasinos.nz/casino-licenses-and-jurisdictions/