A leading online gambling software and content provider, Playtech is one of the most diverse developers in the online gaming industry.
It offers over 700 games to operators around the world and boasts over 15 years of experience in the online gaming industry.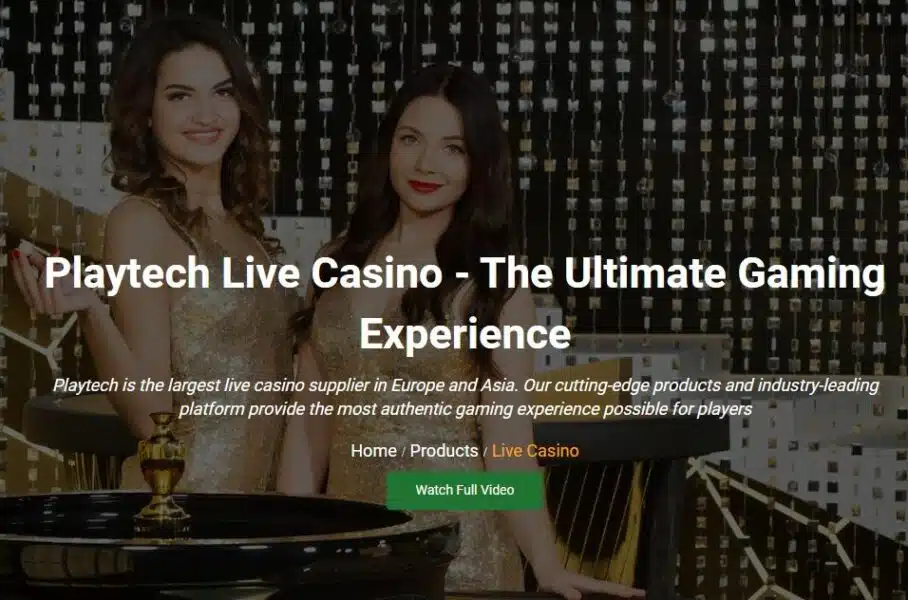 It has become a one-stop-shop for many gaming operations, offering everything from sports betting to online pokies machines. Their casino games are simple yet eye-catching, and are easy for players to use.
Bwin, Sportingbet, Mansion, and Casino Club all use Playtech technology, and along with these big names, they supply to smaller casinos and gaming platforms as well.
Their reach is wide, and users would be hard-pressed to find an online casino that doesn't offer Playtech games.
Best Playtech casinos
3500+ games

Weekly cashback 15%

Crypto currencies accepted

2000+ games

Accept crypto payments

10% cashback for lifetime

NZD 1000

+ 250 free spins

4000+ games

Payout: 1-3 days

Best feature: Bitcoin accepted

NZ$ 2000

+ 100 free spins

4000+ games

Monthly tournaments

VIP advantages

NZD 1000

+ 20% weekly cashback

4000+ games

Payout: 1-3 days

Best feature: No wager cashback!

Pokies developed by Playtech

When it comes to slots games, Playtech is a world-renowned game developer with more than 700 titles in its collection to offer.

They are just not as big around the world with their slots as they are with live casino games but they are also far up in the top list among the best slots developers online today.

Casino Playtech

Playtech has 9 different developing studios that manufacture games in their name.

These include AshGaming, Playtech Origins, Playtech Vikings, Psiclone Games, Quickspin, Eyecon and Rarestore Gaming.

It is also worth mentioning that the less popular game categories such as Bingo are something for which Playtech is also a leading company.

More info about all their gaming products can be found on the website.

New slots reviewed from Playtech:

Table games offered

Table games offer the thrilling live casino experience without leaving home; with access to the internet, anyone can play such popular table games as roulette, poker, baccarat, blackjack, and more.

Playtech has brought their experience in online casino game production to designing extremely high-quality live dealer table games for their clients.

Currently, in the development phase is an augmented reality feature that will allow their casino clients to truly be a cut above the rest.

Roulette

The varieties on this classic game can be enough to make more than just the wheel spin. Knowing this, Playtech's live roulette games focus on the versions that allow casinos to offer standout gameplay.

Single Zero Roulette is the classic, and easiest entry-point for roulette players, while Prestige Roulette Lite and Prestige Roulette both provide beautiful gameplay and clear camera viewpoints.

Speed Roulette is a game-changer in the rounds per hour category, as the play is fast with no time wasted.

Baccarat

Found in all casinos with serious table game chops, Playtech's offerings allow players to feel uniquely catered to and to have as close to an in-person experience as possible.

All Playtech's Baccarat dealers are highly trained and professional, meaning that whether at the Baccarat 7-Seat game, or the closer-up Baccarat Squeeze, the play is extremely intense.

Both 7-Seat and VIP Baccarat have the exciting feature of playing against other opponents, giving a true casino feel.

The VIP, of course, has the added features of emulating the VIP casino experience, while Playtech's Mini Baccarat product gives online casinos a unique draw for players looking to play more than one style at once.

Blackjack

No casino would be complete without this crowd favorite: blackjack. The game with the lowest house edge, many consider it a player's best chance to win big.

Classic Blackjack is an 8-deck affair, and Playtech has brought this to their live studio with aplomb. Excellent dealers and the involvement of other customers immerse players in the thrill.

Ultimate Blackjack — Playtech's unique contribution — keeps the evergreen rules but allows for unlimited players. Casino clients can be sure that their customers will always have a seat at this table.

Poker

The most famous of all casino card games, poker has enough varieties to keep even the most frequent card players from becoming bored.

In their quest for quality, Casino Hold'em is where Playtech has chosen to excel. And excel they do!

Professional dealers and a dedicated hand shuffler mean that poker players can feel the individual touches that make casino poker so subtly thrilling.

As well as consistently outputting excellence in their styles of game, Playtech's user experience has been described as realistic and advanced. All the games have crisp sound and clear camera angles.

Settings

Clients of this game developer have all praised their easy-to-use interface.

With the ability for casinos to individualize games with fonts, colors, and even banners, the front-end player experience is customized to each client's needs, while the back-end is a solid and stable design that keeps play lightning-fast and totally focussed on the game.

Aside from the look of each game, Playtech supports an impressively diverse catalog of languages, including English, Spanish, Russian, Mandarin, Italian, Mexican, and Romanian.

Live studios

Based in Riga, Playtech boasts the largest live casino studios in the world.

With state-of-the-art camera equipment and a sumptuous casino stage set, their live play is the closest to casino action without setting foot in one.

Playtech live studio

Extremely professional and top-trained dealers provide the final touch to the player experience.

The studio itself is set with professional Roulette, Baccarat, and Poker tables, as well as Hi-Lo and Sic Bo.

Catering to both European and Asian clientele, play is instant, broadcast live, and allows for live betting on actual games with real opponents.

From the casino client's side, Playtech provides constant monitoring for any suspicious activity, with immediate responses and alerts.

This provides both the casino and the players with the highest possible level of security.

About Playtech

A market leader in providing turnkey software solutions with ongoing customer support and monitoring, Playtech has proven beyond a doubt that it is here to stay.

With 170 casinos worldwide licensing their products, Playtech is regulated in 30 jurisdictions and has offices in 24 different countries, employing a total of 6,400 employees.

Listed on the London Stock Exchange, this gaming development house is the largest of its kind. Clients and players alike can put their trust in Playtech products.

Certifications & awards

The core values of Playtech take into account responsible gambling, environmental accountability, data security, addressing the gender wage gap, and being aware of modern slavery.

With these in mind, the company continues to grow and operate in a way that keeps them at the forefront of both the gaming industry and the professional ethics movement.

Licensed by the UK Gambling Commission, as well as Malta's Critical Gaming Supply Corporate agency, this gaming software development company continues to receive many awards, including:

SBC Sportsbook Supplier Winner
GIA Innovation Award Winner
5-star IGaming Media

Playtech FAQ

How is Playtech customer support?

Available 24 hours a day, 7 days a week, Playtech's support services are always ready to deal with any concerns.

How does Playtech keep data safe?

State-of-the-art encryption technology and post-sale support means that both clients and players can feel protected by Playtech's products. Trained dealers, watchful monitoring, and secure data transfer all play a huge role in online safety.

Does Playtech address problem gambling?

On their website there is a comprehensive list of a dozen organizations, all dedicated to keeping gambling a fun recreational activity, not a problem behavior. Playtech's concern for players is paramount, and they encourage all users to play mindfully.