In short, when you play slots from Pragmatic Play, you can win extra prizes in addition to those in the game at any time.
How? Each month, 500,000 prizes with a value of $1,000,000 are awarded to players that play Pragmatic play slots!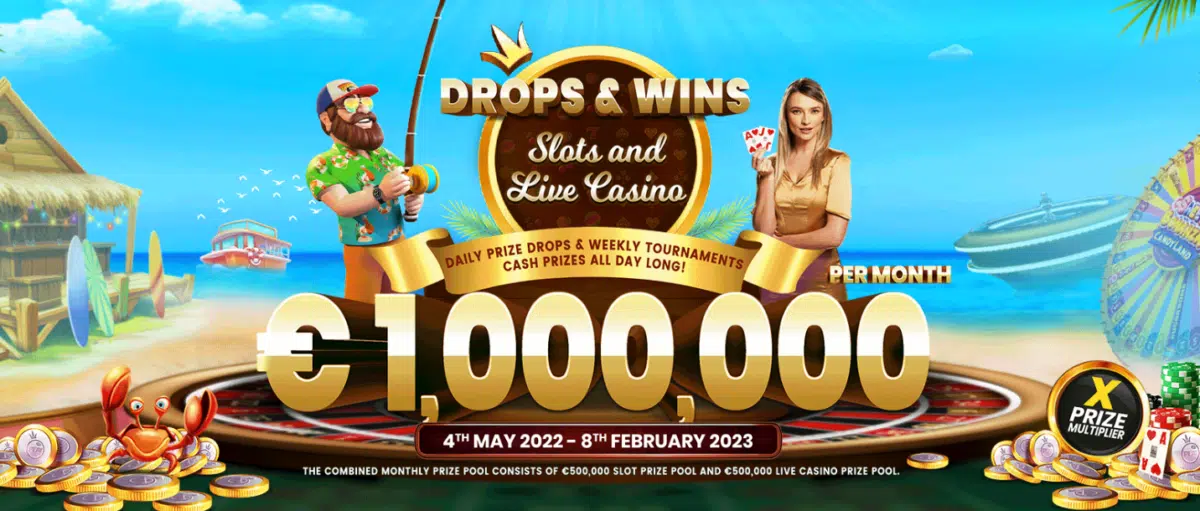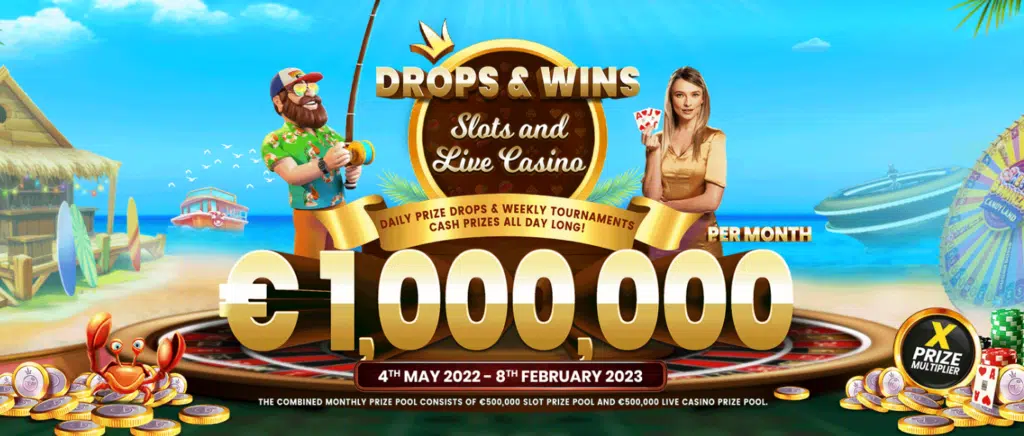 All we have to do is, choose to play Pragmatic slots!
Extra prizes can be won throw tournaments and/or drops:
Random prizes that can appear at any time while playing
Daily drops & wins that we can win by playing with real money
Developed by:
Best casinos with Drops & wins

The following casinos have integrated Pragmatic Plays Drops and Wins into their casino.

Don't all casinos that have Pragmatic games have this? Short answer, no.

Everyone has the opportunity to integrate it into their casino, but not all operators choose to do so.

NZD 2000

+ 100 spins (High match bonus)

2000+ games

Payout: Max 24h

Best feature: Bonus on min Dep

NZ$ 2000

+ 100 free spins

4000+ games

Monthly tournaments

VIP advantages

1000+ games

Payout: Max 24h

Best feature: Daily rewards!

NZ$ 1000

+ 300 free spins

2500+ games

Weekly rewards

Daily freespins & cash prizes

1500+ games

Daily free spins rewards

Lot of game providers

Drops and wins explained

Tournaments explained

Tournaments reward us depending on how well we play.

At the casino we find a leaderboard where we can always see who is at the top.

All that is needed to climb this leaderboard is to play for real money (Pragmatic slots only).

The player with the biggest win from a spin wins!

To see an example, select a casino below, go to promotions and then drops and wins.

Summary:

Weekly prize: $62,000.00
Weekly top prize: $10,000.00
1500 cash prizes for grab
One spin to win!
Min bet: $0.50

Drops explained

Drops reward us completely randomly when we play Pragmatic Play slots.

This function makes it extra fun to play slots from Pragmatic as we can win today's prize at any time.

Summary:

Daily pool: $9,000.00
Daily top prize: $ 1,000.00
500 daily prizes to grab
One spin to win!
Min bet: $0.50
Runs 7 days a week

Participate in drops and wins

So how do i participate in these daily drop and drops when and where?

Below we have put together a list of the best casinos that offer drops and wins from Pragmatic Play.

To participate, you need to create an account with one of these and place at least one real money bet in a Pragmatic Play game.

Every day that you play, you are automatically included in the payout and regardless of which of these casinos you play at.

This is because the campaign is not the casino's but the game developer's and thus also global for all casinos that offer it.

Best new pragmatic slots

Do I have to play one of these games to participate? No, these are only the most recently reviewed games from Pragmatic Play that we recommend.

You will be able to choose from more than 50 slots games to play when you participate in drops and wins.

FAQ

Can I participate in several different casinos?

You can, but your chances of winning are the same as if you played at a casino as the drops and wins campaign is global, i.e. it is the same at all casinos.

How much do I have to bet?

You must bet at least $0.50 per spin to participate.

Does this only apply to slots games?

This is exactly what we are describing but there is also a drops and wins for live casino games that has a prize pool of $500,000 a month that works in the same way.