Here at New Zealand casinos, we prioritize accurate facts and safe online gambling.
This means that we always do our utmost to ensure that you as a player know exactly all there is to know about online casinos and how they actually work.
One thing that you rarely ask yourself but which can be good to know, we think is how to distance yourself from online casinos, in case you should end up in an addiction.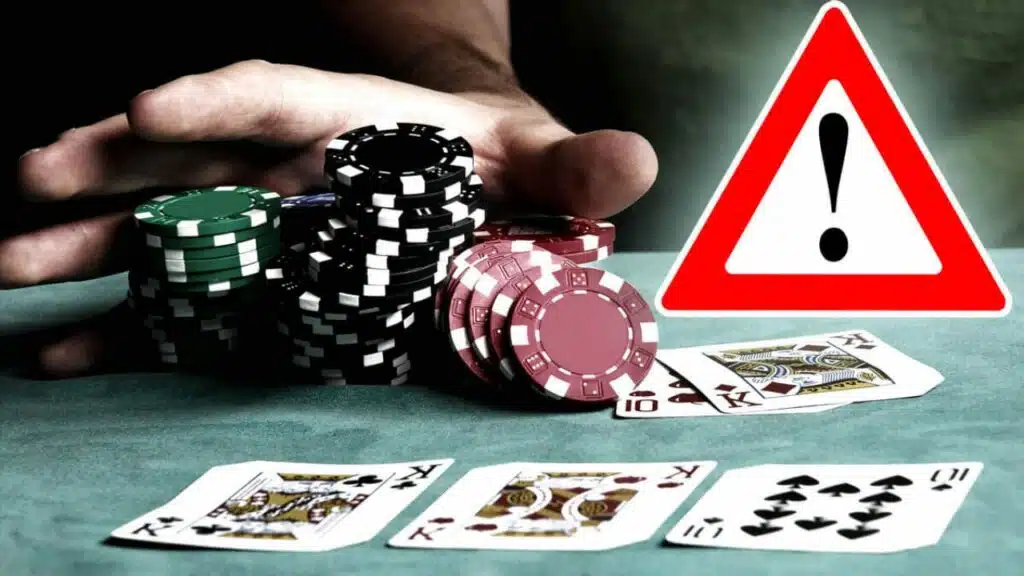 Gambling games for real money are addictive as most of us know very well, so why not also inform us about what we can do if it affects us.
Why should you close your casino account?
Online casinos are a great way to have fun, win some money and feel the environment of real casinos via your mobile or desktop device.
However, sometimes players lose control and spend over the limit or even get in trouble and become gambling addicts.
That is why most reliable online casinos have specially designed responsible program tools like block your casino account, self-exclusion or set deposit limits.
By using these services, irresponsible players can block casino sites or limit their deposit amounts on a daily, weekly or monthly basis.
Gambling problem
If you experience any of these situations you probaly have a gambling problem we advise you to block the casino and seek for professional help.
Losing more money and time than planned
Distancing from family and friends due to gambling
Keep playing to win losses back
Feeling bad because of gambling
Borrowing money to spend it on gamble
To find our more about what your next move should be:
How to block casino sites?
Most online casinos have self-exclusion programs where players with gambling problems can exclude themself from entering their site.
However players with addiction even after blocking their access to a particular casino website, just go to another casino and create a new account.
This is a big problem for problematic addicted gamblers and the people around them.
But thanks to technology, responsible gambling organizations in conduct with governments have developed gambling site blockers applications that can be installed on your computers, smartphones and tablets.
Responsible gambling tools at online casinos
Only the best and most reliable online casinos offer you tools that can be used to prevent, control, and block problem gambling. However, every online casino has a different approach or different tool.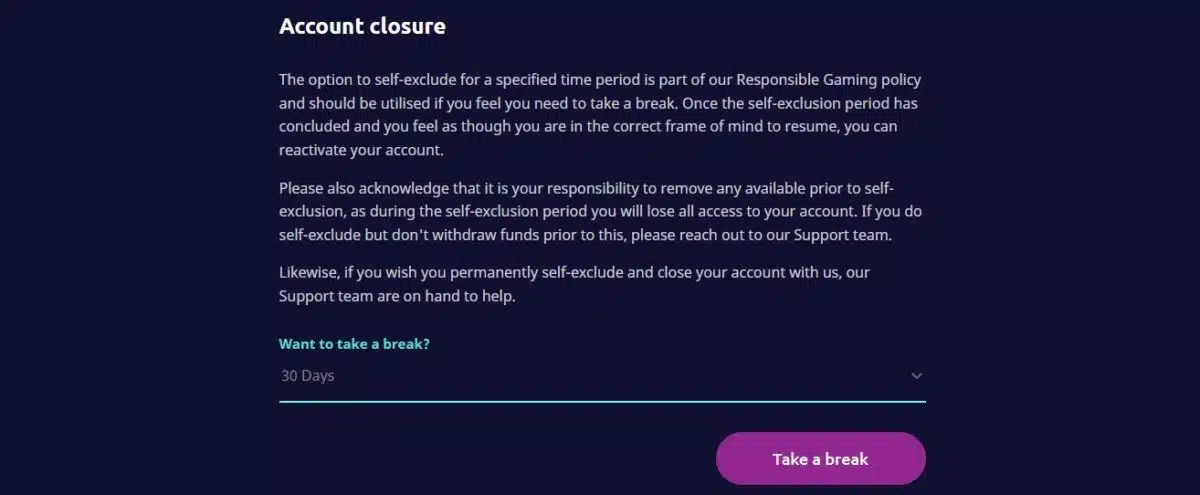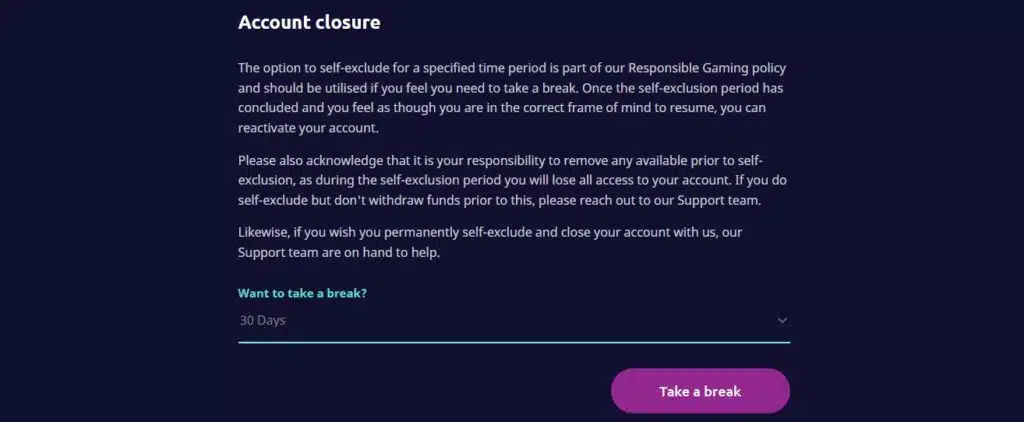 Some casinos have better tools and a bigger focus on responsible gaming while others have smaller, some casinos do not have at all any responsible gambling programs. You should always stick away from those brands.
Here are few common blocking tools that can be used online casinos:
Self exclusion at a casino
Self-exclusion at a casino is a voluntary exclusion program or a policy set by the government or individual casinos as a way of preventing problem gambling.
This tool is available for players who think they have a problem with gambling and want to stop.
At online casinos, most self-exclusion tools will block your access to any type of gambling in
24 hours
7 days
30 days
or one year
If you play to self exclude yourself from a particular online casino, you should consider installing one of the gambling block tools such as those we have mentioned underneath.
In this way, you will block your access to all online casinos and other gambling online websites.
Deposit limits
Deposit limit at an online casino can help you limit your spending in a situation where you are afraid to risk money you are not able to afford to lose.
You can limit your deposit amount to 24 hours, seven days, or even 30 days. The amount of limit you can decide by yourself. At most deposit limit tools, players can increase the limit instantly, however, if you want to decrease or remove the limit it will take effect after 24 hours.
How to set a deposit casino limit:
Login to your account
Go to "my Account"
Select Responsible Gaming
Look for Set Deposit limits
Choose your period and a limit

Just to make sure, if you set a weekly limit, it will not run only from Friday to Friday. The tool will constantly roll to prevent your deposit more than your limit is. The tool will take into account all your previous deposit amounts.
Problem gambling apps and tools
These problem gambling apps prevent any access to online gambling sites and represent a solution that overcomes compulsive gambling.
Besides blocking your access to gambling apps and websites worldwide, most of these apps can also block gambling ads on Facebook, Twitter, or any other website that runs google ads.
Listed are a few free gambling blockers apps and tools you can download for free or with a decent subscription fee.
Most reliable problem gambling apps and tools include:
Gambling Therapy app
The gambling therapy app features many practical self-help functions such as a self-assessment questionnaire, self-help and mindfulness exercises, and additionally motivational tips on a daily basis.
If you are a person who suffers from gambling and does not have the support of a therapist or professional counsellor then this app can be a little bit too much because it requires the user's motivation.
This app is easy to use with many solutions for people with gambling problems. The only disadvantage is that NZ users will not have access to crisis support info and service providers.
Cost2Play calculator
This is a very useful application and online tool that help problem gamblers realize how much they spend on playing popular casino games in the long term.
Available games for calculating the average cost of play are slots, roulette and blackjack. Players can enter game details and time spent on the game.
As the result, the calculator will show you how much users average spend per spin, per hour, per month and per year on particular games.
BetBlocker
BetBlocker is a free app and tool that can help problem gamblers to controd their addiction.
It can be installed on your dekstop, mobile smart phones and tablets.
BetBlocker can block access to over of 15293 gambling sites. Also you can select for how long time you want to block yourself from accesing gamblign sites.
Gamban
Gamban is a tool that can block all online gambling websites and apps. Besides regular gambling sites, Gamban blocks cryptocurrency and e-sport betting websites.
Users can download and subscribe to Gamban in two ways: as a "cool of" function that costs 5.19$ monthly and an "exclusion" function that costs $50 annually or $4.34 monthly. After installing and starting the application, you will not be able to remove or delete it until your prescription lapses.
GamBlock
Gamblock is one of the strongest tools used to prevent access to gambling sites and applications. Security features offer access protection even if you use a VPN or proxy.
After installing the application, it cannot be deleted or removed from your device for a certain period of time. It is available on all devices, but is best compatible for Android and Weindows devices. The annual subscription is about $ 142 per device.
New Zealand-based gambling blockers
Gambling on NZ-based gambling sites is regulated by the Gambling Acct 2003, and there are not many options to spend your money. Currently, in NZ, there are two options for gambling online that include:
Lotto NZ
When you log in to Lotto NZ account there are many blocking options that can be used. In your My Lotto account you can block your access to games, set a limit to your deposit amounts., and unsubscribe yourself from email promo advertising. Just visit the page about responsible gaming on Lotto's official website.
TAB
One of the most popular NZ-based gambling websites the TAB have also few options where players can limit their gambling. In your TAB NZ account players can set a limit on deposits, there is a exclude option "take a break" and also the option to stop receiving promo emails. They have an info phone line (0900102106) where you can seek help.
FAQ
How to block casino and other gambling adds?

By downloading and subscriptions to earlier mentioned gambling blocker tools and ads you will prevent your access to visiting these sites, but still, in most cases, you will be able to see that casino and other gambling ads when you log in to normal sites.  Do for example on social network websites like Facebook, Twitter, and Instagram you can block those ads by clicking options in the add section.
How do I block myself from online casinos?

There are several ways to block your access to an online casino. You can do this by logging in to the casino and choosing the "exclude my self" or "take a break" option. Another option is to download the free or subscribe to one of the problem gambling apps and tools such as BetBlocker, Gamban, Gamblock, Gambling Therapy app.
How do I delete my online casino account?

With most online casinos, closing your account is a easy and straightforward process where you need to log in and go to "my account" options. In the option, you will find the close your account button. Also, you can get in touch with a customer support team of your casino by phone, email, or live chat and require them to close the account for you.