Monopoly Live is a newer game and something different in terms of live casinos. This extraordinary and amazing live game show launched by Evolution in April 2019 is a real money game from the live game shows list based on the popular board game Monopoly.
A few months after its launch, the game was awarded for the best game of the year by EGR's, while a year later, more specifically, 2020, it was awarded as Gaming Intelligence's Game of the Year.
In addition to being based in the style of the famous board game, here we have segments of the popular wheel of fortune, the host, and the animated Mr Monopoly who takes us to a bonus game where the maximum win is an incredible 500x your stake.
In this guide, you can learn the Monopoly Live rules and other information like stats, RTP percentage, best Monopoly Live casino, and a strategy that will help you be ready to play this game with a much better chance of winning.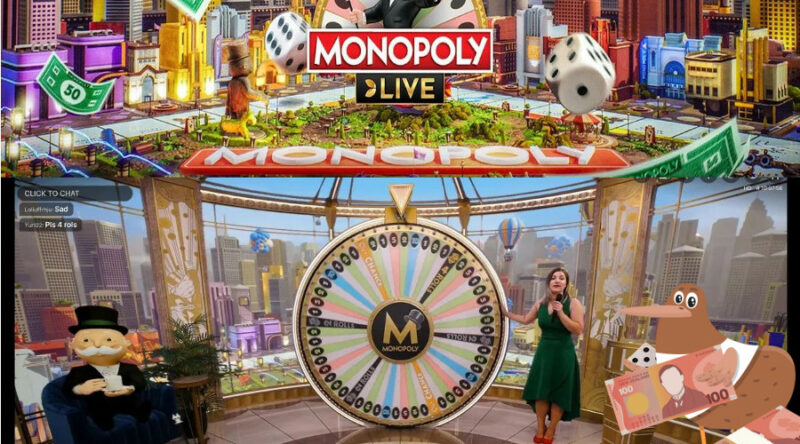 Monopoly Live rules of the game
How do you play Monopoly Live? Well, the rules of the game are not at all similar to the classic game of monopoly, but they are much simpler.
Once you get into the game, you'll see that the studio is similar to other live show real money games.
You'll see a wheel of fortune featuring numbers, a presenter, and an animated character sitting in a corner waiting for a bonus game to activate him.
You can also see the table on which you place your bets on the screen.
How to play?
The object of the game is to guess which segment the wheel of fortune will stop at.
Below we have explained in 8 steps the gameplay, and all you need to know before the game.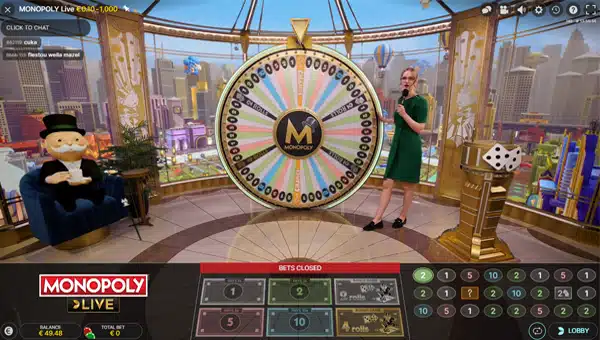 Enter the game
Find the game in the live casino section, or just type it in the search bar of the casino. Once the game loads, wait for the time to place bets. You will have 15 seconds to choose your bet.
Place your bet
You can place your bets on numbers 1, 2, 5, and 10. You can also bet on 2 rolls, and 4 rolls that are bonus bets. Each bet has a different payout and winning probabillity.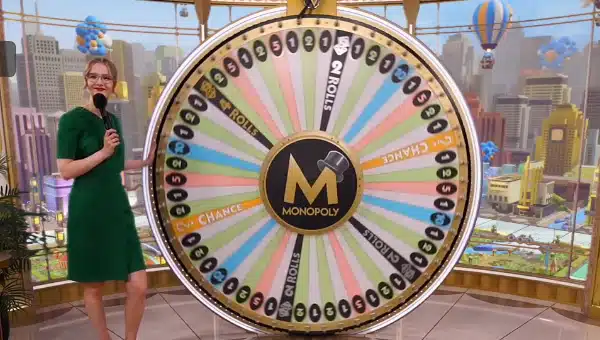 Spin the wheel
As soon as you place your bets, the bet is closed and the host turns the wheel. The goal is that the wheel stop at the segment on which you placed the bet. All bets are of now.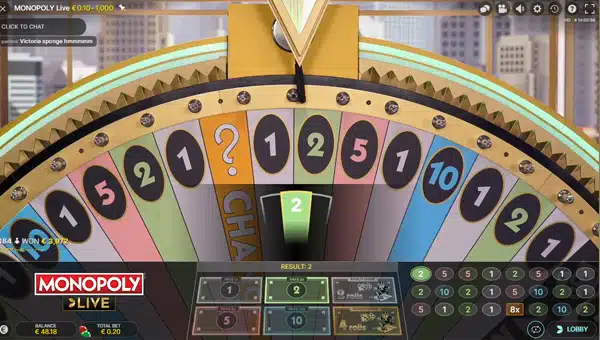 If the wheel stops at the number
When the wheel stops and the flipper points to a number on which you have placed a bet, you will win the bet multiplied by the size of that number. The initial bet is also returned to you.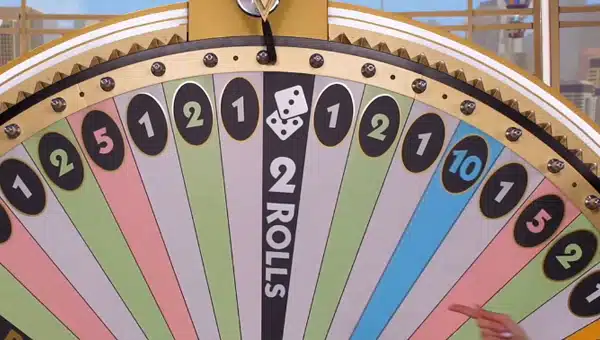 If the wheel stops at the bonus
If the wheel stops on 2 rolls or 4 rolls, the bonus rounds are activated and the virtual Mr Monoploly will take you on the bonus screen. If you have placed a bet on the bonus, you will have a chance to multiply your bet. Otherwise, you will watch the bonus game as a spectator.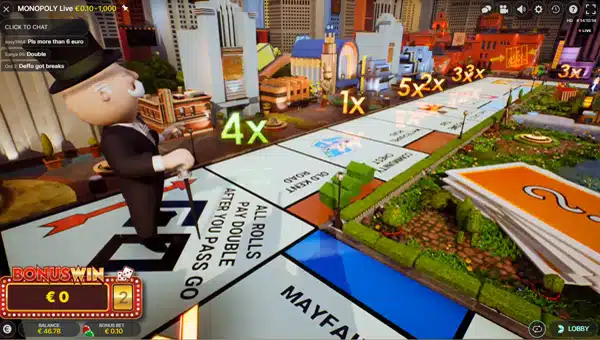 Bonus game
The game from the studio switches to a virtual screen in which the main character is Mr Monopoly. Mr Monoply goes to the board and set multipliers on each field. You have the opportunity to multiply your bet from 1x to 500x.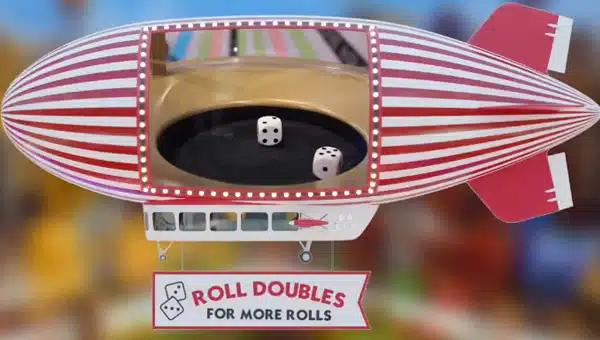 Roll doubles
Once the multipliers are placed on the fields, the human dealer in the studio rolls two dices whose outcome shows how many steps Mr Monopoly will make. If Mr Monoply stand on x10 multiplier, yourr bet wil be multiplied ten times.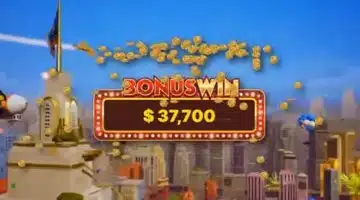 Payout time
Your winnings are instantly credited to your account, and the game is over. After the bonus game, you are retunring to the studio with a real human host. The next round starts again.
The segment designated on the wheel of fortune with the name "Chance" is a segment you can't bet on, in any case, if the wheel stops on it, you have the opportunity to win mysterious prizes with a multitude of multipliers and free cash.

Placing bets on 2 rolls and 4 rolls, and hitting one of these bets takes you to a bonus game where the maximum payout is up to NZ $ 500,000. Find out more about the bonus game below.
Monopoly Live betting stats
Now let's explain how the Monopoly Live betting system works.
In this section, we will show you the payout percentages, the number of fields, winning probabilities, minimum and maximum bet size, as well as the RTP percentage of each bet in Monopoly Live are.
Let's take a look at the table below where you can find all this information.
| Bet types | NUMBER OF FILEDS | PAYout odds | Hit probability | MIN-MAX BET | RTP % |
| --- | --- | --- | --- | --- | --- |
| Number 1 | 22 | 1x | 40% | NZ$ 0.10 – NZ$ 2500 | 92.88 |
| Number 2 | 15 | 2x | 27.7% | NZ$ 0.10 – NZ$ 2500 | 96.23 |
| Number 5 | 5 | 5x | 9.25% | NZ$ 0.10 – NZ$ 2000 | 91.30 |
| Number 10 | 4 | 10x | 7.40% | NZ$ 0.10 – NZ$ 2000 | 96.02 |
| 2 Rolls | 3 | Up to 500x | 5.55% | NZ$ 0.10 – NZ$ 500 | 93.90 |
| 4 Rolls | 1 | Up to 500x | 1.85% | NZ$ 0.10 – NZ$ 250 | 93.67 |
| Chance | 2 | Random | 3.70% | NZ$ 0.10 – N/A | N/A |
Monopoly Live game info
Statistic info
Did you know that you can track statistics, spin history and all outcomes from rolled dices in dice games?
Yes you can, it is called Monopoly Live statistic, in this way you can try to implement strategy and guess what numbers are shown the most, and on what numbers is bigger probability to win.
While in the game you can open information by pressing a button that will open a page with all your statistics and betting history, bonus rounds, dice action and other statistics that can help you in the game.

Monopoly Live strategy and tips
Bearing in mind that this is essentially a game of pure luck, there is no direct Monpoly Live strategy that would be of much help.
But the way you play and focus could be a strategy, which will help you increase your chances of winning.
Basically, your main goal and strategy should be to get into the bonus game.
The only way to get there is if you bet on bonus bets like 2 rolls and 4 rolls.
The chance of a filler stopping on a 4 Rolls bet is 1.85%, while for 2 rolls it is 5.55%.
Which means our advice to you would be to place a bet on a 2 rolls bonus game as a side bet each round.
If you rely on the RTP theoretical percentage then your favorite bet will be numbers 2 and 10 because their RTP percentage is around 96.00%.
Top Monopoly Live casino sites in NZ
In order to play this game, you need to find the Monopoly Live casino site.
That means that you need to find a casino that supports Evolution gaming live games.
In order to save your time, we as casino experts for online gambling in New Zealand know what are the best casino sites for playing this live casino game.
This would be the site that offers some great live casino bonuses that you can use after depositing.
Here in this section we have come up with the top 5 Monopoly live casino sites for NZ players.
NZD 3000

+ 600 Free Spins on Push Gaming Slots

2380+ games

Payout: Max 24h

Best feature: Unique jackpots

NZD 1200

+ 150 free spins

7500+ games

Payout: Max 24h

Best feature: Hall of flame

NZD 1000

+ 250 free spins

4000+ games

Payout: 1-3 days

Best feature: Bitcoin accepted

NZD 1000

+ 150 free spins

3000+ games

Payout: Max 24h

Best feature: Daily freespins!

50 free spins

NO WAGER (Exclusive)

3000+ games

Payout: Max 24h

Best feature: Moneyback on every bet

NZD 2000

+ 150 free spins

3000 games

Payout: 1-2 days

Best feature: Daily tournaments

NZD 1000

+ 500 loyalty points

2000+ games

Payout: 1-3 days

Best feature: Automatic loyalty

200 SkyCoins

+ 50 no deposit free spins (EXCLUSIVE)

2250+ games

Payout: 2-3 days

Best feature: SkyShop online

NZD 1600

+ 300 free spins

1200+ games

Payout: Max 24h

Best feature: Newest casino 2023

NZD 1200

+5 no deposit spins

4200+ games

Payout: Max 24h

Best feature: Support 24/7

Other Wheel of Fortune games

This is just one of the many Wheel of Fortune games that can be played at online live casinos. Wheel of Fortune concept becoming very popular among players and live games companies are coming with new solutions in order to satisfy audience.

Here are some interesting wheel of fortune games:

FAQ

Where can i play Monopoly Live?

Monopoly Live casino game is available at all casinos that accept Evolution games.

You can check out our Evolution casinos page or look by yourself casino that is in partnership with this game provider.

Also here on this page, we have listed the top 5 recommended Monopoly Live casino sites for Kiwis.

What is the Monopoly Live theoretical RTP percentage?

Theoretical RTP percentage for this live game is around 96.23%, but if you want to look in details see our table info above with RTP percentage info for each bet in this game.

What are the minimum and maximum bet in Monopoly Live?

Minimum bet in this game is 0.10 NZ$, whil ethe maximum bet is 500 NZ$. Thi sgame is suitable for players with low budget, and for the highrollers.