Gonzo's Treasure Hunt is a new live casino game show launched by Evolution Gaming. This is one in a series of their amazing live casino games made in conjunction with the popular NZ pokie game Gonzo's Guest.
In this game, we have a new live casino concept with RNG gameplay created as one. The theoretical RTP of this game is 96.56% and players have a chance to win from 100x plus wins up to 1000x wins.
In our Gonzo's Treasure Hunt review below you find all the important information about this game such as rules, how to play, features, where to play and answers to most common questions about. So let's get started.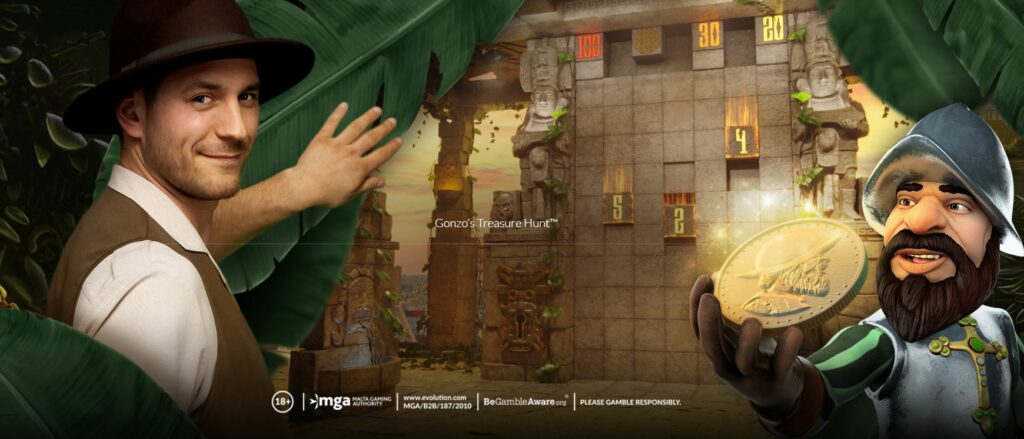 What is Gonzo's Treasure Hunt
Evolution has once again brought something unique into the world of online gaming.
This exciting new treasure hunt is a live game based on the NetEnt slot, Gonzo's Quest. And, it marks the first collaboration between these two studios since Evolution purchased NetEnt.
The new game, just like the slot, is based on the exploring Spaniard as he looks for the ancient city of Eldorado.
Similar to the slot, this new version of the game features stunning graphics, smooth animation and exciting features.
However, where things differ is the fact that there are some real people involved here too.
That's right, this game also has dealers to keep the game flowing — and they're even dressed to look like Gonzo too!
On top of all that, Gonzo's Treasure Hunt mixes the fun of the slot with the thrills of a game show.
In fact, it's the first game to combine these two different game genres together. If that wasn't enough, the game also features the chance to play in Virtual Reality (VR) mode just to add to the excitement.
We will take a look at all the features that this stunning new game has to offer!
How to play Gonzo's Treasure Hunt
As we mentioned, this is a slot crossed with a live game show. What you need to do in this stunning game is find the hidden treasure.
The main feature of this game is a wall of 70 stones, and it's here that you need to pay attention as you look for the different prizes you can grab.
When searching for the different prizes, you need to choose which of the stones on the wall are hiding the prizes.
What's great about this game though, is that there are huge prizes to be won. In fact, players can scoop as much as 20,000 for just one stone!
While this game can be played by a lot of different players, it's also important to note that any choices made within the game are specific to you.
This means that you will have your own experience and win different prizes to other players.
Gameplay breakdown
Let's take a look at this a little more. The game itself has four different sections to it. And these are:
Placing your bets
The Treasure Hunt where you choose the stones where treasure might be hidden
The Prize Drop which sees multipliers added to your wins
The Reveal where you find out the final prizes and any wins are then paid out
Betting
As we mentioned, the first step is to select your bet and choose which stones you want to find.
You will also need to select the number of searches you would like to make.
This runs from 1 to 20.
The more picks you pay for, the better the chance you have of finding the stones. But, it does mean your bet size will be larger.
In this next section, we will cover all you need to know about the special features in this slot.
Gonzo's Treasure Hunt special features
In this section we wil lexplain you all the Gonzo's Quest features such as stones and picks, treasure hunt,prizte drop and others.
Select stones and picks
Once you've set your bet value, you can then pick the stones you are going to search for.
There are six coloured stones. They each payout differently on your bet and these are 1x, 2x, 4x, 8x, 20x and 65x.
The lowest payout is on the brown stone, the highest is on the red.
Bear in mind, that the higher value stones are less likely to appear, but if they do they offer bigger rewards.
When choosing your stones, you need to select the number of Picks to buy.
Again, the more Picks purchased, the better your chances are of hitting a winning stone.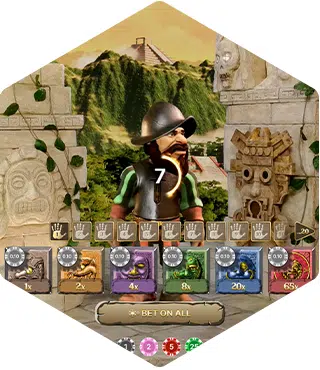 ---
Treasure Hunt
After players place their bets and picks, the stones are then shuffled on the wall and the values are hidden.
This is where the treasure hunt kicks in.
All you need to do is choose the stones on the wall up to the number of Picks you have paid for.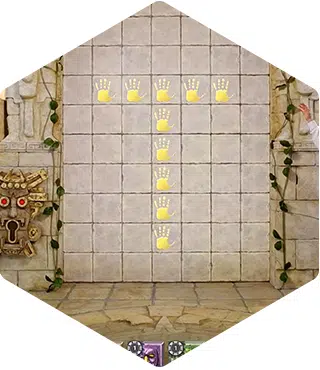 ---
Prize drop
This feature helps to add even more excitement as your winnings can be boosted up to 20,000x on just one stone.
This event happens when Gonzo turns the golden key.
When he does this, bonuses appear at the top of the wall. If there's a space below, the prize drops onto a random stone adding to that stone's still hidden value.
The options include:
Bonus prizes where the bonus adds from 3x up to 100x the value of the stone
Multipliers of 2x to 10x to increase the stone values
Re-Drop where this symbol instantly activates another round of Prize Drops giving more opportunities to boost the prizes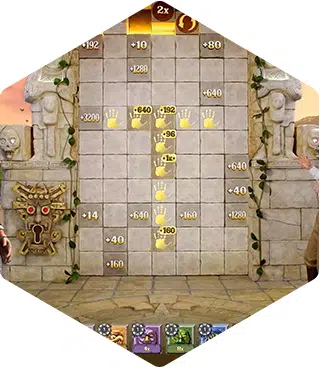 ---
Treasure stones revealed
Once all these steps have occurred, it's the end of the game.
This means that the final values of each stone will be revealed.
It's also the moment when the players get to see if they have been successful.
If you have won, then you will get the winnings from the stone plus any bonuses added to your account.
---
Virtual reality
If this wasn't enough, Gonzo's Treasure Hunt is also the first live dealer game to have a Virtual Reality option.
This means you can immerse yourself in the game on an even more intense level.
In order to be able to play the VR version of the game, you will need to select VR mode and have a VR headset.
You'll get the same features in the game, but also be able to enjoy 360 video content with a specially adapted interface.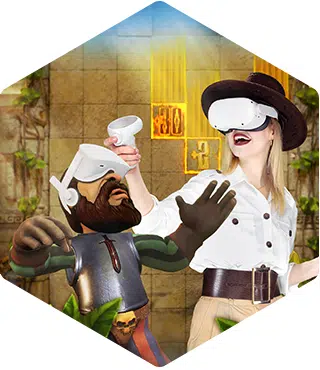 ---
Where to play Gonzo's Treasure Hunt online?
The exciting thing about Gonzo's Treasure Hunt Live is that it's available to play at a wide range of online casinos that have Evolution games of course.
This game is usually available in the main casino lobby in the live casino section, making it easy to find.
It might also be listed under NetEnt slots as it holds so many similarities with the original game as well.
However, it is important to remember that when choosing a casino to play at, you should make sure that the casino is a licensed one.
In this way, you can make sure you're having a safe gaming experience.
You should also be taking a look at the other games offered by the casino as well as any bonuses so that you can have the best experience possible.
Top 3 Gonzo's Treasure Hunt casinos
NZD 3000

+ 600 Free Spins on Push Gaming Slots

2380+ games

Payout: Max 24h

Best feature: Unique jackpots

NZD 1200

+ 150 free spins

7500+ games

Payout: Max 24h

Best feature: Hall of flame

NZD 1000

+ 250 free spins

4000+ games

Payout: 1-3 days

Best feature: Bitcoin accepted

NZD 1000

+ 150 free spins

3000+ games

Payout: Max 24h

Best feature: Daily freespins!

50 free spins

NO WAGER (Exclusive)

3000+ games

Payout: Max 24h

Best feature: Moneyback on every bet

NZD 2000

+ 150 free spins

3000 games

Payout: 1-2 days

Best feature: Daily tournaments

NZD 1000

+ 500 loyalty points

2000+ games

Payout: 1-3 days

Best feature: Automatic loyalty

200 SkyCoins

+ 50 no deposit free spins (EXCLUSIVE)

2250+ games

Payout: 2-3 days

Best feature: SkyShop online

NZD 1600

+ 300 free spins

1200+ games

Payout: Max 24h

Best feature: Newest casino 2023

NZD 1200

+5 no deposit spins

4200+ games

Payout: Max 24h

Best feature: Support 24/7

About the Evolution

After buying NetEnt, Evolution was able to create this ground-breaking slot and game show live dealer game.

It's the first product developed by Evolution that combines the two company's best features.

It also offers a live game where players have a lot more control over the outcome.

This is just the next step in the evolution of live games and marks the first step for this collaboration.

FAQ

Where can I play Gonzo's Treasure Hunt?

As this is an Evolution and NetEnt collaboration, this game can be found at any licensed casinos that are able to offer this game. However, it's still important to make sure that the casino is regulated and secure before signing up to play.

Can I play Gonzo's Treasure Hunt on mobile devices?

Yes, you can. This game is available and compatible across mobile devices as well as desktops.

Can I win real money on Gonzo's Treasure Hunt?

Yes, it is possible to win real money on this game. However, remember that gambling is all about luck so this is not a guarantee.

What special features does Gonzo's Treasure Hunt have?

The game has a number of special features including a treasure hunt, prize drop and virtual reality option.

Can I play Gonzo's Treasure Hunt in demo mode?

No, this is a live game, so it's not possible to play in demo mode.