A thrilling but simple game of chance, Fan Tan shares some commonalities with European roulette.
The game of Fan Tan originated in China, and today gamblers can play it in the casinos of Macau.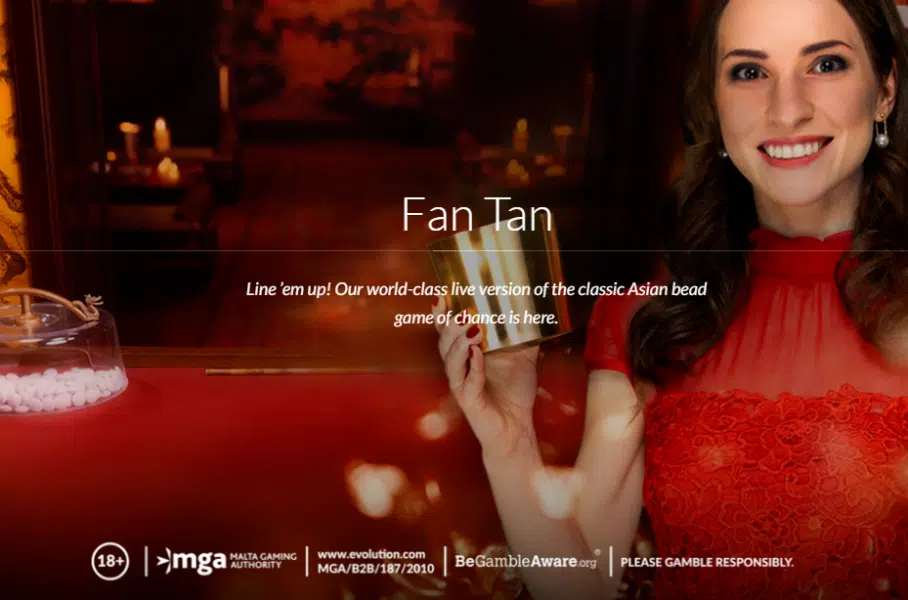 However, it's rare to encounter it in a North American or European casino.
The good news is there are plenty of opportunities to play live Fan Tan online.
A brief history of Fan Tan
The game originated in Ancient China, but it wasn't until the Qing Dynasty in the 17th century that it became well known.
It was then only in the mid-19th century that the rest of the world discovered Fan Tan when Cantonese emigrants introduced it to new locations.
In fact, the game became notorious in San Francisco's Chinatown, where there were dozens of Fan Tan parlours.
Even when it was outlawed in the late 1800s, illegal Fan Tan parlours remained popular for many years.
The game eventually fell out of popularity, however. US gamblers did not embrace it in the way that they did with Mah Jong or Pai Gow.
However, interest re-emerged when Game Time released a video version of Fan Tan in 2021.
In the same year, Evolution Gaming released a live version of the game, which is available at many online casinos.
Evolution's live Fan Tan allows you to play with a live dealer and other online players.
Created by:
Live Fan Tan game format

In this simple game, you will see a pile of beads under a transparent container, as well as a beaker, which is used to remove a random number of those beads.

During live Fan Tan, the betting square is in view at the bottom of the screen. At the start of each round, players must first place their bets.

Then, the dealer will use the beaker to draw out a random number of beads.

Players bet on the number of beads that will remain on the table after the dealer separates them into piles of four.

The remaining amount can only be 1, 2, 3, or 4.

Step-by-step how to play guide

When the dealer prompts you, place your bets.
The most common bets are 'fan' bets, where you guess the number of beads that will remain. To make a fan bet, place a chip on 1, 2, 3, or 4.
You can choose to bet Big (3 or 4) or Small (1 or 2).
Players can also choose to bet on Odds or Evens.
In live Fan Tan, you can put chips in different wager areas.
To the lower right of the screen is a thumbnail icon. Click on this for more betting options.
These extra betting options offer lower-risk bets.
The additional bet types are 'kwok', 'Sheh-sam-hong (ssh)', and 'nim' bets, which allow you to bet on two or three numbers at a time.
A kwok bet allows you to choose two numbers. If either wins, you win.
A nim bet allows you to choose two numbers. If the first wins, you win, if the second wins, you get your wager back.
An ssh bet allows you to choose three numbers; if any win, you win.

Fan Tan's biggest wins

The biggest wins are possible by making fan bets, as players have a 1 in 4 chance of winning.

The win for a fan bet in live Fan Tan is 2.85:1. All other odds in the game are lower than this.

Fan Tan tips and strategies

Like live roulette, Fan Tan is a game of pure chance. This means there are no Fan Tan strategies like those you might find in poker or blackjack, for instance.

However, we have plenty of great tips that might help you get the most from this ancient game:

Make use of the additional betting options if you want to play it safe. The odds are low, but it might keep you in the game for longer.
Combine fan bets with odds/evens and big/small bets.
Keep an eye on the information to the lower right of the screen, where you'll see the results of the last few rounds.

Live Fan Tan: our verdict

The best thing about live Fan Tan is that it's a brand-new way to discover a very old game.

It offers the simplicity that comes with chance-based games and requires no skill or specialist knowledge.

It's also a low volatility option, making it good for budget players and those looking for something with achievable odds.

FAQ

What is the RTP for Fan Tan!

What is maximum payout?

Fan Tan biggest payout is 2.85:1 which means 2,85 to 1 in payout.

Where is this game streamed from?

Evolution streams Fan Tan from their live casino studio in Latvia.