Boom City is an exciting dice-rolling game where the presenter rolls the dice, and their better roll will net them a multiplier.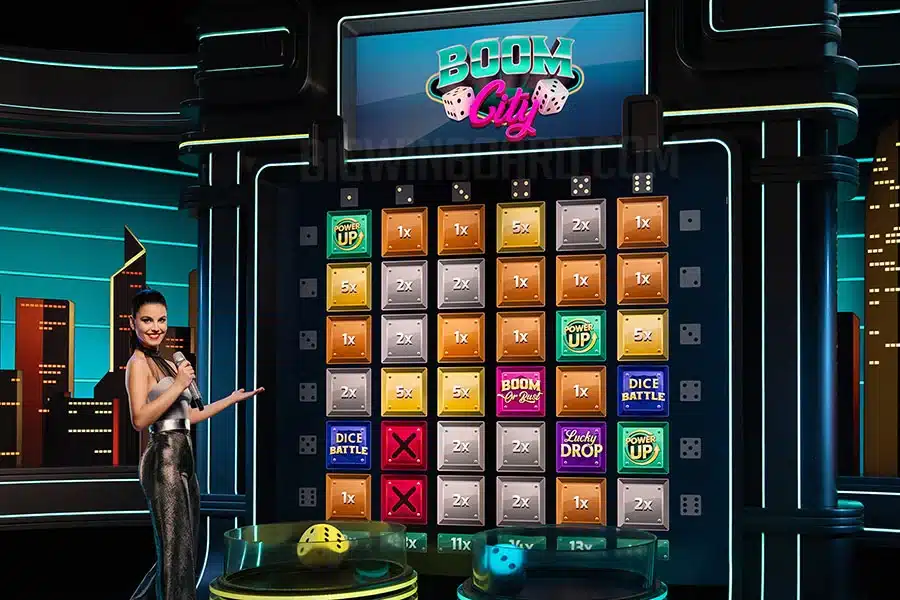 The game includes special bonus rounds for extra chances to win prizes, including a multiplier increase.
It has maintained consistent growth due to innovation and dedication toward customer satisfaction.
Game category: Game show, Live casino game, Dice game
Tip:
Play Boom City online
NZD 3000

+ 600 Free Spins on Push Gaming Slots

2380+ games

Payout: Max 24h

Best feature: Unique jackpots

NZ$ 2000

+ 100 free spins

4000+ games

Monthly tournaments

VIP advantages

50 free spins

NO WAGER (Exclusive)

3000+ games

Payout: Max 24h

Best feature: Moneyback on every bet

Gameplay

Boom City gameplay aims to have players go far beyond simple mechanics.

They offer a substantial max win of up to 20,000 x with an entirely custom-built set that combines the creation of a unique experience that every player can enjoy.

Bonus games

Boom City Live offers numerous exciting bonus games.

The following are some of its top three bonus games:

Dice battle

In this game, players must choose between two battling dice, where each side will have three rolls to try and earn the highest number possible.

Dice battle

The side with the higher total becomes the prevailing side and wins the total winnings and the cumulative amount of the losing dice.

Lucky drop

In this game, players choose one number on the dice, which is then rolled six times. The multiplier will increase every time a selected number appears.

Lucky Drop

It's easy to track your progress and know the rewards. You can also earn a sure 5x higher bonus in this round. If lucky enough, the bonus round can offer a massive bonus of 250x.

Boom or Bust

Have you ever wanted to stop the game and cash out early? Then you'll love "Boom or Bust". This option is super simple and only has seven total rounds.

Boom or Bust

In Boom or Bust, you climb the ladder, and your multiplier increases as you get further! During every round, players may choose from the numbers between one and six.

Five of these numbers are multipliers, while one is a Red Cross. You'll proceed to the higher level if you're lucky enough to hit a multiplier.

A Red Cross has the lowest probability of the lowest multiplier value. Some numbers have specific multipliers, allowing you to proceed to the next round.

Payouts in Boom City

As the game begins, players must place their bets on the 6 x 6 grid bonus or the specific bet multiplier squares.

The bust icon, a red square with a black cross, implies you will lose. Following are payouts with the main icons:

Bronze payout is 1:1; its occurrences range between 12 and 13
Silver payout is 2:1; its occurrences range between 9 and 11
Gold has a payout of 5:1; its occurrences range between 4 and 6

In addition to these payouts, players can secure some bonus rounds. Following are the different values of the positions of the bet multiplier:

It's wise to bet on a bonus position in Boom City, as you can get decent gains (payouts).

The Power Up is the game's first bonus and can only be activated by betting on its position. This feature allows players to convert bust symbols into 1x prizes.

It grows the value of other positions. Besides, the Power Up feature can increase the value other bonus features, and it offers players a dice roll free trial!

You might even win some of the boosted prizes if you're lucky! Second is the Dice Battle, in which you must guess which dice will get the highest points over three rolls.

The third feature is "Boom or Bust". It's played on a 6 by 6 grid and has many levels, each with a bust icon and a multiplier.

You advance if you land the multiplier prize icon in this bonus round. On the other hand, if you land on the bust icon, you can't advance even if it's your last roll since your bonus rounds end.

Lastly, a Lucky Drop feature plays on a 6×6 grid. You can win anywhere from 5x to 250x. Every column has a multiplier.

The chosen column number appears on the dice roll, and the higher the column number, the higher the payout.

Created by Pragmatic Play

Boom City Casino was developed by Pragmatic Play, a company specializing in designing and developing games.

The game provides users an easy way to play games, win prizes, and have fun. It is designed for players looking for more than a slot machine or table game.

Besides, it is perfect for those who are after new friends and want to try out different games.

FAQ

Can I play Boom City while on the go?

Yes! It's developed in HTML5; such games are entirely compatible with desktop and mobile devices. They are optimized for mobile devices and provide a stunning mobile gaming experience.

How much can I bet in Boom City?

You can wager from $ 0.10 to $ 5,000

What's the possible maximum win in Boom City?

The maximum payout in Boom City is €500,000.