For over a decade, Rapidtransfer has aided players to easily connect their traditional bank accounts and upload funds to Skrill easily.
This further establishes Skrill's dominance in providing financial services to online casino users that love faster deposits and payouts.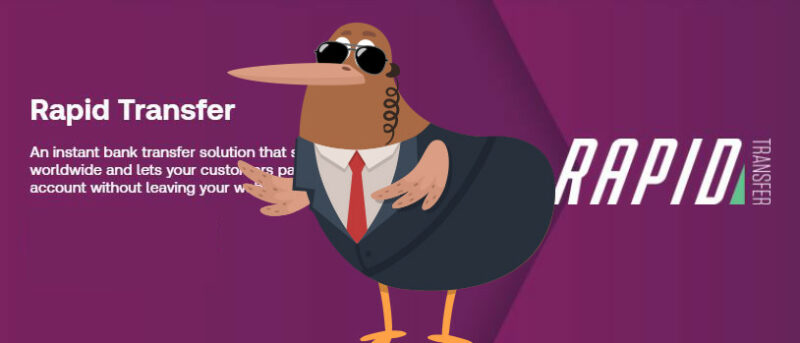 A strong and user-friendly experience based on the principles of affordability, community, simplicity and flexibility has been designed with particular attention.
The Rapidtransfer International app allows you to send money quickly, easily and securely to various countries.
Here you will find the best casinos with Rapid transfer and information on how to use the service.
Best Rapid Transfer casinos in NZ
NZD 3000

+ 600 Free Spins on Push Gaming Slots

2380+ games

Payout: Max 24h

Best feature: Unique jackpots

NZD 1200

+ 150 free spins

7500+ games

Payout: Max 24h

Best feature: Hall of flame

NZD 1000

+ 250 free spins

4000+ games

Payout: 1-3 days

Best feature: Bitcoin accepted

NZD 1000

+ 150 free spins

3000+ games

Payout: Max 24h

Best feature: Daily freespins!

50 free spins

NO WAGER (Exclusive)

3000+ games

Payout: Max 24h

Best feature: Moneyback on every bet

NZD 2000

+ 150 free spins

3000 games

Payout: 1-2 days

Best feature: Daily tournaments

NZD 1000

+ 500 loyalty points

2000+ games

Payout: 1-3 days

Best feature: Automatic loyalty

200 SkyCoins

+ 50 no deposit free spins (EXCLUSIVE)

2250+ games

Payout: 2-3 days

Best feature: SkyShop online

NZD 1600

+ 300 free spins

1200+ games

Payout: Max 24h

Best feature: Newest casino 2023

NZD 1200

+5 no deposit spins

4200+ games

Payout: Max 24h

Best feature: Support 24/7

General Rapidtransfer info

| About | Info |
| --- | --- |
| Website | https://www.skrill.com/en/business/rapid-transfer/ |
| Accepted in NZ | Yes |
| Rapidtransfer to casino fee? | Free |
| Time to deposit at a casino | Instant |
| Withdrawal time from casino | Up to 24h |
| How to add funds? | You add money to your Skrill account with a bank transfer. |
| Withdrawal? | Yes withdrawals are possible to Skrill and then from Skrill to bank account or other services. |
| Company address | 25 Canada Square, London, United Kingdom |
| Payment type | Credit card & e-wallet |

How to use Rapidtransfer in an online casino

If you want to make a deposit using Rapidtransfer online, it's easy to do.

Rapid transfer payments

You do not need to create a special Rapidtransfer account, instead, you simply create an account with Skrill and also on the casino.

Once you have done so, these simple steps should be followed:

– Go to cashier section of the casino and choose 'Rapid transfer' from the deposit method list.

– Enter the deposit amount you want.

– Select from the list your bank and login via your banking information (your card number and security code).

– Confirm your bank's payment by the necessary security process.

Rapidtransfer processes this immediately, so you can start betting with the amount in your casino funds immediately as well, without issues whatsoever.

Rapid Transfer withdrawal

You might want to withdraw funds when the time comes for you to cash out your winnings. In many cases, the same method of payment you used for depositing is the method you use for making withdrawals.

Send money with Skrill

Unfortunately, for instant bank withdrawals, Rapid Transfer cannot be used. Instead, a standard bank transfer may be offered as alternative by the casino, which can take a couple of days.

Alternatively, you can opt for withdrawals using other online payment methods offered by the casino which is commonly Skrill, Paysafecard, and Neteller.

These options offers instant transaction.

Rapidtransfer payment method

One of the biggest problems with certain methods of payment is that you could be charged for making withdrawals.

In many cases, including rapid transfer, online casinos or other merchants pay these additional charges so that the players do not have to.

However, it is a good practice to check the online casino's terms and conditions to see if this is the case, so you are prepared.

It should also be noted that withdrawal of Skrill funds via bank transfer costs a small charge so do keep this in mind before you consider joining.

In addition, you may be charged a 'cash advance' fee if you deposit funds on your Rapidtransfer gambling account. It's out of the control of Skrill and the company doesn't receive any of it.

Fees?

Skrill is completely free to use but there may be additional fees when transferring money to your bank and/or when using their credit card if you have one. Below you can see which fees may be added.

| | | |
| --- | --- | --- |
| | Skriller | True Skriller |
| First Skrill Visa® Prepaid Card application | USD 10 | Free |
| Bank withdrawal | USD 5.50 | Free |

What's needed to use Rapidtransfer

Rapid Transfer is a payment service brand and the Skrill e-wallet launched to highlight it.

Where to use Rapid Transfer

With a rapid transfer, with only just your verified Skrill account, you can make direct cash transfer from your bank to your broker.

In order to use Rapid Transfer, choose the amount that you wish to deposit or withdraw from your business account.

You will have to confirm your bank's security code depending on the process of validation your bank uses. Your payment will be immediately processed.

Rapid transfers work by connecting you to your bank account directly to make payments without having to enter long payment forms or credit card information.

In just a few simple steps, payments are processed.

For more info go to Skrill Rapid Transfer

Alternatives to Rapidtransfer

Agreed, Rapidtransfer is one of the amazingly efficient functions for money transfer and withdrawal, no doubt.

But in the 21st century where every industry is competitive (which is healthy), there are other alternatives to Rapidtransfer and some of the alternatives includes:

Neteller

Neteller is a Canadian payment system which was established in 1999.

It became part of the Paysafe Group, a global payments group in the United Kingdom, following the merges and acquisitions chain.

No banking license is available for Neteller as it focuses instead on e-transfers among dealers.

Neteller's clients' main objective is to provide financial service to social network and forex trading companies.

Neteller also allows customers to pay online, although it is popular for the money transfer.

It also offers a prepayment card to its users. Customers can therefore pay online in stores accepting Neteller for payment.

MasterCard

The total revenue from MasterCard for 2019 was 16.9 billion dollars, with a payment volume of 6.5 trillion dollars.

The core products of MasterCard include consumer credit, consumer debit, pre-payment cards and a commercial product company.

It has one reportable business segment called Payment Solutions broken out throughout the U.S. etc.

The majority of MasterCard's income is derived from data processing and service charge.

However, it differs from the charges. MasterCard service calculates the charges based on the percentage of the world dollar volume.

Data processing fees are referred to as fees for switching.

Switching fees represent a small fixed cost to the issuer per transaction.

Visa

Total revenue for Visa's total payments was $23 billion and $8.8 trillion in 2019. Credit, debit and prepaid cards as well as enterprise solutions and global ATM services are core of Visa's products.

The reporting segments of the company include International Transactions Service and Data Processing.

Visa earns most of their service and data processing charges, but these two companies have their own charges and charging structures.

The service charges will be paid to the issuer on the basis of volume of cards.

Data processing fees are also generally chargeable to the issuer, who retrieves these fees for each individual transaction by charging merchants.

Data processing charges are typically very small fixed charges, which are per transaction charged for the costs of providing network-conscious transactional information.

E-wallet

An eCheck is an electronic payment financed from the account of the buyer. The bank has to clear an eCheck before the beneficiary is credited.
<br/><br/>
For an eCheck to clear up the money and appear on <a href="https://newzealandcasinos.nz/paypal/">PayPal</a> account of the recipient usually takes up to 6 business days.
<br/><br/>
Make sure you have enough cash in your bank account to cover your eCheck before making a payment.
<br/><br/>
This is a good, sensible way to do it. When your bank account does not have enough money, the bank will decrease payment.
<br/><br/>
Your bank will always be asked to pay the full amount.

Rapidtransfer frequently asked questions

Can Rapid Transfer be used to transfer money into my Skrill account?

Yes, Rapid Transfer is a product for the Paysafe Group and you can easily transfer money to your account with a Rapid Transfer if you have a Skrill account.

Rapid Transfer is one of the cheapest ways to load money into your account with only one percent charge.

Rapid transfers can also be used to send money to other digital wallets of Paysafe Group, Neteller.

How long does it take for a transfer to get processed?

Rapid Transfer deposits are fast. You will get your funds within seconds.

Is Rapidtransfer Popular In Online Casinos?

Skrill is easily one of the most trusted and popular payment processors in the online gaming community.

Their rapid transfer service can therefore be used in hundreds of online casinos worldwide. You can find a list of supported online casinos on the official website of Skrill.

Who can use Rapid Transfer?

Every player with verified Skrill accounts can use Rapid Transfer. However, their bank has to be one of the listed supported banks.

If Rapidtransfer is legit, why is their service free?

Rapid transfers for the consumers are free to use. Instead they charge fees to institutions that use their services which in our case are the online casinos that supports its service.

If you need to, you can check through the casino policy to see how charges are reconciled.