The European roulette is the most popular and sought-after roulette variant, both in land-based casinos and online.
So, it's no surprise that it's also the most commonly available version of the game. You'll have a lot of games and casinos to pick from, especially if you've opted to play online.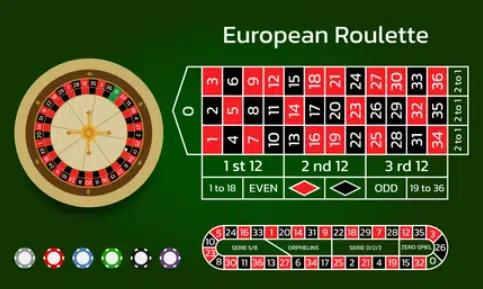 But the truth is that the European roulette is the finest, as shown by our study and corroborated by the many players who routinely enjoy playing it online.
This game has 36 normal numbers and one green zero. Read on to learn more about the European roulette.
Wheel set up
The European roulette wheel contains 37 pockets in total. This includes the green pocket with the number 0, 18 red pockets and 18 black pockets.
Looking clockwise and counterclockwise around the roulette wheel, beginning with the green 0, you'll discover eight black and eight red numbers on each side.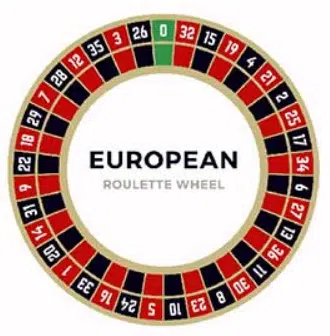 When viewing the wheel from the right side of the green pocket, all red numbers are in the "high" bracket, whereas the black ones are in the "low" bracket.
The arrangement would be inverted when you view from the left side of the 0. The red figures become low, while the black ones are high.
How to play European roulette
It will help to know the basics of how betting works. You don't need to learn any special skills or methods before playing this game.
Every European roulette betting round starts the same way. Each person at the table chooses what they want to bet on and how much they want to wager.
A croupier will spin the roulette wheel. After which you will have a few seconds to place your bets. The dealer will then instruct everyone at the table to cease betting.
If you keep betting after this, your bets will be thrown out.
The croupier will drop a little puck on the betting board, designating the winning number once the wheel comes to a halt and the ball falls into one of the numbered pockets.
Next, the dealer will remove the puck from the betting board after all the winners have been paid out. By doing so, they indicate the start of the next betting round, and the process starts all over again.
Winning payout and odds
This game is made up of a wheel (split into 37 sectors, including zero) and a betting table.
The number sequence on the wheel is arbitrary, although the red and black colours alternate.
Here is the payout and odds:
Colour bets: A payout of 1:1 with odds of 48.65%
Evens / Odds bets: A payout of 1:1 with odds of 48.65%
Lows / Highs bets: A payout of 1:1 with odds of 48.65%
Dozens bets: A payout of 2:1 with odds of 32.43%
Columns bets: A payout of 2:1 with odds of 32.43%
6 Numbers bets: A payout of 5:1 with odds of 16.22%
4 Numbers bets: A payout of 8:1 with odds of 10.81%
3 Numbers bets: A payout of 11:1 with odds of 8.11%
2 Numbers bets: A payout of 17:1 with odds of 5.41%
1 Number bets: A payout of 35:1 with odds of 2.70%
Chek out our Roulette odds chart
Play European roulette online
This game is readily available to be played online at a variety of online casinos, many of which use random number generation (RNG).
This technology is important in video games because it produces distinct results every time a random action happens. For instance, in loot-based games.
The item and its qualities are determined by the game's RNG. You might acquire a rare item or a low-level component with different stats.
The game's RNG usually randomises the outcomes in the same way that an online slot does.
The European Roulette games offered by reputable providers come highly recommended due to their excellent graphics and animations, high return to player percentage, helpful user settings, cutting-edge mobile version, and numerous betting options.
These options include not only bets on the inside but also bets on the outside.
You can find this variant of the game at a good number of the top online casinos.
Additionally, you can test out this game with free demo play, so you don't have to risk your funds. Live versions of the game are also highly engaging and much recommended.
Recommended casinos to play at
NZD 2000

+ 150 free spins

3000 games

Payout: 1-2 days

Best feature: Daily tournaments

1000+ games

Payout: Max 24h

Best feature: Daily rewards!

American vs European roulette

The roulette ball rests in 38 pockets on the American wheel.

They are black and red numerals, ranging from 1 to 36. This variant also has two green pockets for a single (0) as well as a double (00).

American vs European roulette

When you look at European Roulette, you will see 36 numbered pockets that are either red or black. However, there is only one green pocket for a zero.

When playing American Roulette, the house edge is 5.25%. In European Roulette, the house edge is only 2.7%.

FAQ

How many numbers are on a European roulette wheel?

A European roulette wheel has 37 numbers. 36 normal ones and one zero.

How to win European roulette?

Simply place your chips on the desired result. For example, if you wish to wager "17," you may use any number of chips.

Each way to bet has a different chance of winning, and the payouts are based on those odds.

What is the difference between American and European roulette?

The biggest distinction between American and European roulette is the number of zeros, or green pockets.

The green digits 0 and 00 are used in American roulette.

European roulette, on the other hand, has just one green pocket designated as the "zero."

The total number of numbers on American roulette is 38, whereas the total number of numbers on European roulette is 37.