New Zealand online sports and racing gambling site, TAB NZ, has recently announced the launch of a new online payment method on their site.


In addition to debit/credit cards and bank transfers, TAB NZ users may now deposit money into their TAB Accounts using online EFTPOS.
This new payment method is available on both the TAB Mobile app and directly on their website at tab.co.nz.
How online EFTPOS works
Online EFTPOS makes adding funds to your TAB NZ account simple.
While the name might imply otherwise, the payment system is different from the normal card system as no payment card is necessary for the transaction.
All that is required is a registered mobile phone number and the latest-version mobile app of a cooperating bank.
The following banks currently offer Online EFTPOS services:
ASB
BNZ
Westpac
Co-Operative
An increasing number of banks are working on making this payment option available to their clients, so keep checking back if you do not see your bank listed above.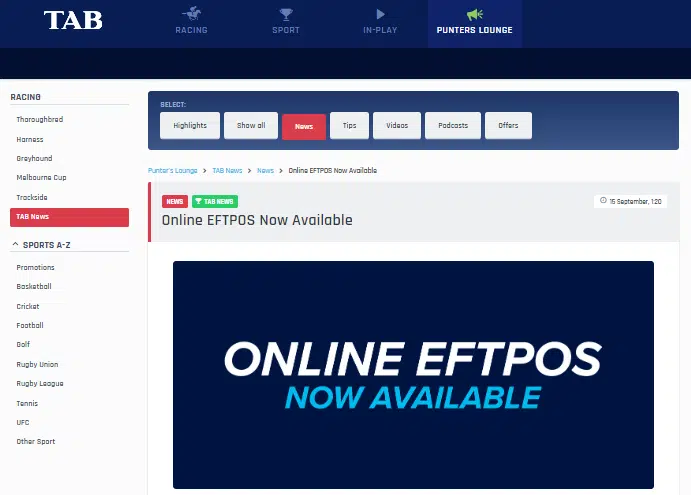 If you are interested in using this method to add funds to your TAB Account, you can find the option on the deposit screen of the TAB Mobile App or on their website.
There is no minimum deposit amount. After selecting 'Online EFTPOS' in the deposit options and entering the desired deposit amount in NZD, select 'initiate deposit'.
You will be redirected to a page requesting your bank's name alongside mobile phone number. Following this, you will be prompted to approve your payment in your bank's app.
Navigate to your bank's mobile app, verify the transaction details, and approve the payment to complete the transaction.
Please note, first-time BNZ users will follow a slightly different process to that detailed above. You can read more about this initial process here.
Benefits of using online EFTPOS
Online EFTPOS is a safe and easy way to pay online. It is also considered one of the most secure online payment methods of the modern day.
Unlike with other methods, this process does not include the request or sharing of bank account details. You also get to verify all payment details directly in your bank app.
Banks implement time constraints and personal identification requirements for this step. These requirements vary by bank, but they include fingerprint authentication and PIN/password.
The payment method is also one of the fastest. As long as there are sufficient funds in your account, the transaction is immediate.