In this exciting, fast, and simple variety of poker, players wager against the house instead of each other in both online and at brick-and-mortar casinos.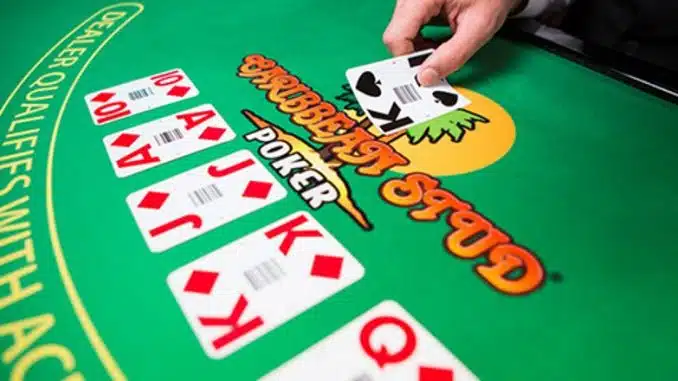 This version of poker developed from the standard five-card stud variety. Casino Stud Poker is another name for Caribbean Stud Poker.
While it is not as popular as Texas Hold' Em or classic Five-Card Draw, there are lots of reasons players choose this version of the game.
For many, the straightforward and no-nonsense format has tremendous appeal. Importantly, there is no bluffing in Caribbean Stud Poker, your cards are visible, and there are no additional draws.
Play Caribbean stud poker
NZ$ 500

+ Game of Guts reward

2500 games

Poker against real players

Many promotions

2000+ games

Payout: Max 24h

Best feature: Fast withdrawals

NZD 2000

+200 Free Spins on Wolf Gold

2380+ games

Payout: Max 24h

Best feature: Unique jackpots

History of the game

Unlike other poker variations, Caribbean Stud Poker has a relatively brief history, like Texas Hold' Em.

While the game's exact origins are not clear, US casinos incorporated it as a drive to offer more variety and encourage players to play poker.

The most commonly cited theory of origin is that the professional poker player David Sklansky invented it in 1982. He claims to have called it 'Casino Poker.'

First played in the Excelsior Casino Hotel in Aruba, it later spread to neighbouring resorts.

The concept was patented and finely tuned before being introduced to casinos in the US in the early 1990s.

How to play Caribbean Stud Poker

This version of poker is easy to play. Follow these steps to get started:

Players start by making an initial stake, known as the Ante. In land-based casinos, the minimum Ante is typically between $3-$5, but it can be lower at online casinos.
The croupier deals five cards to all the players who have made a bet.
Next, the dealer takes five cards, placing their last card face up.
Players then turn over all five of their cards.
At this stage, the players decide whether they want to fold or stay in the game.
To stay in the game, players must double their bet.
The dealer needs a King and an ace or better for their hand to qualify.
If the dealer's hand does not qualify, the Ante bet is returned to the player, but they lose the raise bet.
However, if the dealer's hand is better, the player will lose both the Ante and an additional bet. According to the house payout scale, players will win if their hand is better than the dealer's. That is, as long as the dealer's hand qualifies.
Players typically win 1:1 on the ante bet and then on a sliding scale for the raise bet.
Remember, you are only playing the dealer. It is irrelevant to compare your hand to the other players'.
If you choose to make a side bet on the progressive jackpot, you will also win all or some of the jackpot for one of the top hands, even if you do not beat the dealer.

Top winning hands

The best hands in Caribbean Stud Poker are the same as classic poker:

Royal Flush: Five cards of the same suit, from 10 to Ace.
Straight Flush: Five cards of the same suit in numbered order.
Four of a kind: Four matching number cards.
Full House: 5 cards made of 2 x matching numbers and 3 x matching numbers.

| | |
| --- | --- |
| | Royal flush |
| | Straight flush |
| | Four of a kind |
| | Full house |
| | Flush |
| | Straight |
| | Three of a kind |
| | Two pair |
| | One Pair |
| | High card |

Does this ranking table also apply to texas holdem poker? The answer is yes!

Progressive jackpot

This game typically features an optional progressive jackpot.

You can win some or all of the shared jackpot with a side bet by landing one of the top four hands.

This is up to a maximum of 100% of the jackpot for a Royal Flush.

For this reason, it has become a popular version of poker for online players because the larger pool makes for a bigger jackpot.

Top tips for Caribbean Stud Poker

To play it safe, avoid the progressive jackpot. Unless you're just looking for more excitement, winning one of the top hands is slim.
Always raise on a pair or better. More often than not, you'll beat the dealer with this hand.
Consider raising on an Ace-King (holding both the Ace and King), but fold on anything less than this.
Don't ‌bluff; the dealer will not be folding.
Look out for blocker cards. If you have a card that matches the dealer's exposed card, there is less chance they will make a pair from this.

Conclusion

The benefit of this version of poker is that the gameplay is fast, and it is easy to learn. There are no additional draws after the first deal.

Playing against the dealer means you don't need to worry about bluffing or losing out to other players.

The strategies for winning are super-easy to comprehend, as players should raise on anything over an AK, and indeed on pairs or better.

The additional progressive jackpot option is suitable for those looking for added volatility.

Latest poker news

FAQ

Can I play Caribbean Stud Poker for free online?

Yes, at virtually all online NZ casinos you can play Caribbean Stud Poker for free in the RNG version. The only requirement that may exist is that you must create a free account and log in.

What is the house edge?

The standard house edge of Caribbean Stud poker is 5.224%!