Royal Panda casino, as always, has prepared great promotions with irresistible casino rewards.
Every March the 3rd, the Royal Panda celebrate its birthday, so on that occasion, it organized great promotions to honour its loyal players.
Of course, new players are welcome also!
So let's take a look at what it's all about, what rewards we can get and how.
Let's dive in!
Seven Birthday Bash promotion
Royal Panda made a promotion in the form of a task and created Imaginarium Bambooda Island which houses all the casino prizes.
Each day, players will have the opportunity to open a quest that will give them a chance to receive casino treats in the form of cash prizes, and free spins throughout the whole of March.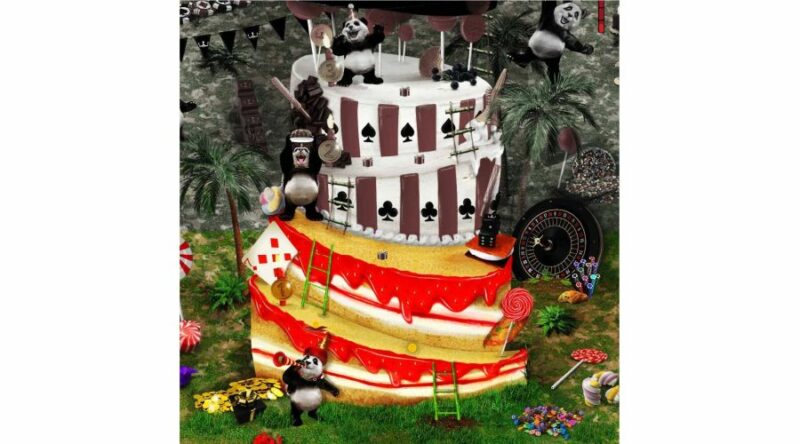 There is a huge birthday cake in the middle of Bambooda Island and the goal is to get to the very top of the cake by completing tasks and opening as many gift boxes as possible.
How it works?
All you have to do is click on the active coin that will open a window with a task that you must complete in order to enter the prize game.
Tasks will be in the style of playing certain slot games, depositing a certain amount of money, and collecting tournaments points.
Each task lasts 2 days.
Let's take for example that from March 1st to 2ns, the task (Get Pampered) was active for players to deposit 40.05 NZD and start the game at The Dalai Panda Slot game where they won 27 free spins.
If you deposit $255 you will get 27 Panda Spins.
Sounds kind a low? Hmm, but each Panda Spin is worth 1.5 NZD!
Current active quest – "Indulge in sweet delights"
How it works: Players need to collect points by playing certain slot games, which we will list below. Collecting points they climb the PNG leaderboard where if they become one of the top 10 scoring players they have a chance to win a share of the $ 4,500 prize pool.
How to join: Simply start playing eligible slot games with the maximum number of paylines Active: 3 – 4 March from 00:01 – 23:59 CET
Eligible slots games: Banana Rock, Baker's Treat, The Faces of Freya
Min bet: $ 0.90
Top 10 scoring players with the highest value single spin win amount will receive cash prizes including:
1st prize: $1,500
2nd prize: $750
3rd prize: $450
4th prize: $375
5th-7th prize:$ 300
8th prize: $225
9th-10th prize: $150
Players will receive rewards after the ending of the current quest on 5th March by noon (CET).
Claim offer by clicking visit button ⬇
NZ$ 1000

+ 5% cashback bonus

3000+ games

Top up-bonus on every deposit

Daily casino rewards

Following quests and rewards

Unfortunately, only current and past guests can be seen on the official Royal Panda Casino promo page, but we have come across an exclusive document that shows exactly all the future quests and rewards that follow. See below.

From
to
Promo
ELIGIBLE GAMES
Mon 1/3
Tue 2/3
Dep $40.5 get 27 FS
Dep $255 get 27 PS
The Dalai Panda
Wed 3/3
Thu 4/3
PNG leaderboard tournament
Banana Rock, Baker's Treat, The Faces of Freya
Fri 5/3
Sun 6/3
Wager $40.50 get 27 FS
Fruit Shop
Mon 8/3
Tue 9/3
Dep $40.5 get 27 PS
Dep $255 get 27 PS
Sweet Bonanza
Wed 10/3
Thu 11/3
Prize Drop (spins and cash)
Cat Wilde in the Eclipse of the Sun God
Fri 12/3
Sun14/3
Wager $40.5 get 27 free spins
Aloha! Cluster Pays
Mon 15/3
Tue 16/3
Dep $40.5 get 27 FS
Dep $255 get 275 PS
La Fiesta
Wed 17/3
Thu 18/3
Wager $40.5 get 27 free spins
Mystery Reels Dazzle Me – DE
Fri 19/3
Sun 21/3
PNG leaderboard tournament
Extra Juicy, Fruit Party, Fruit Rainbow
Mon 22/3
Tue 23/3
Dep $40.5 get 27 FS Dep $255 get 275 PS
Royal Panda Branded Megaways
Wed 24/3
Thu 25/3
Wager $40.5 get 27 free spins
Fruit Shop Megaways
Fri 26/3
Sun 28/3
PNG leaderboard tournament
Disco Diamonds, Golden Ticket 2, Wild Frames
Mon 29/3
Wed 31/3
Dep $40.5 get 27 FS Dep $255 get 27 PS
Yummy Wilds

On all quest terms and condition are applied. Read them carefully before you choose to play.