In 2022, Pragmatic Play launched PowerUP Roulette, a live-dealer online roulette game with a unique multiplier mechanism.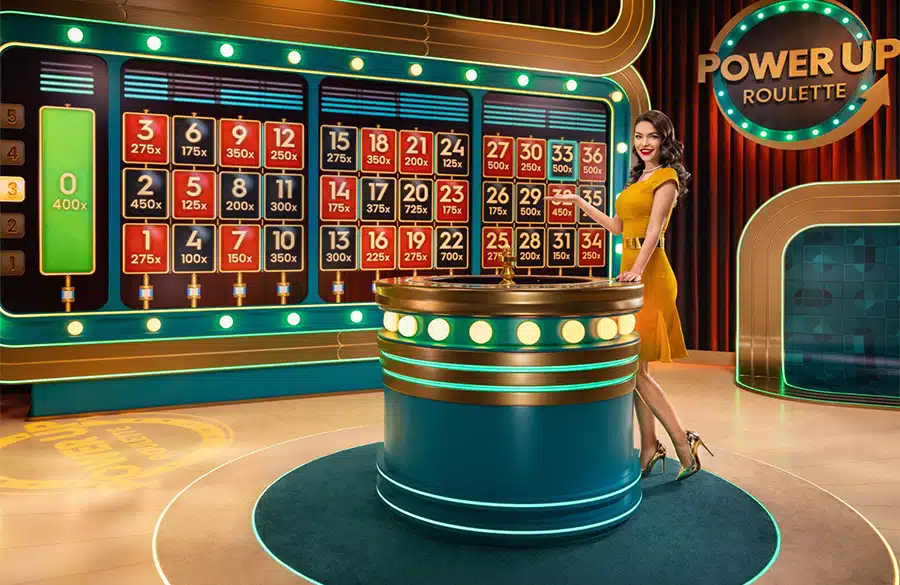 The smallest bet is $0.1, while the highest is $5,000, and the return to player (RTP) is 97.17% on Straight Up bets and 97.30% on all other wagers.
It's a fun new take on live roulette, and it's accessible on PC and mobile devices from Pragmatic Play.
In this one-of-a-kind spin on roulette, the odds of winning on specific bets are boosted at random.
However, that's not a brand-new idea, but unlike some other games in the genre, Power UP roulette really adds something to the formula.
With any luck, our PowerUP Roulette review will shed some light on the nature of this product and convince you whether or not you should prioritise it above similar offerings.
Play PowerUp Roulette online
NZD 2000

+200 Free Spins on Wolf Gold

2380+ games

Payout: Max 24h

Best feature: Unique jackpots

NZD 2000

+ 100 spins (High match bonus)

2000+ games

Payout: Max 24h

Best feature: Bonus on min Dep

NZ$ 2000

+ 100 free spins

4000+ games

Monthly tournaments

VIP advantages

Gameplay

Even a cursory examination of the game's mechanics will reveal that they are mostly the same as the original game.

Powerup roulette studio

Using the betting table, you may put your wagers. Simply choose the amount you want to gamble and put it on the bet you think will come out on top.

For each round, you'll have around 15 seconds to make your wagers.

When betting is over, the game will choose three to five numbers at random. The numbers indicated on the betting screen behind the presenter are the PowerUP numbers.

The wheel then rotates and the result is decided in the normal fashion. However, if the ball hits on one of the PowerUp numbers, the round advances to the PowerUp phase.

Powerup bonus rounds

Remember that, you may still take part in the PowerUP round even if your stake doesn't include one of the chosen PowerUP numbers. The multipliers apply to all Straight Up wagers.

Powerup rounds

The PowerUP round begins by automatically applying a random multiplier to each of the betting numbers. At first, the multipliers are variable between 50x and 500x.

If you placed a Straight Up wager during the PowerUP round, and it won, your payment will rise by the number shown on the wheel.

Furthermore, there is also the option to turbocharge rewards many times. A fresh set of PowerUP numbers is selected just before each new PowerUP round begins.

During a PowerUP round, all multipliers on the board will be raised if the ball falls on one of these new PowerUP numbers.

This pattern may repeat itself up to five times in a row, allowing for a maximum multiplier of 8,000x.

Created by Pragmatic Play Live

Fortunately, you can play the game live on your computer or mobile device, and it represents an exciting new option among Pragmatic Play's live roulette offerings.

To many players, the Power Up roulette game's familiarity with TV game shows is part of the game's appeal.

Single-number wagers in this game are far riskier, but also potentially much more rewarding.

Other

PowerUP Roulette by Pragmatic Play employs, for all intents and purposes, the basic paytable used by all European Roulette variations.

This is true for all wager types except the Straight Up wager.

However, single-number wagers are essential to the game's operation, therefore this modification is significant. In this game,

Straight Up wagers may play in the Power Up round, giving them the opportunity to earn large multipliers.

Nevertheless, their basic payment without multipliers has been drastically decreased to compensate.

Other roulette news

FAQ

What is PowerUP roulette's RTP?

The RTP of PowerUP Roulette is 97.30% for all standard wagers besides Straight Up wagers. Single-number wagers have a unique payout structure with the potential for enormous payouts, but their RTP is 97.19%.

How much is the maximum payout?

During this bonus round, you may earn a max multiplier of 500x. Nonetheless, PowerUp rounds may be re-triggered up to five times, raising the multipliers by a maximum of 8,000x each time.