Monopoly Big Baller is an online version of the famous Monopoly board game. The game is presented in an entertaining bingo-style game show format.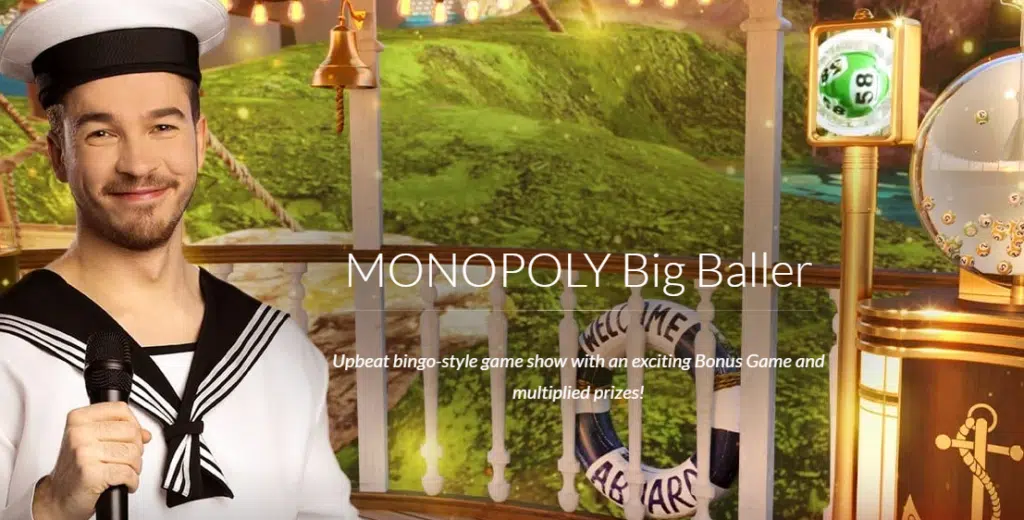 This format allows multiple players to participate at once, which enhances the opportunities for huge payouts.
Monopoly Big Baller is closely related to Dreamcatcher and Mega Ball.
The big difference is that Monopoly Big Baller requires you to play using four Bingo cards.
| About | Info |
| --- | --- |
| Played in | Live casino |
| Animations | 3D |
| Launched | August 24 2022 |
| Max payout | CAD 500.000 |
Developed by:
Types of Bingo cards

Monopoly Big Baller comes with two kinds of Bingo cards; the Chance cards and Free Space cards.

Cards

Chance cards

In case of any line passing through the centre, you can get the opportunity to receive a Chance cards card. It is available at the centre of a multiplier.

You can increase your payout using these cards.

Free space cards

These cards come with free spaces, which are available at their centre.

That is why you get the opportunity to complete lines that are going through the centre.

Best casinos to play at

NZD 2000

+200 Free Spins on Wolf Gold

2380+ games

Payout: Max 24h

Best feature: Unique jackpots

2000+ games

Payout: Max 24h

Best feature: Fast withdrawals

Assigning the Bingo cards

First, you get the cards with numbers written on them. Then Mr Monopoly adds free spaces and multipliers randomly.

Therefore, you can get great chances to complete lines or boost your payouts.

Furthermore, this game permits you to select any card type, and you can choose the number of Bingo cards.

Types of multipliers

Monopoly Big Baller comes with three kinds of multipliers. The first multiplier covers the whole card.

Multipliers

The second one is the line multipliers, and the last one is a simple number.

The line multiplier has the capacity to pay you up to 50x.

It is also important to know that the minimum payout you can get from the line is just 2x.

RTP rate

You can get RTP up to 96.10% in this game, which is much higher than most of the games in this category.

Winning rolls

You are simply required three numbers to win three rolls.

On the other hand, you must have four numbers to win five rolls.

You also have a chance to win two bonus rounds if you are lucky to get 3 and 5 rolls at the same time.

How to place a bet

There is a countdown in seconds just before the game starts. First, you need to choose the number of bingo cards.

Along with that, you can also take decisions for playing the bonus round cards.

There is an option to mix the combinations of free space cards and chance cards. It further gives you to option to select the number of each card to play.

After selecting your cards, you simply hit the bet option on the cards.

When the time for betting ends, then Mr Monopoly presses the lever. As a result, various multipliers and free spaces add to the cards randomly.

Bingo Ball Machine

The Bingo ball machine appears on a screen in the next part of this game.

You are then required to choose 20 balls out of 60 balls having different colours.

The balls are available inside the big round-shaped plastic orbit.

While drawing every single ball, the numbers appear on the cards if they are present. You can also view the whole number detail on the side of your screen.

In the end, the game calculates the win lines and seamlessly applies multipliers to them.

You can clearly see all your payouts in the middle section of your screen.

Tip: Wanna check out more live casino games like Monopoly Big Baller? Check out all game shows here!

FAQ

Which type of card do I need to play with?

It does not matter which type of card you pick for betting.

There are two types of cards Free space and Chance cards. Both types of cards offer different prizes.

Furthermore, there are extra spaces and multipliers associated with both of them.

You can select only four cards. Monopoly Big Baller permits you to select either one type of card, or you can even mix them.

That is why it does not matter which type of card you pick.

Do I need to play with all cards or use a few of them?

The probability of winning the complete line is greater when you play with all cards.

In this case, you need to have a big budget as it costs more.

So, you have to make a choice between high cost with a good prize or fewer chances with a low budget.

The expert advice is to start playing with one and ultimately move towards all four cards.

This way, you can get the idea of playing with the best-optimized cards.

What is the best way to play the bonus round cards?

In this game, the main focus of every player is to get the opportunity to play the bonus round.

For this, you just need to get 250x with additional wins. Otherwise, you are not able to play this round.

Start with the main cards, as they frequently come more with multipliers.

So, the best strategy is to play with both types of cards.