Mega Wheel is a fresh Pragmatic Play casino game that was released in 2020.
What distinguishes the Mega Wheel from other Wheel of Fortune games are randomized multipliers of up to 500x, which add excitement to the action and can help you win large.
At first sight, you might believe it's just another wheel of fate like the ones you might see in real casinos.
However, the supplier has incorporated one feature that distinguishes their product. It's a random multiplier that we've seen before in Pragmatic Play games like Mega Sic Bo.
This Mega Wheel review will look into the various features that are in this unique casino game.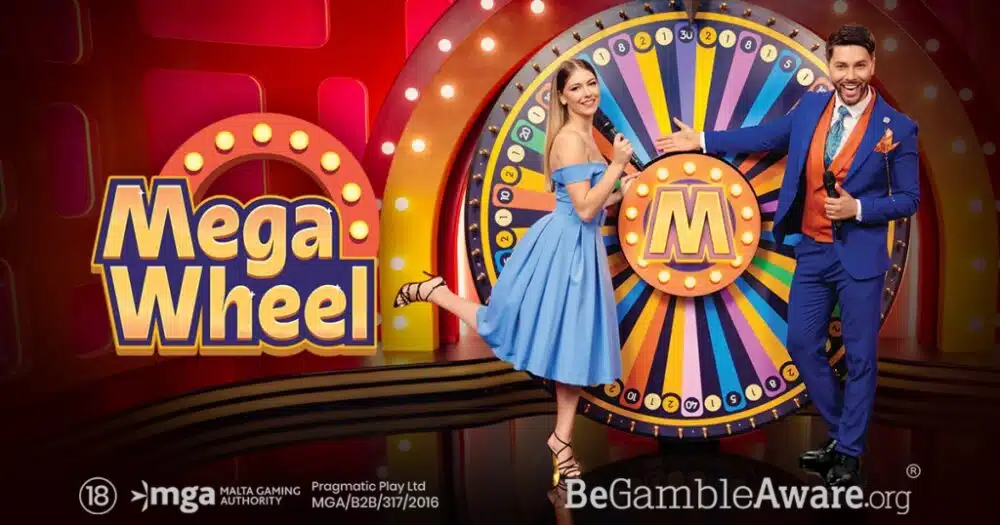 What is Mega Wheel?
Mega Wheel appears to be a viable alternative to traditional slots, offering enhanced engagement and a new level of pleasure.
It may be played on any platform, and the minimal streaming latency allows it to function well even while using mobile internet.
Mega Wheel is an incredibly pleasant format, with simple gameplay and outstanding stream quality, so if you enjoy the layout, this one is a great choice.
Basic Mega Wheel rules
Mega Wheel is a lovely, colourful game with brilliant and vibrant hues that make it aesthetically pleasing.
The orange background with yellow bulbs, the colour wheel, and the humorous, engaging hostesses make this game realistic and entertaining to play and watch.
The show is hosted by a presenter who spins the wheel.
Players have a set timer of 15 seconds to make a wager.
Following the placement of bets, the Random Number Generator will allocate a multiplier to a unique number, and the presenter will spin the wheel.
The action is caught from a variety of perspectives, with a close-up of the digits that are most capable of winning as the wheel comes to a halt.
Mega Wheel is one of the online casino games based entirely on chance.
It appears to have similar rules to Crazy Wheel by Evolution and "Spin a Win" by Playtech game.
While no method will guarantee victory, you may employ a betting system that makes the most of your time playing.
As a result, the game is ideal for players who don't want to spend several hours studying intricate rules.
The wheel
The wheel has 54 parts, much like any other online money wheel we've seen in games like this.
As previously said, players may select from nine betting possibilities, which include the numbers 1, 2, 5, 8, 10, 15, 20, 30, and 40.
The likelihood of winning is shown by the distribution of numbers. Simply simple, the fewer parts a figure has, the lesser its chances of winning.
Because each number indicates a multiplier that relates to your stake, it is easy to see that the numbers that span fewer segments pay out larger winnings.
To win a reward, you must gamble on the number that the wheel pauses on, but the game does not stop there.
Multipliers
Mega Wheel, unlike other online money wheel games accessible at live casinos, does not have any casinobonus portions on which you may bet.
Furthermore, the wheel only includes the aforementioned numbers and RNG programed multipliers are present.
You can still benefit from enormous multipliers of up to 500x. In each round, they are placed in a random number generator first before the wheel is turned.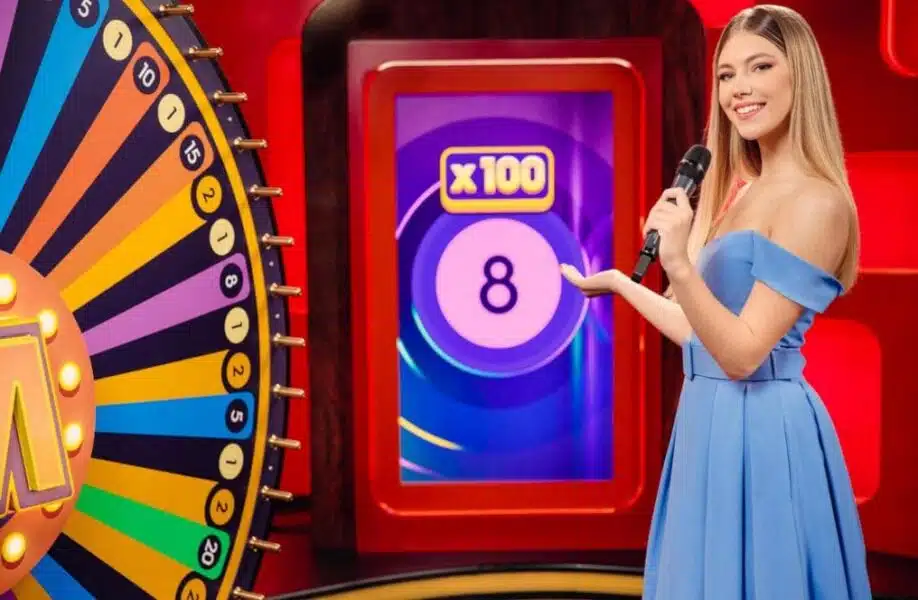 However, not all values can be multiplied by 500x. Higher multipliers, like normal rewards, are allocated for combinations that are less capable of winning.
Type of bets
Mega Wheel is simple to use, and betting is simple as well.
The goal of the game is to anticipate where pieces of the wheel will stop after spinning. In between spins, you get 15 seconds to put your bet(s).
You have nine betting options in total: you may gamble on any of the nine single numbers, choose more than one number, or wager on all numbers.


With 'Bet on All,' you may cover all nine possible bets with a single click.
It is similar to Dreamcatcher but has one additional feature: with each spin, each round, one of the numbers on the wheel is randomly picked to feature in the Mega Lucky Number.
How to Play Mega Wheel
Because Mega Wheel is a real-time casino game show, it is presented by well-trained and professional anchors who spin the wheel while keeping the ambience exciting.
You play the game on a super-sized wheel with 54 coloured number segments. Each number field corresponds to a corresponding reward.
Start of the game
The game begins with a minimum of one and a max of nine bets every round.
Placing bets
The betting period is set at 15 seconds, which is sufficient to determine where to make the wager. The minimum bet is €0.10, while the maximum bet is €1,000 for each spin.
The goal of the game
The goal of this game is straightforward: participants compete to anticipate what number the wheel will display after it stops spinning.
Winner
You win if the wheel pauses at the value you chose to wager on. You'll lose if it doesn't.
Probabilites and payout
The 54 fields on the wheel correspond to the numbers in this order: 1, 2, 5, 8, 10, 20, 30, and 40.
They are distributed as follows on the wheel:
1 section with the number 40.
1 section with the number 30.
2 sections with number 20.
13 sections with number 2.
2 sections with number 15.
20 sections with number 1.
4 sections with number 8.
7 sections with number 5.
4 sections with number 10.
As previously stated, the landing number represents the reward.
If you wager on number 5 and the mega wheel lands in that field, your bet will be doubled by 5.
When choosing a single number, the maximum bonus is 40x your wager amount.
| Number | Fields | Multiplier | Win probability |
| --- | --- | --- | --- |
| 1 | 20 | 100x | 37% |
| 2 | 13 | 200x | 24% |
| 5 | 7 | 250x | 13% |
| 8 | 4 | 250x | 7.5% |
| 10 | 4 | 250x | 7.5% |
| 15 | 2 | 500x | 3.7% |
| 20 | 2 | 500x | 3.7% |
| 30 | 1 | 500x | 1.85% |
| 40 | 1 | 500x | 1.85% |
In a nutshell, you won't see nearly as many entries with 40 as you will with the digits 1 and 2.
After all, it is a game of chance.
Winning strategies
When it comes to online casino games, one must exercise caution since they might be harmful to your bankroll.
Because no method will assist you to reduce the margin or boosting your odds, you must concentrate on betting.
So, here are some wagering techniques you may use to get the most out of Mega Wheel.
Bet on all numbers
With bets, you can secure all the numbers. In this instance, you would undoubtedly bet on the value that will be multiplied. Yet, this is a high-risk approach since you never know how large a multiplier may be or whether the payoff you get will cover the original amount you risked.
Bet on sequence of numbers
Another method of betting is to place a wager on a sequence of numbers. In this instance, you should secure the favoured numbers with the highest and lowest winning odds. Last but not least, you may always place a wager on one number and hope for a multiplier.
Other Wheel of Fortune game shows
Dream Catcher: Has excellent bonus multipliers and a maximum win of €500,000.
Spin a Win: Excellent gaming experience and a maximum win of €500,000.
Crazy Time: Madness bonus available and a maximum win of €500,000.
Monopoly Live: The game has fantastic bonus features and a maximum jackpot win of up to €500,000.
FAQ
What is Mega Wheel?

Mega Wheel is a live game show that can be find at with an excellent concept and visuals. The game's progressive jackpot feature allows lucky people to win up to 1,000 times their wager.
Where can I play Mega Wheel? Do not mention any brands names.
What is the maximum win at Mega Wheel?

The maximum win is NZ$500,000. You can wager with a minimum of €0,10 and a maximum of NZ$1000. The maximum payout ratio is 500:1.
What is the RTP for Mega Wheel?

The game has an RTP of 96,51%.