The football studio was developed by Evolution Gaming in June 2018 after the World Cup in Russia.
It is an exhilarating game that will have you on the tip of your seat as you wait for the victories to come. It's a rapid-paced card game that'll have you thinking about soccer. The high RTP of 96% is also a very important factor to all players.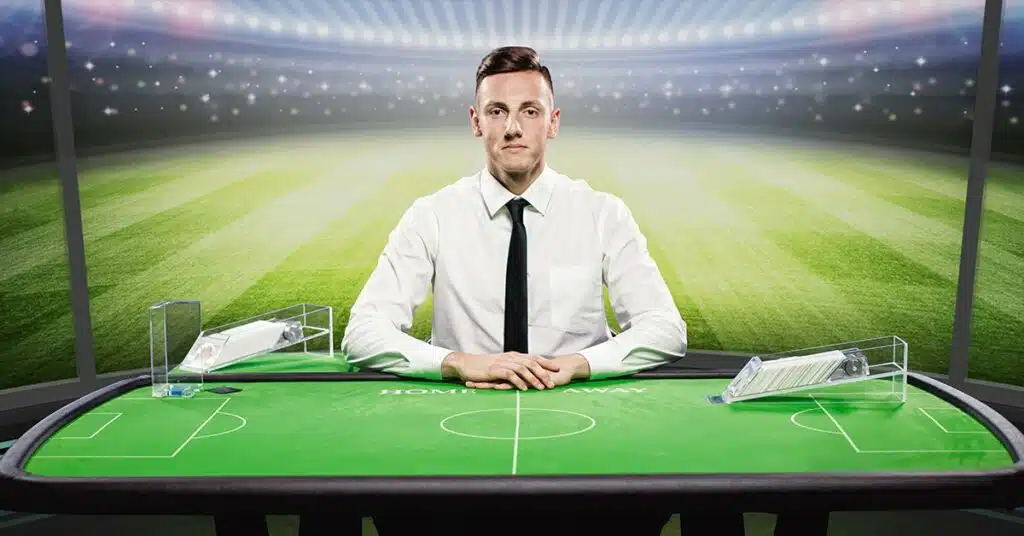 This Football studio review will highlight the best features, games and bonuses available in this fantastic online casino game
Basic rules
It is made to seem like a football field, but before you can play, you must first place your preferred bet.
The coins used to put bets are located at the base of the display, making it easy for players to place a bet.
Players can stake from 0.20 to 5000.
This allows you to play within the limits of their bankroll.
In this game, you can place three bets. They are home, away, and draw.

After selecting your coin denomination, you will tap on one of the interface buttons to begin playing.
You will next proceed by pressing the play button to begin the game.
How to play Footbal Studio
This is maybe the easiest live casino game that was ever played.
It's a Dragon Tiger variation with a football motif.
This is what occurred when I was playing; Firstly, I deposited £50 to my account and then pressed the game button. I was seated in front of a live operator in a football-themed studio in seconds.
Betting options
I saw my betting options on a computerized betting board. Furthermore, I could bet on home, away, or a tie. This is similar to Dragon Tiger in that the betting possibilities are dragon, tiger, and tie.
Betting probability
I bet £1 on home simply to see how the game worked. On the screen, I realized that I could see what another players was betting on as a percentage.
The goal of the game
The dealer subsequently dealt two face-up cards. In this game, the highest card wins. On this occasion, the home team received 10 points while the away team received 8, therefore I won my wager at even money.
Winner
The dealer then initiated another gambling round, and the game began all over again. From start to end, everything moved at a breakneck pace.
I'm a huge Dragon Tiger fan, and I also enjoy football.
As a result, I have to suggest this game. You don't have to be a prodigy to play it; in fact, it's so basic that even a kid might master it in a matter of minutes. Give it a go and see what you think.
Betting types and odds
With few bet alternatives, where you may determine who will win or lose, the only significant opportunities come from studying prior match results.
Players can grasp the odds and play intelligently by keeping an eye on these and tracking rewards during the game.
It is vital to understand that no guaranteed technique will always generate a payoff. Still, knowing how the game went before you started to play may be useful.
When betting at home or away, the game's odds are 1:1, meaning you may double your money.
You may place bets ranging from 15 cents (or 1 euro) to 1450 CAD (or 1000 euros) every hand.
You are not restricted to placing only one wager in every hand. If you want, you may wager on all three.
The visiting team has won four consecutive games.
It may appear to be a pull to you.
You may therefore wager on both a home win and a draw with a decent possibility of winning.
A tie pays out at a ratio of 1:1. Enjoy Football Studio Live for a chance to double your money.
If you do this a few times in succession, you will have enough money in your account to keep you entertained at the casino website for a long time.
Winning strategy
This game show live game is very easy to understand. If 1 of the 2 cards has a greater value than the other, that card is the winner.
If both cards appear to have the same value, you can only win if you bet on a draw.
Despite the game's simplicity, you may boost your chances of winning by employing a variety of methods.
We'll go over some of the most well-known gambling techniques that you may employ when playing Football Studio Live.
Martingale method in Football Studio
For those who enjoy playing Roulette, it is obvious that because it provides actual cash on home and away games, you may apply the Martingale method.
To employ the Martingale approach, you must first double your prior loss, whether at home or abroad. For instance, if you lose a 15-cent bet at home, you wager 0.30 coins on the following bet.
If you lose again, you place a stake of 60 cents, and so on. With recurring money wagers, you will ultimately win back all you lost plus your original stake.
Let us assume you wager more sums than usual. In that situation, you'll rapidly find yourself needing to wager more than you have available to play, and you'll lose everything.
To utilize Martingale to enhance your balance, you must keep a cool head and have money to fail.
The disadvantage of adopting Martingale is that losses can easily spiral out of control if not managed properly.
Best Football Studio casinos
NZD 1000

+ 150 free spins

3000+ games

Payout: Max 24h

Best feature: Daily freespins!

NZD 1200

+ 150 free spins

7500+ games

Payout: Max 24h

Best feature: Hall of flame

NZD 1600

+ 300 free spins

1200+ games

Payout: Max 24h

Best feature: Newest casino 2023

50 free spins

NO WAGER (Exclusive)

3000+ games

Payout: Max 24h

Best feature: Moneyback on every bet

NZD 1000

+ 250 free spins

4000+ games

Payout: 1-3 days

Best feature: Bitcoin accepted

NZD 2000

+ 150 free spins

3000 games

Payout: 1-2 days

Best feature: Daily tournaments

NZD 1200

+5 no deposit spins

4200+ games

Payout: Max 24h

Best feature: Support 24/7

1000+ games

Payout: Max 24h

Best feature: Daily rewards!

NZD 2000

+200 Free Spins on Wolf Gold

2380+ games

Payout: Max 24h

Best feature: Unique jackpots

NZD 1000

100 free spins on Sweet Bonanza

5000+ games

Payout: Up to 24h

Best feature: Live lottery

FAQ

How do you play football studio?

This is a game that may be played in the most basic of ways. In it, the live casino operator draws two cards from the decks at his disposal and deals one to each participant. There are three potential results once the two cards are dealt: away win, home win, or draw.

What is Football Studio?

How do you win a football studio?

If either of the two cards has a greater value than the other, that card is the winner. If both hands have the same value, you can only win if you wager on a draw.

What is the highest card in the football studio?

Aces are the highest-ranked cards, with the remainder of the cards ranking in order of their inherent values — king is the next highest, and two is the lowest. Regardless of suit, the top card always wins.