No Deal or Deal Live is a live casino game show. Launched by Evolution Gaming in partnership with Endemol Shine.
This is a hugely exciting game that recreates the thrill of the popular TV show Deal or No Deal. Complete with RNG aspects and multiplier awards that allow players to win big.
This complete Deal or No Deal Live Review will look at the game's features and payouts. Gameplay, as well as where you can play Deal or No Deal Live. So hang in there because things are about to get interesting.
What is Deal or No Deal Live?
Deal or No Deal Live is a new live game show that is available 24 hours a day, seven days a week. It was the first game show to be available around the clock.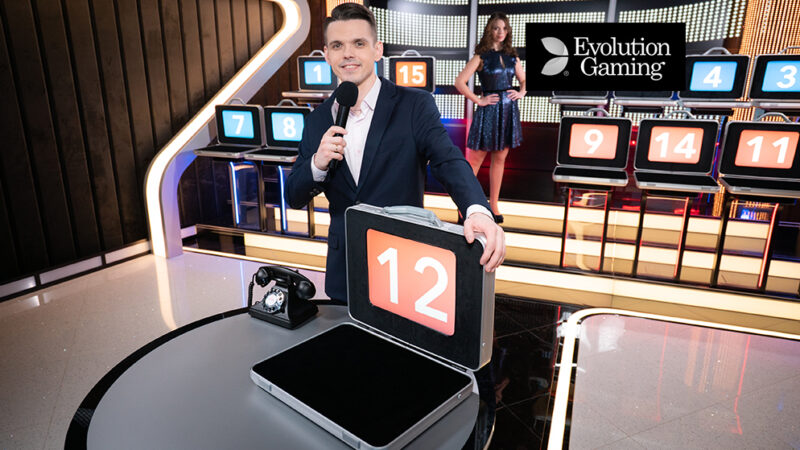 How to play Deal or No Deal live
Deal or No Deal Live is a game with different levels. That allows players to qualify for different rounds to win the best prizes. It all begins with the qualifying round.
That takes place electronically on the screens of the players. It takes place with no involvement from the live host.
NZ$ 2000

+ 150 free spins on Book of Golden Sands

2380+ games

Massive win potential

Spectacular selection of games

NZ$ 1200

+ 150 free spins

7500+ games

Hall of flame

A lot of gaming providers

NZ$ 1000

+ 100 freespins (New – Launched Jan 2023)

2000+ games

Casino & sport

Rewards for all play

NZ$ 1000

+ 100 free spins

4000+ games

Monthly tournaments

VIP advantages

2000+ games

Customer support: 24/7

Lightning-fast deposits and withdrawals

80 free spins

NO WAGER (Exclusive)

3000+ games

Moneyback on every bet

OJO Wheel

NZ$ 1000

+ 100 free spins

3000 games

Daily cash tournaments

VIP membership

NZ$ 500

+ 20% daily cashback

4000+ games

Weekly bonuses

Every players is an VIP

2000+ games

Customer support: 24/7

Fast payout processing time

NZ$ 2000

+ 100 spins (High match bonus)

2000+ games

Exclusive Yoo Club rewards

Bonus on min Deposit

Qualifying round

After having placed their bets. Players will be able to spin a 3 bank vault, hoping to line up gold segments. This will qualify them for the next round.

Players will also have to choose one of 16 briefcases containing the largest reward. Players can additionally set the wheel before spinning the vault. This is to help them boost their chances of qualifying by betting a little extra:

Normal mode — All three reels must be matched (this will cost you your bet at face value)
Easy mode — One reel will not be free in requiring you to line up only two other reels. Improving your chances of qualifying three times.
Very easy mode — This locks two of the reels, giving you the best chance of qualifying, and costs nine times your bet.

The money found in the suitcase will be equal to the player's original bet (if he or she qualifies) from the round. Plus, the multiplier assigned to each briefcase. The cash reward in the increased suitcase can be worth up to 500x the original bet.

The top-up round

The prize top-up round begins once they have qualified. In this round, participants will choose which briefcase to put more money in and spin a wheel.

They can also increase their bet by 5x to 50x in any of the suitcases.

Deal or No Deal bonus game

The Deal or No Deal Live bonus game entails opening 16 sealed similar suitcases containing varying sums of money. Players will have to choose one suitcase.

Keep until the contents of that suitcase are open at the end of the game.

The player then proceeds to open the remaining 15 cases one by one. Then determine whether or not to accept the banker's stipulated cash quantity.

Or if it's worthwhile to take a chance on a higher cash prize hidden in the suitcase.

Deal or No Deal Live odds and payouts

The top prize in Deal or No Deal is 500 times your original investment. But keep in mind that this is an elevated game with small chances of winning the top reward.

However, if you accept the Banker's offer. You will receive guaranteed payouts, which is why you should consider taking it if it is more than 2x your stake.

Deal or No Deal live had an overall RTP of 95.42 %.

Deal or No Deal live gameplay summary

To compete for the primary game show, players must spin the three-reel bank vault wheel. And match gold segments within the time limit.

Every spin increases the amount of money in the top-prize bag by 75x–500x the player's bet.

To provide openness, players may choose any of the 16 briefcases to be the most valuable briefcase. Formerly players have unlocked the bank vault door.

They can proceed to the Top Up wheel, where the clock is once again ticking. Players can now opt to add 5x–50x their stake to the amount of money in any of the briefcases.

Other game shows to play if you like Deal or No Deal Live

If you appreciate Evolution's live game shows. We highly recommend that you try out a couple of other games that the studio has created.

We highly recommend the following for their level of entertainment and possible payout:

Deal or No deal Live — our conclusion

Deal or No Deal is not Nature's best live game show for a variety of reasons. To begin, the qualifying round is similar to a slot bonus game.

It does not need any interaction with the host. Second, because the rounds are so short, there is little time to build tension.

Last but not least, the RTP is poor in comparison to other live casino games, such as Live Blackjack and Roulette. If you do, decide to play Deal or No Deal Live.

We advocate doing so for pleasure and being mindful of the level of risk you are willing to assume.

The high-value box can indeed pay you 500x your stake, but you must be lucky to do so.

It is safe to infer that the deal or no deal game calls for both luck and talent. It's up to chance which box you pick, but deciding on the banker's offer will need some expertise.

This concludes the Deal or No Deal Live review. We hope you found all the information you were looking for and that you are satisfied.

FAQ

What is Deal or Deal Live?

Deal or No Deal Live is a game show produced by Evolution Gaming that can be seen at a variety of online casinos. It's a game of chance in the style of the original Deal or No Deal TV show. However, at a far faster rate. The game is live-streamed and overseen by a professional host in Evolution's studios.

How to play Deal or Deal Live?

To play Deal or No Deal Live. You must first register with a live casino that welcomes players from the United Kingdom and New Zealand. Then, you must bet real money. Then complete the qualifying round before being granted entry to the bonus game. You can earn cash rewards hidden inside briefcases by playing this game.

How much can you win in Deal r Deal Live?

In Deal or Deal Live, the maximum payout is 500x your investment.