Crazy Coin Flip, this is a unique 'live slot' game from Evolution, the brand behind some of the world's best loved live casino games.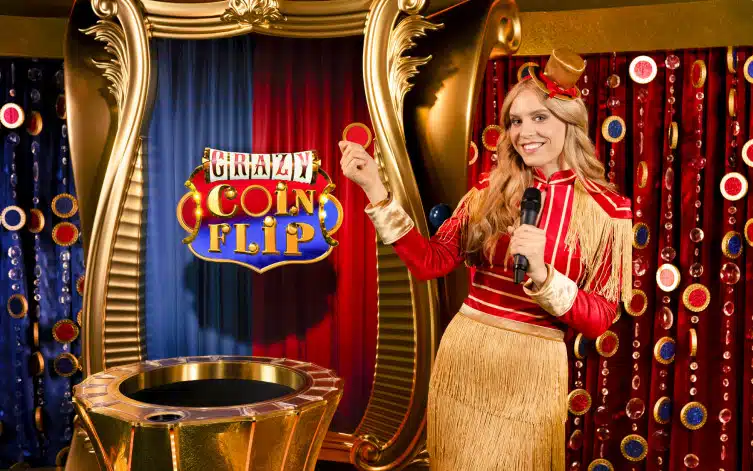 Crazy Coin Flip combines the excitement of a slot game with live casino action.
It is Evolution's first ever live slot game.
Players progress from a base slot game to reach the live game show where a coin flip outcome awards huge multiplied wins.
How to play
Crazy Coin Flip combines a basic slot game with a live game, which is based on the Coin Flip bonus round from Evolution's hugely successful live Crazy Time game.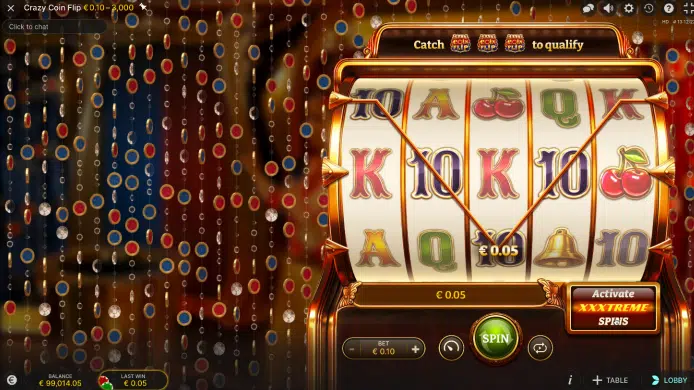 The base game plays out like a traditional slot, and from here you need to 'qualify' to enter the live feature.
Players are presented with a simple screen in the base game, which contains a 5×3 grid with seven classic symbols.
There are two further stages of the game, which both occur during the live game.
This includes a quick-fire top-up bet opportunity, followed by the coin flip itself. Let's look at these three stages in more detail.
Play Crazy Coin Flip
NZD 2000

+200 Free Spins on Wolf Gold

2380+ games

Payout: Max 24h

Best feature: Unique jackpots

Playing in the base game

Get started by making your base game wager. Locate the bet size buttons, which are below the reels.

Use the plus and minus buttons to select a bet of between 0.10 and 6.00 coins.

Crazy coin flip spin mode 2

Alternatively, click on the XXXTREME bet option.

From here you can choose to multiply your current bet by 5x so that at least one scatter lands on every spin.

Alternatively, you can multiply your current wager by 50x, to ensure at least two scatters land on every spin.

When you're ready to start, hit the Spin button to begin. You can also use the Autospin button, which is located to the right of the Spin button.

Landing three scatters will qualify you to enter the live game. The scatters may have multipliers attached to them.

If they do, they will be added together, and you will take this combined multiplier into the live game with you.

Top-up bet in the live game

In the live game, you will see the dealer on the left-hand side and a new reel set on the right.

The 3×3 reel has a single payline where you can wager on this until the next live coin flip.

Crazy coin flip top up

This occurs every minute, and you will see a countdown to the next one.

The reel contains red and blue coins, each displaying multipliers. You need to land three matching colours to win.

The multipliers on these three coins are accumulated and then added to any multiplier that you already have for that colour.

Top-up wagering stops shortly before the coin flip.

Live coin flip

The reels are removed and the player now has a full view of the dealer.

Just before the coin flip, an additional multiplier is revealed for each coin colour, which is added to your current multipliers.

Coin flip

The scatter multiplier from the base game is now added to both colours as well.

Whatever colour is flipped, you will win the multiplier for that colour X your total coin flip bet.

Players return to the base game after the coin flip has taken place.

Payouts

It is possible to make small wins in the base game.

The highest wins in the base game come from landing 5x bells, or 5x cherries.

However, once you reach the live game, the potential wins are much larger.

Qualification payouts

You can bet up to a max of 2000.00 in the live game, where there is a maximum total win multiplier of 2000x.

Theoretical RTP

| Bets | Payout percentage |
| --- | --- |
| Normal bet | 96.05% |
| XXXtreme bet | 96.00% |
| Super XXXtreme bet | 96.05% |
| Top up bet | 95.06% |

Evolution

This live slot game was launched in 2022 by Evolution.

As one of the biggest names in live casino gaming, Evolution also operates a number of slot development brands, including some of the industry's biggest heavyweights such as NetEnt and Red Tiger.

Responsive games

This game combines the company's knowledge and expertise in both live action and slot games.

info@netent.com

Spinola Park, Level one Mikiel Ang. Borg Street, SPK1000, St. Julians, MT

Live casino game shows

Following on from the success of live online casino games, such as roulette and baccarat, Evolution began developing live game shows in the early 2020s.

Top games include Monopoly Live, Deal or No Deal, Crash or Cash and Crazy Time, the game that first featured the Coin Flip bonus.

List with all online game shows

FAQ

Is Crazy Coin Flip a slot game or a live casino game?

This unique casino game brings together the basic elements of a slot, as well as live action.

The live element of the game boasts the glitz and glamour of a game show, complete with a live dealer.

What is the RTP of Crazy Coin Flip?

This game has an RTP of between 96% and 96.1%.

How do I qualify for the live game?

The only way to reach the live coin flip game is by landing three scatter symbols in the base slot game.

However, you can increase your chance of landing scatters by making an XXXTREME bet, for either 5x or 50x your current bet.