Evolution Gaming has seen success in its Augmented Reality section, and the Cash or Crash live game is an entertaining addition.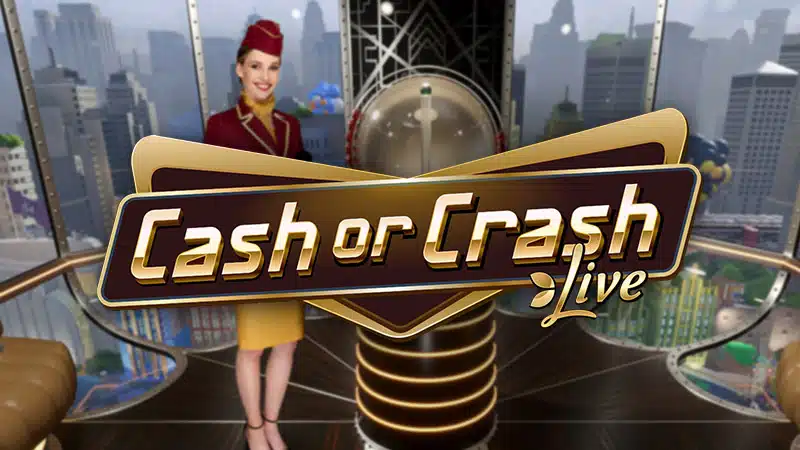 Set in a studio that mimics the interior of a blimp, punters take a ride for a chance to soar high and earn rewards.
The game uses a 20-step ladder paytable and the higher a player climbs the ladder, the greater the chances of a large cash payout.
This article provides detailed information on how to play Cash or Crash, features of the game, and strategies players can use.
Created by:
Playing Cash or Crash live version

The Cash or Crash game occurs inside a zeppelin.

The most crucial part of the game is the ball puller, which comprises 19 green-coloured balls, eight red balls, and one gold ball.

For each round, all the balls must be drawn to determine the winner. Here is a step-by-step guide on how to play.

Place a bet

To start any online casino game, a player must first place a wager.

The bet amount in Cash or Crash is usually pre-decided by the casino and is represented using chips.

From the game screen, choose the amount to bet with before the bets are closed.

Place a bet

Ball drawing

Ball drawing

Once all the bets are closed, the ball puller releases a single ball.

After a few seconds, the operator pulls the ball from the machine.

The colour released is crucial to the player since it determines whether they climb the ladder. If the player lands a green ball, another ball is released and earnings go up.

A red ball means no new ball will be drawn, and the player loses all winnings.

The gold ball protects the punter from one red ball if it is drawn in the next round.

Make your decision

After the first round, if a player lands the green ball, they will have a decision to make.

The first decision is to Continue, which means staying in the game with all the stake and winnings.

Take Half is another decision that a punter can make. This involves taking half of the winnings and staying in the game with the other half.

The last option is Take All, where the player leaves the game by cashing out 100% of the winnings and ends the round.

Make your decision

New Round 40

The game round ends when a player draws a red ball or when they choose to Take All.

Remember, if a player has a gold ball, it will shield them from a red ball, and they can continue the round.

Game features

Since Cash or Crash live is a low-risk and simple online game to play, a few additional features are included.

The key feature is the golden ball that breaks the red/green system for each round. This golden ball not only protects the player but also acts as a multiplier in the online game.
Apart from the balls, the screen has some distinct features to help improve gameplay.
There is a payment box that displays the amount reached in that round.
A table on the left of the screen displays the chances of getting a green ball and another on the right with the possibility of getting a red ball.
The three decisions, Continue, Take Half, and Take All, are displayed at the bottom of the screen.

Best winning strategy

Cash or Crash Live is a simple game and the only strategy involves making the right decision.

It has a high variance, which means there will be a lot of small wins and fewer massive wins.

The best way to bet on the safe side is to use the low-risk strategy.

This involves cashing out winnings as soon as there is a profit. Although this may detract from some of the excitement, the player will have a minimum chance of losing money.

For players who can afford to take risks, the half option is the best strategy.

After choosing the Take Half decision, a player must go two steps higher to break even.

This means, after that level, they will basically play for free money. Even if they lose, it is not a loss.

Evolution gaming recommends players to take nine balls and then stop.

However, if they land a golden ball, they should keep on playing until a red ball.

Last but not least: Choose one of the best live casino sites of the month to play at!

Stats

| | |
| --- | --- |
| Max win | 50.000x your bet |
| Launched | 2021 |
| Created by | Evolution |

Sources:

https://www.evolution.com/our-games/cash-or-crash