Adventures Beyond Wonderland is an innovation from Playtech Live and is based on a popular themed slot game of the same name. In short this is a wheel of fortune game in live version.
The game takes the form of a live dealer entertainment game show and uses a Spin A Win wheel to power the game.

Live casino players need to wager on segments of the wheel, either on a number or four bonus rounds.
If the wheel stops on a certain segment, the player could either win a cash prize or receive an entry into a bonus round where multipliers come into play.
The hosts of the game show take on Alice and The Mad Hatter from the Lewis Carroll book, Alice's Adventures in Wonderland, while animated characters from the book also appear in game play.
How to play Adventures Beyond Wonderland
The game gets going once a player places his bet on the feaured betting grid.

The Numbers to bet on are 1, 2, 5 and 10. The 3 bonus segments are Magic Dice, 2 WonderSpins and 5 WonderSpins.
The player needs to have placed a bet on a segment to stand in line for win should the wheel stop on that segment.
Additionally, the wheel features 2 Mystery Segments which cannot be wagered on but should the wheel land on those, there is a special prize distributed to players with active bets on the betting grid.
This prize could be either a multiplier for a number for a free spin or a current bet.
Once betting is closed for the round, the host spins the wheel.
Depending on where the wheel stops, the game either ends the round or starts a bonus round.
What is the WonderSpin bonus?
The WonderSpin bonus is a free spin round that utilizes an additional wheel.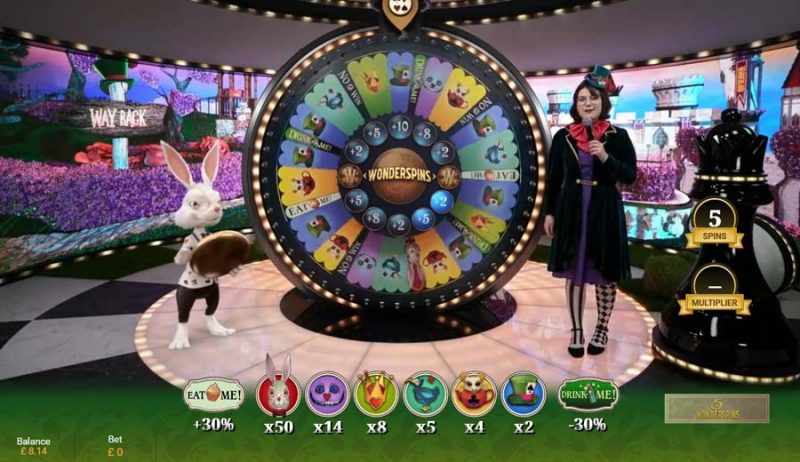 Should the main game wheel award the 2 or 5 WonderSpins segments then this starts the bonus round.
The White Rabbit character will appear, and the main wheel will reveal 2 additional wheels.
The outside, bigger wheel has 54 segments which each features a character from the book, and each has a multiplier associated.
For example, White Rabbit has a single segment but has a 50x multiplier where Mad Hatter covers 16 segments with a 2x multiplier.
Other characters such as Queen of Hearts, Cheshire Cat, Dodo and Door Mouse also feature with varying sections and their own multipliers.
There are also 3 No Win segments.
There is also an inner wheel with additional spins and multipliers.
What is the Magic Dice bonus?
In the Magic Dice Bonus round, the display changes to a grid with 4 rows and 6 columns. Each of these blocks could contain either a green advance arrow or a multiplier.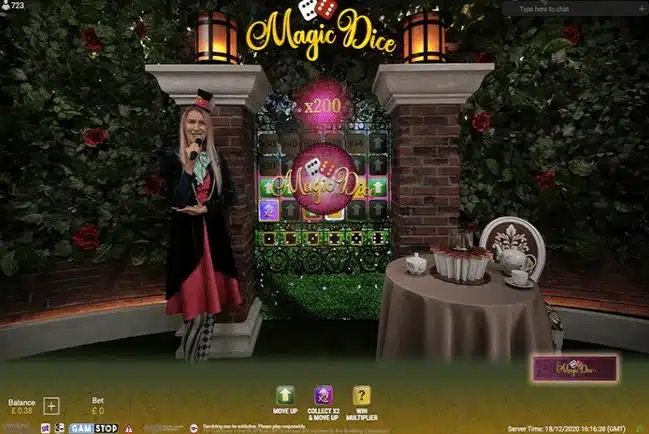 At the heading of the grid is the maximum multiplier of 100x.
When this game round starts, the player needs to either choose a white or red dice which is rolled automatically.
The number rolled represents the column number of interest.
If the square contains a multiplier, then the player wins that amount, and the round terminates.
If the square has an arrow the player advances to the next row.
If there is a purple 2x arrow, then all visible wins are doubled on the grid.
The dice roll is repeated, repeating the process until a prize is awarded or the top of the grid is reached.
So, the higher the player climbs, the bigger the value of the prize. This bonus round features a max pay-out of 200x.
The Mystery Bonus spins
The wheel features 2 Mystery segments which do not require a bet to have been placed on the grid but will only apply to all players that have valid bets on the betting grid.
If this segment is landed on, then there is one of two randomly drawn prizes.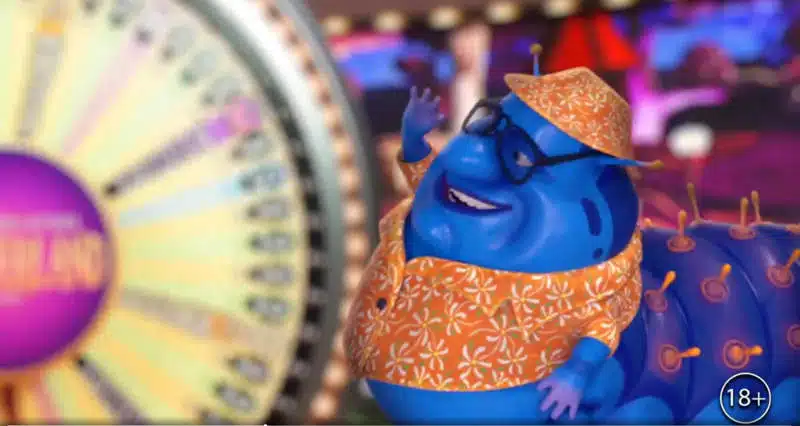 The Card Soldier Mystery Multiplier: If this is chosen, 4 playing cards will march onto the display, each one of a different suit. The player selects a card to reveal a multiplier prize which is selected at random from 3 available batches. The winning multiplier is awarded for all bets that the player has made for that specific game round.
The Caterpillar Mystery Multiplier: In this feature, the caterpillar produces a bubble that floats across the wheel display. Where the bubble bursts, a multiplier will be revealed that is applied to the betting grid numbers. A free spin is then launched, and the player will receive a payout for the number that has been bet on.
RTP and payouts
| Bet type | Payout | Color | RTP | Propaility |
| --- | --- | --- | --- | --- |
| 1 | 1:1 | Yellow | 96.82% | 40.74% |
| 2 | 2:1 | Green | 96.69% | 27.77% |
| 5 | 5:1 | Blue | 96.58% | 9.25% |
| 10 | 10:1 | Pink | 96.70% | 7.40% |
| 2 Wonder Spins | up to €500,000 | Orange | 96.66% | 5.55% |
| 5 Wonder Spins | up to €500,000 | Purple | 96.67% | 1.85% |
| Magic Dice Mini Game | up to €500,000 | Red | 96.58% | 3.70% |
| Mystery Spins | ? | Purple | n/a | 3.70% |
Where to play Adventures Beyond Wonderland?
As this exciting game innovation is produced by Playtech Live, the game can be found at any online casinos that features games by gaming provider Playtech.
This game show variant is a Live Dealer game and is always available in real-time on a 24×7 basis.
There is a core group of game presenters or hosts, but they change every half hour, so players are sure to see their favourite presenters more than once per day.
Usually, this game will be listed in the Live Casino lobby section of the relevant online casino and is classified as an Entertainment Game.
NZD 2000

+200 Free Spins on Wolf Gold

2380+ games

Payout: Max 24h

Best feature: Unique jackpots

NZD 1200

+ 150 free spins

7500+ games

Payout: Max 24h

Best feature: Hall of flame

NZD 1600

+ 300 free spins

1200+ games

Payout: Max 24h

Best feature: Newest casino 2023

50 free spins

NO WAGER (Exclusive)

3000+ games

Payout: Max 24h

Best feature: Moneyback on every bet

NZD 1000

+ 250 free spins

4000+ games

Payout: 1-3 days

Best feature: Bitcoin accepted

NZD 2000

+ 150 free spins

3000 games

Payout: 1-2 days

Best feature: Daily tournaments

NZD 1200

+5 no deposit spins

4200+ games

Payout: Max 24h

Best feature: Support 24/7

1000+ games

Payout: Max 24h

Best feature: Daily rewards!

NZD 2000

+ 100 spins (High match bonus)

2000+ games

Payout: Max 24h

Best feature: Bonus on min Dep

NZD 1000

+ 150 freespins on Sakura Fortune

3000+ games

Payout: 1-3 days

Best feature: Bonus on every deposit

FAQ

When was Adventures Beyond Wonderland live released?

This game show variant of the slot game was initially released to GVC Brands at the end of November 2020. All Playtech powered online casinos received the general release of the game on 17 December of the same year.

How much do I stand to win on Adventures Beyond Wonderland live?

The winnings on this game has been capped off at €500,000 so players can expect big wins while playing this game. Normal wins are usually ranging between 0 and 300x the bet.

Does Adventures Beyond Wonderland live feature an RNG?

Short answer is: No, the game does not have a random number generator. The reason for this is that it is a live game and the game show hosts are live. The Spin A Win Wheel is spun by the host or hostess in real time.