Winning in pokies is based on different factors, and volatility is one of them. But what is volatility?
Why is it important that you consider volatility before choosing any pokie game?
Keep reading as we provide comprehensive answers to those questions.
What is pokie volatility?
In layman's definition, volatility in a pokie refers to the risk of playing the game. As you may be aware, risks are a major part of gambling.
Very simply explained volatility is, how often a game gives a profit. In general, low volatility games have many payouts but less and a high volatility slot pays out bigger wins but doesn't give as many winning combinations.
Low volatility
The game pays out winnings more often but the winnings are small.
Medium volatility
The game pays out winnings fairly often and the winnings are fairly large
High volatility
The game pays out winnings less often, but the winnings are usually large.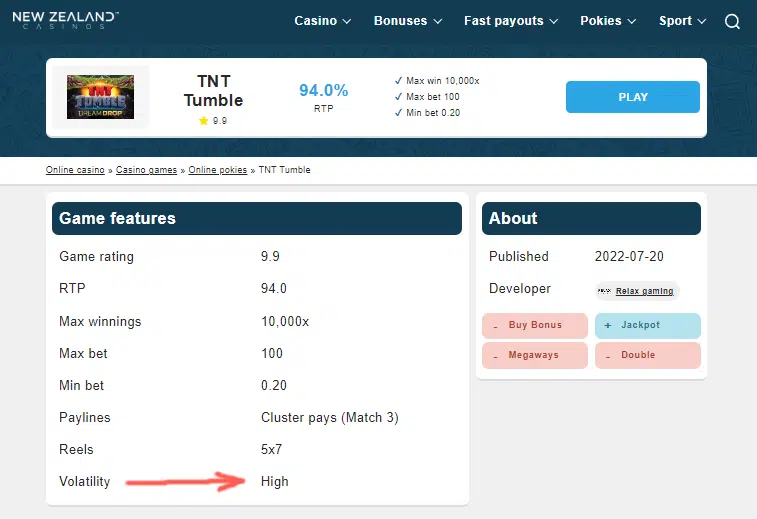 With volatility, online casinos and software providers can balance the risks of playing pokies and the rewards you can get, that is, the potential payout.
In other words, volatility determines how rare or often you can expect to win playing a pokie. But why is this important?
Online casinos and players are both looking for ways to profit. Casinos don't want to be on the losing side, paying players on every spin, and players don't want to lose their money to casinos.
With volatility in games, the risk for both parties seems balanced. Players can then choose the pokies that suit their risk level while also considering the potential rewards.
Here are a couple of examples of slots with different volatility
Low volatility pokie
| | | |
| --- | --- | --- |
| Slot | RTP | Volatility |
| Thunderstruck 2 | 96.19% | Low |
| Starburst | 96.10% | Low |
| Dead or Alive 2 | 96.82% | Low |
Medium volatility pokie
| | | |
| --- | --- | --- |
| Slot | RTP | Volatility |
| Narcos | 96.23% | Medium |
| Wild Worlds | 96.47% | Medium |
| Ice Joker | 96.23% | Medium |
High volatility pokie
| | | |
| --- | --- | --- |
| Pokie | RTP | Volatility |
| Immortal Romance | 96.80% | High |
| Gonzo's Quest | 96.10% | High |
| Book of Dead | 96.10% | High |
Variations occur
As we've explained in the previous section, volatility is about pokies' risk level. This is where variations set in. Generally, there are three classes of pokie volatility – low, medium and high.
Low volatility refers to low risks, and slots that fall into this class tend to pay out frequently.
However, the payout amount is usually small, which is understandable according to the risk and reward principles we pointed out earlier.
On the other hand, high volatility pokies are those with high risks. These don't give frequent winnings, but it can be pretty massive when they do.
Most progressive jackpot games fall in this category. This explains why it is always difficult to hit that jackpot, but those who have can get paid millions of dollars as winnings.
Medium volatility pokies fall between high and low. They do not offer frequent winnings as low volatility titles, but you can still expect winnings to show up after every few spins.
In reality, this category is less common as most developers put their volatility within a range, say low to medium and medium to high.
Bets progressive jackpot pokies
What's best for players?
Now to the one-million-dollar question, which volatility is the best to go for?
There is no easy answer to that. It all comes down to what you want as a player.
Low volatility variations can be the perfect choice for you if you are playing pokies recreationally and not looking for anything big in return.
However, if you want a chance to hit that huge jackpot prize that can turn you into a millionaire overnight, then you may want to consider high volatility pokies.
At the end of the day, it is all about the kind of player you are and the risks you are willing to take versus the rewards.
Pick low volitility pokies if you like winning often
Pick High volatility pokies if you like winning big
Choosing the best pokies
Volatility is just one part of the different factors you need to consider choosing the best pokies to play. You also need to pay attention to the Return to Player (RTP) percentage of the game.
While the RTP may not directly influence the risk that comes with playing a game, it gives you an idea of what players can expect from the game in the long run.
By definition, RTP is the percentage of the total amount wagered in a particular game that players can expect back as winnings over a long period.
So if the total bet on a game with a 96% RTP is €100, the theoretical total amount players can expect as winnings will be €97. For this reason, it is always better to go for a pokier with higher RTPs.
Besides RTP, other factors to consider choosing a good pokie are the wagering limits, maximum winnings and in-game bonus features.
You can read honest reviews of a pokie game or play the demo version to know what to expect when you play it for real money.
FAQ
What is volatility in pokies?

Volatility refers to the risk of playing a pokie. It is a measure of how often you can hit a winning combination in a slot.
What are the variations in pokie volatility?

Three variations exist in pokie volatility — high, low and medium.

High volatility refers to high risks and high rewards, while low volatility is low risks and low rewards.

Medium volatility falls in between high and low volatility.
How can I check the volatility of a pokie game?

In most cases, you should be able to check the volatility of a pokie in its information menu.

You can click on the "i" or menu button of the game to display the information menu.

However, if you cannot find the volatility stated in the pokie, you can head over to the website of the game's developer to check the volatility.