Gong Gaming Technologies is a gaming company focusing on researching and developing new concepts. This includes prototypes and products for online gaming.
Moreover, the firm shows a commitment to providing advanced online gaming technologies to the world. This is with the intent to improve our customers' online gaming experience.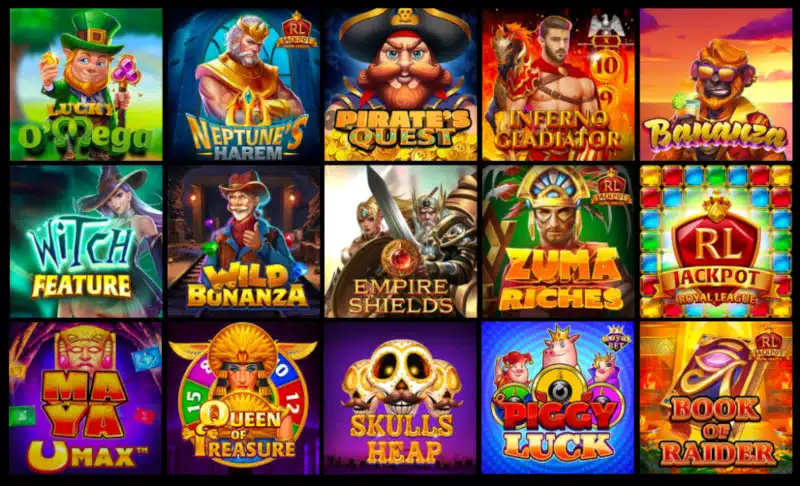 In addition, their work includes building online games and developing technologies used in online games.
Find out more in our comprehensive Gong Gaming Technologies review below.
New Gong Gaming slots reviewed
Gong Gaming casinos
NZD 2000

+200 Free Spins on Wolf Gold

2380+ games

Payout: Max 24h

Best feature: Unique jackpots

NZ$ 100

+ 10 no deposit spins (Exclusive bonus)

2800+ games

Customer support: 24/7

VIP program for everyone

NZ$ 500

+ 25 no deposit spins (Exclusive bonus)

500+ games

Extra bonus money rewards

One touch mobile gaming

NZ$ 1000

15 no deposit spins (Exclusive bonus)

1300+ games

Must Go Jackpots

Slotnite XP & Rewards

NZ$1300

10 no deposit spins (Exclusive bonus)

1000+ games

Must go jackpots

Exclusive VIP club

NZ$ 1300

10 no deposit spins (Exclusive bonus)

2000+ games

Skol Branded Megaways

Tailored rewards

3000+ games

200% bonus first deposit

Bonus first 3 deposits

Gong Gaming games

Gong Gaming specializes in developing pokies. Their games are available on PC and mobile devices.

The company emphasizes maintaining high standards of quality, security and privacy of its products and services.

Queen of Treasure poster

In addition, they have a unique "game customization" feature that allows users to customize the slot game according to their preferences: change the background music, adjust the game's speed, and more.

Since it was founded, Gong Gaming Technologies has focused on making its games as accessible to players as possible.

This is achieved by maintaining their games on many platforms such as Google Play Store, Apple App Store, Steam and other marketplaces for mobile applications and desktop computers.

Top Gong Gaming pokies

Here si the list of all pokies developed by Gong Gaming:

Lucky Omega
Neptune's Harem
Pirate's Quest
Inferno Gladiator
Bananza
Witch Feature
Wild Bonanza
Empire Shields
Zuma Riches
Jackpot Royal League
Maya Umax
Queen of Treasure
Skull Heap
Piggy Luck
Book of Raider

Here we have highlighted the 4 most popular Gong Gaming pokies:

1. Lucky Omega

The main screen of Lucky Omega pokie

This is a standard slot game that features 5×3 reels with producing 20 ways to play. This is an Irish themed online pokie with three fixed jackpots where players can win up to 1130x stake. RTP percentage of the game is 95.23% while its volatility is medium.

2. Neptune's Harem

Bonus game at Neptune's Harem pokie

Neptune's Harem is a thrilling slot game that takes players on the ocean depth with mermaid characters. With an RTP percentage of 94.04 and 20 paylines, players can win up to x10000 their initial stake. The game is released in 2021, and its volatility is medium.

3. Pirate's Quest

Wild symbol at Pirate's Quest pokie

This is a fantastic 5-reel slot that features 25 paylines with numerous wilds and multipliers. If you are looking for a game that has a high winning probability that this one should be your choice. With its RTP of 96% and high volatility this game can pay you out up to 2000x your stake. It has 25 paylines and it is released in 2021.

4. Queen of Treasure

Main screen of Queen of Treasure

This is a 5×3 reels Egypt themed online pokie with 25 paylines. Players can expect a lot of thrills with its wild and scatter symbols that can lead you to the bonus game with lots of free spins. The RTP percentage of the game is 95.50% while volatility is high. Great design and graphics covered with the latest sound technologies.

Gong Gaming technology

Gong Gaming Technologies, is the leading gaming technologies provider with a strong focus on entertainment casino games.

This ranges from lottery and sports betting products as well as related software and services.

Three main technologies at Gong Gaming

Gong Gaming services

It recently announced the launch of its proprietary products, including:

Genome
Game Gene
Server Gene
Preview Gene

Genome

Genome is a powerful big data analytics platform that enables clients to optimize product offerings and enhance customer loyalty.

Genome

Moreover, it can extract insights from various data sources.

This includes layer demographic information, game preferences, play history and social media activity.

Also, it allows operators to target players with specific offers and customized events through various marketing channels.

Furthermore, it also provides real-time business intelligence for clients.

Operators can analyze their operations.

Therefore, identifying areas for improvement or risk mitigation.

This is through analyzing transaction data, player behaviour and other data sources.

Able to integrate with any existing system, Genome is cloud-based and highly scalable.

For example, it can handle billions of records in seconds and hundreds of thousands of concurrent users.

Online lottery operator have already deployed the system in different parts of the world.

Game Gene

Game Gene is a line of innovative and uniquely versatile iGaming platforms.

The products are based on the Game Gene software engine, the internal name for our proprietary platform.

Furthermore, the software engine offers the best mix of hardware, software, and design to power any game application.

The software system is designed to be highly scalable.

Also, acts as a modular to provide a wide range of customizable solutions that can fit any market need.

Server Gene

The ultra-low latency RGS platform, Server Gene, is designed to support various casino games. It includes table games, pokies and live dealers.

A sophisticated yet easy-to-use CMS provides operators with full control over every aspect of their gaming environment. Also, it features built-in security that safeguards players' data and identity.

It provides clients with end-to-end support throughout the entire process – from concept to integration and beyond.

The experienced team of professionals uses their extensive industry knowledge.

This creates tailor-made solutions that cater to each client's unique requirements.

It also focuses on user experience, security, and retention.

Preview Gene

A preview gene is a different take on the traditional preview environment. It lets you preview how you will construct your game, but in a real-world environment where all the components are already in place.

In addition, the preview gene allows you to plan before you start production by letting you see what will be required and how long it will take to get there.

With a preview environment, you will know the time needed to build the game. This can help plan out your schedule, and it can also help plan a budget for the project.

A preview environment also allows you to test out any new features or play styles in development. If a feature isn't working as planned.

Then you can try something else instead of having to wait until it's ready to play with. The fact that it's not live yet means that you won't have to worry about bugs or glitches during testing either.

Company info

Gong Gaming Technologies is an IT company specializing as a developers of gaming software and hardware. Also, the company started operations in 2020 and is headquartered in the UK.

The firm has a team of experienced designers and programmers known for their innovative ideas.

Gong Gaming Technologies offices

Both players and operators highly appreciate the products created by the company.

Contact Info: info@gonggaming.com
Licenses: UK Gambling Commission and Malta Gaming Authority
Address: Boulevard Cherni Vrah 47, 1407 Promishlena zona Hladilnika Sofia, Bulgaria and Elite Business Centre, Trejqa ta' Box Box, Msida MSD1840, in Malta

Frequently asked questions

Where can i play Gong Gaming games?

Gong Gaming games are available at all online casino that support Gong Gaming games.

Here in this page we have listed some the best New Zealand online casinos that support Gong Gaming and offering their games.

Can i play for free?

All of the games are free to play with in-game currencies. Also, when playing a game, you can buy more in-game currency.

At most of online casino sthese games will be available in free mode.

What games do Gong Gaming provide?

Gong Gaming has biggest and only focus on developing and providing online pokies.