Fast Spin is a casino software developer on the verge of sweeping the industry. They have experience in online gambling and social gaming communities producing games for desktop and mobile platforms.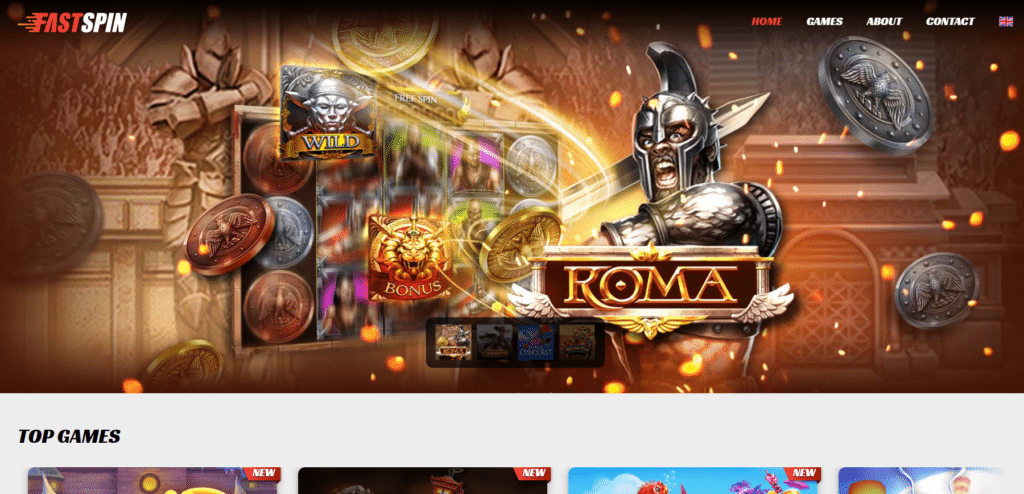 It is a game development firm with the principle of making wholly original games while also reflecting the culture and preferences of gamers from all over the globe.
This article attempts to shed light on the company and its products and services, although much about the company is unknown since they have been operating in the shadows for quite some time.
Latest Fast Spin games reviewed
Top Fast Spin casinos for NZ
NZD 1200

+ 150 free spins

7500+ games

Payout: Max 24h

Best feature: Hall of flame

2000+ games

Payout: Max 24h

Best feature: Fast withdrawals

5000+ games

Casino & sport VIP program

Sportsbetting & casino

2000+ games

Payout: 1-3 days

Best feature: Playful design

4000+ games

Payout: 2-3 days

Best feature: Loyalty VIP club

What's unique about their games?

One key thing that sets Fastspin apart is that they develop original games by incorporating global culture and themes to suit gamers' tastes worldwide. They have a game for everyone.

Top games

Their games feature innovative gameplay and a first-rate user interface to develop the ideal games that appeal to many players.

All Fastspin games are compatible in portrait layout so that every mobile device can access. It also has fascinating graphics and stunning sounds to bring endless enjoyment to the players.

Games available

Fast Spin has about 30 online slot games, and their selection is quite extensive.

They games have excellent storylines that are all very distinctive. It doesn't take many spins of the reels to realize that the company is staying true to its goal of making the ideal games for each player.

Some of their games are Safari Blitz, Goddess Of Egypt, Heavenly Fortunes, Heavenly Fortunes 2, The Mava Myth, The Nutcrackers, Royale House and Roma.

Fishing Treasure

Fast Spin also has a new category of the game known as Fishing, in which they have the awesome game: Fishing Treasure.

Captivating graphics

All Fastspin games are created with captivating graphics and jaw-dropping audio in portrait mode for play on every mobile device you may find.

Their main principle at Fastspin is constantly matching the suitable game with the right gamer.

Responsible aming

Fast Spin does not directly interact with the users that access their games on their partner websites as a software provider (B2B) (the operators).

Info

However, they constantly strive to give partners all the resources required to make any location where gamers want to play secure and fun.

The gaming firm ensures that they create games of the highest standards and complies fully with all regulations set forth by the governing authorities in all jurisdictions in where it conduct its business.

This includes ensuring that all players are of legal age, ensuring the fairness of all game outcomes, and assisting them in upholding responsible gaming practices.

They endeavor to abide by the rules of the jurisdictions they operate in since they feel that a thriving industry can only be sustained by ongoing efforts to promote Responsible Gaming.

About the company

Fast Spin is a game studio that creates unique games that also include elements of global culture and fit the tastes of players worldwide.

About

They have new game features and a great user interface, so they are perfect for many different types of players.

Their games have immersive sounds and graphics that keep players entertained for hours. What's more, you can play all their games on any mobile device.

The company seeks to elevate the status of online slot games to the next level by including new and exciting elements and gameplay that is non-repetitive rounds and rewarding, with captivating themes.

Their random number generator (RNG) has been tested and approved by BMM Testlabs, which is part of the Directorate General for Regulating Gambling.

Additionally, BMM Testlabs is the world's oldest and most experienced private gaming testing laboratory.

Devices and languages supported

The platform is compatible with the operating systems of all devices, including Apple's iOS, Google's Android, Microsoft's Windows, and Apple's Mac OS. In addition to English, it also provides support for 11 other languages.

These languages include Chinese, Thai, Indonesian, Vietnamese, and Malay.

FAQ

How do I contact Fast Spin?

You can get in touch with Fast Spin by sending an email to info@fast-spin.com. Social media contact details are listed on the site as well.

When was Fast Spin established?

It was established in 2021!