How to play Jacks or Better?
One of the most popular virtual video poker game, Jacks or Better (a.k.a. JoB) is not only never-ending fun to play but also offers a very high payout of up to 99.54%.
As the name suggests, you start winning if you have at least a pair of Jacks or a higher hand.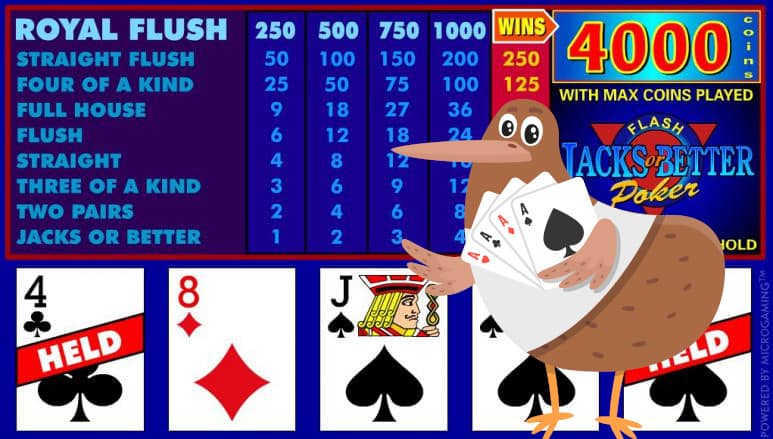 You are dealt with five cards, to begin with, and then you need to choose which cards to keep and which ones to discard to replace with others to make a winning hand.
Although similar to any other five-card-draw poker game, in Jacks or Better you can't raise or bluff, and you don't play against other live players.
To understand the gameplay better, you must know the types of winning hands, and here is an easy to remember list of winning hands in descending order:
Royal Flush: This is the highest-value hand that has a straight flush of the highest value cards A, K, Q, J and 10, and gets you the biggest payouts in video poker.
Straight Flush: This is the 2nd strongest hand with a straight (of the same suit) sequence of smaller value cards such as 5,6,7,8,9 or 2,3,4,5,6 of diamonds.
Straight: In this hand, you have five cards in sequence, but not of the same suit, such as 1,2,3,4,5. Ace can be used at either end of the sequence.
Flush: Your hand is a flush if all five dealt cards are of the same suit, such as A,K,2,5,7 of Hearts.
Full House: You get a full house hand if you get a pair along with a three of a kind, such as two tens and three Queens.
Two Pair: As the name implies, this is when you get two pairs, such as two 3s and two 5s.
Two / Three of a kind: This hand has either two or three matching cards such as two 4s or three 5s.
The key in Jacks or Better is to know what cards to hold after you are dealt the first five. Knowing the winning hands by heart will help you strategize and decide faster.
How to double up in Jacks or Better?
Many video poker machines have this option wherein you can opt for the double-up or double-or-nothing wager feature if you win a hand.
You may be asked to guess the colour of the next card, and if guessed correctly, you can straight away double your payout.
Since there is no house edge, and with a 50/50 chance of winning, the double feature is a hit with most players.
Casinos where you can play Jacks or Better
NZ$ 2000

+ 150 free spins on Book of Golden Sands

2380+ games

Massive win potential

Spectacular selection of games

NZ$ 1200

+ 150 free spins

7500+ games

Hall of flame

A lot of gaming providers

NZ$ 1000

+ 100 freespins (New – Launched Jan 2023)

2000+ games

Casino & sport

Rewards for all play

NZ$ 1000

+ 100 free spins

4000+ games

Monthly tournaments

VIP advantages

2000+ games

Customer support: 24/7

Lightning-fast deposits and withdrawals

80 free spins

NO WAGER (Exclusive)

3000+ games

Moneyback on every bet

OJO Wheel

NZ$ 1000

+ 100 free spins

3000 games

Daily cash tournaments

VIP membership

NZ$ 500

+ 20% daily cashback

4000+ games

Weekly bonuses

Every players is an VIP

2000+ games

Customer support: 24/7

Fast payout processing time

NZ$ 2000

+ 100 spins (High match bonus)

2000+ games

Exclusive Yoo Club rewards

Bonus on min Deposit

Bets and wins

Under normal gameplay conditions, and in most of the top online casinos where Jacks or Better is available, it has the lowest house edge of 0.46% (perfect 9/6 game).

This is even better than the very popular Blackjack with its 0.50% house edge.

Almost every online and land-based casino offers the 9/6 variant of the popular Jacks or Better.

However, you can also look for the following variants if the 9/6 version is not available at your regular casino. Here's how the other variants stack up regarding payouts:

9/6 Version: 99.54% (full house pays 9 times and flush pays 6 times the bet)
9/5 Version: 98.45% (9 times and 5 times the bet)
8/6 Version: 98.39% (8 times and 6 times the bet)
8/5 Version: 97.30% (8 times and 5 times the bet)
7/5 Version: 96.15% (7 times and 5 times the bet)
6/5 Version: 95.00% (6 times and 5 times the bet)

Payout table

Below is the pay table for the most popular variant, 9/6 Jacks or Better:

Royal flush 250 (250x the bet amount)
Straight flush 50 (50x the bet)
4 of a kind 25 (25x the bet)
Full house 9 (9x the bet)
Flush 6 (6x the bet)
Straight 4 (4x the bet)
3 of a kind 3 (3x the bet)
2 pairs 2 (2x the bet)
Jacks or better 1 (same amount as the bet)

Best Jacks or Better strategy

Not as straightforward as the question might sound, there are some strategies that can be used to determine which cards you should hold to increase your chances of winning.

Here are a few examples that might help.

If you get four cards leading to Straight or a Flush, you need to hold on to all four of them and draw one additional card.
If you get three cards leading to a Royal Flush, hold on to the three and draw two more cards to get lucky.
If you get three cards leaning towards a Straight Flush, hold on to the three cards and draw two additional ones.
If you have got a pair of cards, hold both of them and go on to draw three additional cards to see if you are in luck today.
No combinations and no Jacks or higher? Draw five new cards.

How to maximize your winning chances?

The 9/6 variant of Jacks or Better is known to be one of the best paying games out there.

Besides having a bit of luck, you can use the following tips to make sure your chances of winning are increased significantly.

Always go for the maximum (5 coin) bet

This definitely gives you a chance of hitting the big time with the highest possible payout being 4000x the bet.

Never be in a hurry

As all the old teachings say, never hurry in life, or you stand to lose. This is true in Jacks or Better as well.

Always have time on your hands when starting to play, and never be in a rush to decide as that impairs your decision and judgement.

Use comps & promos

With so much competition among online casinos, each one of them keeps coming up with lots of promos, offers, cash backs and comp deals.

Take advantage of these bonus offers to increase your chances of winning.

FAQ

What is the advantage of the house in jacks or better?

Anyone who knows the rules of the game well can ensure that the house edge is only 0.46% in the game Jacks or Better.

What is the best hand in Jacks or Better?

Royal Flush is the best hand in all video poker games including Jacks or Better.

What is the biggest win in Jack or Better?

At most you can win 4000x your own bet.