Game features
Game rating
9.8
RTP
96.06
Max winnings
7000x your bet
Max bet
$700
Min bet
$0.20
Paylines
25
Reels
5
Volatility
Medium-high
Street Fighter II: The World Warrior Review
Street Fighter II: The World Warrior is an online slot game that was launched in 2020 by NetEnt.
The slot games have five reels and a max RTP of 96.06%, created with the best flashy and enticing outlook for casino purposes.
The game has built such a reputation, and the developer revived the industry in a very big way. This is a 5 row game with cluster paylines. A win is recorded when more than four symbols align on the same side.
More info on the outlook and functioning of Street Fighter II: The World Warrior one of the latest real money online pokies is provided below for your comprehension.
Basic instructions
To start your game on this online slot machine, you should first know how to play and the function of all the buttons in the game.
In the section below, we have made a screenshot, numbered each button available and explained its function.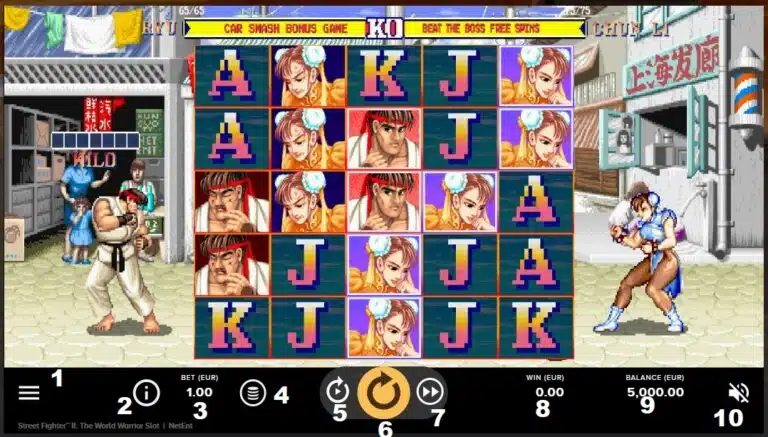 See the image and the explanation of the functions of each button here:
Menu: Here you can access the menu page where you can adjust some details like quick spins, show bet in cash, spacebar to spin, intro screen, and into a movie.
Info button: You can see here the basic info about how this game works including a bonus game, free spins and symbols.
Bet size: This displays the size of your current bet.
Set up your bet size: click on this icon to adjust your bet size.
Autoplay button: By clicking on this button you are opening autoplay options where you can set from 10 to 1000 autospins.
Spin button: Press here when you are ready to start your game.
Rewind button: Here you can speed up the game.
Win: Here you can see the win how much you won after each spin.
Balance: This displays your current balance or credit at a casino account.
Mute: By clicking on this you can turn on or turn off the sound of the game.
Symbols and characters
Street Fighter II: The World Warrior slot game has 25 symbols that should align accordingly when a spin is done.
This game includes all the original Street Fighter characters – which fighter shows up on the reels during play depends on which fighter you choose at the beginning of play.
You'll land 4 different symbols for the fighter you choose – 2 victory version symbols and 2 defeat version symbols.
These 4 premium symbols are worth up to x30 for a cluster of 16+.
Premium symbols can also land as 2×2 mega symbols, ensuring a win that spin.
The low pay symbols are J-A royals in an arcade game-esque font.

Each of the characters from which the player may choose carries its own unique volatility, RTP, and wilds features, as follows:
Ryu (RTP of 96.02%) – 3 wild symbols on the same row
Guile (RTP of 96.04%) – 2 wild symbols on 2 vertical stacks
Dhalsim (RTP of 96.04%) – 3 or 4 wild symbols which are randomly placed
E. Honda (RTP of 96.05%) – 3 wild symbols on the same reel
Ken (RTP of 96.06%) – 1 or 5 wild symbols on the same row
Blanka (RTP of 96.08%) – 1 or 5 wild symbols on the same reel
Zangief (RTP of 96.08%) – 2 wild symbols on 2 horizontal stacks
Chun-Li (RTP of 96.08%) – 2 or 7 wild symbols which are randomly placed
How to play?
Your chosen fighter has a wild meter above its head which fills by one point for each premium symbol win. When the wild meter is full, you trigger the wild modifiers for your character.
You'll also get to watch your character perform his/her special move before attacking the opponent.
The game is played with a maximum coin size of 35, whereas the minimum coin size is 0.01.
Six jackpots are well described for the player's preference.
The frequency of placing the stakes is hit depending on the type of characters you choose.
Two symbols will be marked to highlight a win or a loss.
Depending on the number of reels that align on your opponent's side, the winning players can place as many as 30 stakes.
Features

The Street Fighter II: The World Warrior game is played by choosing any of the characters and choosing your chosen opponent.
The game offers the players free spins whereby you play in four levels.
The more your level is upgraded, the higher multiplier you will have.
You get to step up to the final level in the four levels by becoming the initial boss.
This, however, happens when you eliminate all the bosses in the four different levels.
Bonus game
Winning the base game battle will take you to a "beat the boss" bonus round for free spins.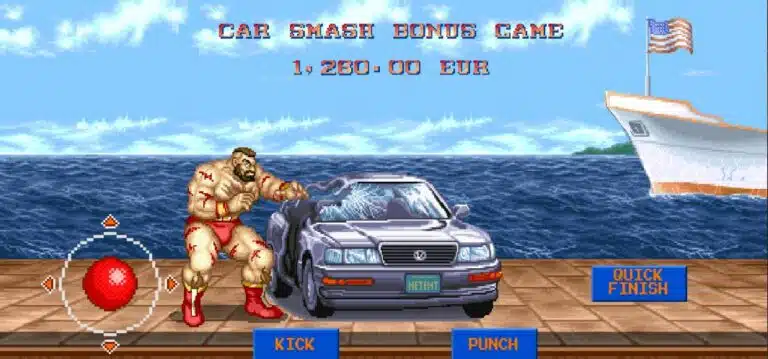 The original 4 Street Fighter bosses are included, and each comes with an increasing win multiplier:
Balrog – 2x multiplier
Vega – 3x multiplier
Sagat – 5x multiplier
M. Bison – 10x multiplier
Beating all 4 bosses earns you an extra x100 bonus win, but losing will either take you back to the base game, or you can replay the level with the game's special "insert coin" gamble component.
Losing the base game battle takes you to the car smash bonus game in which you can either manually destroy a car or pick Quick Finish to win 5 to 15 times your bet.
When the car smash game is over, you return to the base game battle after choosing your character – you can change from your original choice or change characters.
Like many of NetEnt's slots, this pokie includes an avalanche feature: winning clusters of symbols disappear from the grid and are replaced with new symbols.
This feature continues to payout as long as clusters of winning symbols appear.
Fans of the original Street Fighter will love this slot.
The graphics are straight from the original arcade version and will bring back memories of hours of fun.
NetEnt has gone above and beyond with this game, including animated characters on either side of the reels that perform special moves upon attack.
It's a very creative approach to a pokie that is sure to please not only regular slots players, but also 1990's arcade lovers.
Frequently asked questions
Can I play Street Fighter II: The World Warrior online pokies for free?

Yes, Street Fighter II: The World Warrior free play is available at all casinos that support Netent games.
What is the Street Fighter II: The World Warrior theoretical RTP percentage?

Street Fighter II: The World Warrior RTP percentage is 96.06%.
What volatility does this game have?

This is video slot have medium to high volatiltiy. Learn more how slot volatility affects your game outcome.