Game features
Game rating
8.7
RTP
96.20
Max winnings
10,000x total bet
Max bet
$100
Min bet
$0.20
Paylines
Cluster pays
Reels
5
Volatility
High
About
Published
2021
Developer
Hacksaw Gaming
Stack Em Review
If you are a fan of animated cartoon online pokies, then the Stack Em video slot game will be the right pick for you! This is a 5:6 grid online pokie launched by Hacksaw gaming in May 2021.
By playing Stack Em pokie Kiwis have a chance to win up to 10,000x total bet and with 96.29% RTP + high slot volatility can expect fair gaming and often, but small winnings.
This video slot game is something different from what we have seen, and with its cool graphics, sound and design it promises real adventure, fun and lots of chances to win real money.
Also, there are some cool features like a bonus game with free spins, multipliers and special features buy bonus rounds (free spins).
If you want to find more about this online pokie, please follow our Stack Em slot review.
Basic instructions
The Stack Em slot game is very easy and simple. Hacksaw Gaming keeps its games easy to use.
When you enter the game you'll only see the basic buttons needed to play, with no unnecessary complicated features that actually just confuse players. This game is reminiscent of a PacMan machine where you have a joystick and arrows. Very simple!
The first thing you should do when the game load is to set your bet size, also there is game info under the menu button where you can find detailed information about the game.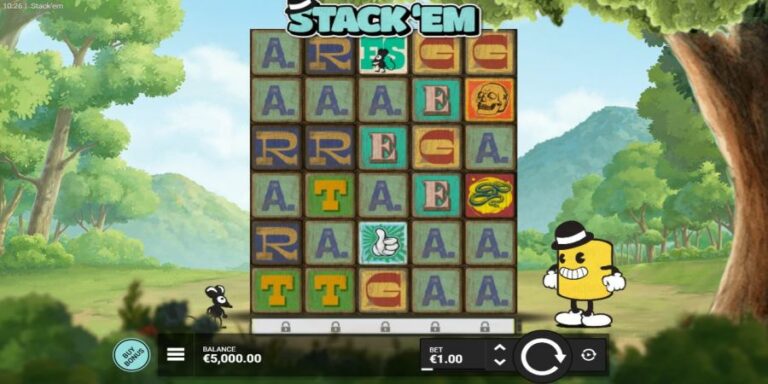 Here we have explained all the info about functions and buttons in this video slot game.
Buy Bonus: By clicking on this button you can skip the gameplay and buy free spins.
Menu button: Here you can set sound, music, and faster gamneplay options. Also you can read info about the game.
Balance screen: Here you can se your current balance amount.
Bet size: There are two arrows buttons for increasing and decreasing bet size.
Spin button: By clicking this button you will start the activate the motion of the reels.
Autoplay option: Here you can set the number of automatic spins from 10 to 1000. Also there is a advanced options you can check out.
Symbols and payout
In order to win a combination at this slot game, you need to match 5 or more connection symbols anywhere on the grid. Symbols have to be the same type.
Wild symbols substitute all other symbols.
There is a total of 14 different symbols in this game.
We can put them into two groups, low-value symbols and high value. Below we have listed all of them and indicated the max payout for each one.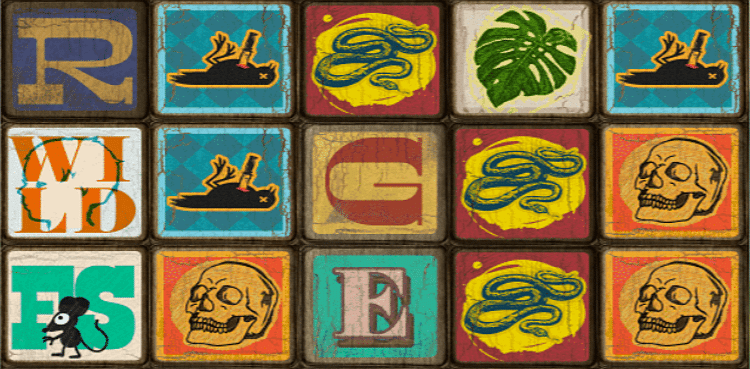 A (max payout NZD25)
G (max payout NZD25)
E (max payout NZD25)
R (max payout NZD25)
T (max payout NZD25)
Green Leaf (max payout NZD100)
Dead Bird (max payout NZD100)
Skull (max payout NZD100)
Snake (max payout NZD100)
Tumb Up (max payout NZD200)
Wild Symbol (wild)
Scatter symbols (mouse)
? symbols
X symbol
Features
Stack Em slot features are multipliers and bonus game with free spins.
By stacking symbols on top of each other you will increase the total multiplier with the cluster size.
After landing three or more scatter symbols on your grid the free spins mode will be activated.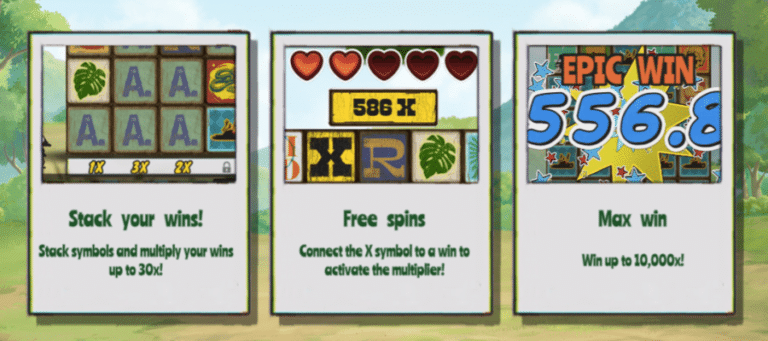 Multipliers
After each winning combination, all non-winning symbols are removed from the grid. All winning symbols remain on the grid and are dropping to the bottom.
Then a value is shown under each winning reel, indicating the amount of winning symbols in the combination. The winning cluster will be multiplied by the total number of symbols.
We can take an example if your winning clusters are 2x, 3x, 3x, these multipliers will be summed up to a total of 8x.
Then it will be multiplied with the winning combination amount. Ass long you stacking more wins this process continues.
Free spins mode
By getting at least three free spins mouse symbols (scatter) you will activate the bonus game with free spins.
At the start, you are awarded 5 free spins, and they are displayed as hearts on the top of the screen.
The total multiplier will be increased by the number of winning symbols every time player hit the winning combination.
Special symbol (X): Combination of all winning clusters that are conected with this smvol are multiplied with the factors displayed above the reels.
Special symbol (?): By stacking this symbol you will get more free spins or your muliutpliers will be increased.
Bonus buy feature
By pressing the bonus buy button directly from the main game screen you have the option to buy bonus feature with free spins.
This is a new feature that appeared at the beginning of 2021, which is a great thing for impatient players.
Theoretical RTP percentage remains the same (96.20%) during this feature.
The price of purchased free spins depends on the size of the bet you have placed.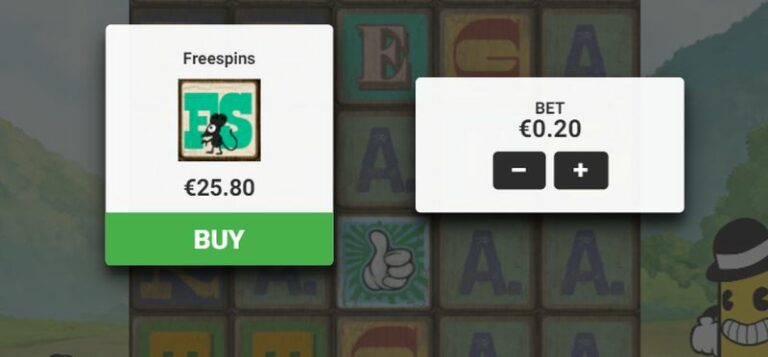 Take for example that activating 5 free spins costs NZD 25.80 if you play with a minimum NZD 0.20 bet size.
While for example if you play with a maximum bet of NZD 100 the price of activating free spins mode is NZD 12,900.
Theme and design
Stack Em slot is the sequel to the older version of this game called Stick'Em. Here we have a simple design, cartoonish characters in the minimal and intricate design that is really easy for an eye.
As a background we have a beautiful landscape, there is a smiling Canny and the Mona the Mouse that reminds of the early animated Micky Mouse character.
Background music is the piano-led wing band, that will keep you excited during the play. In the sound menu, players can mute the music and keep the sounds of the machine.
This is one more version of the HTML5 technology online pokies, and players can play it on desktop and mobile devices. At online casinos, this game is available in free and real money mode.
Frequently asked questions
What is the RTP percentage of the Stack Em online pokie?

The theoretical RTP of this online pokie game is 96.20%.
Is there any bonus game with free spins feature?

Yes, there is! By collecting at least three free spins symbols the bonus games with 5 free spins are activated. In the free spins mode by stacking symbol (?) players can get additional free spins or multipliers.
What is the max win at this online pokie?

Players can win a maximum of 10.000x total stake.