Game features
Game rating
9
RTP
96.09
Max winnings
5000x
Max bet
200
Min bet
010
Paylines
Cluster pays
Reels
5x5
Volatility
High
About
Published
1 september 2022
Developer
Bee Hive Bonanza Review
NetEnt's Bee Hive Bonanza is a risky apiary pokie with a 5×5 scatter pays grid to be released on the 1st of September 2022.
You can win up to 5,000 times your bet, and the RTP goes up to 96.09%.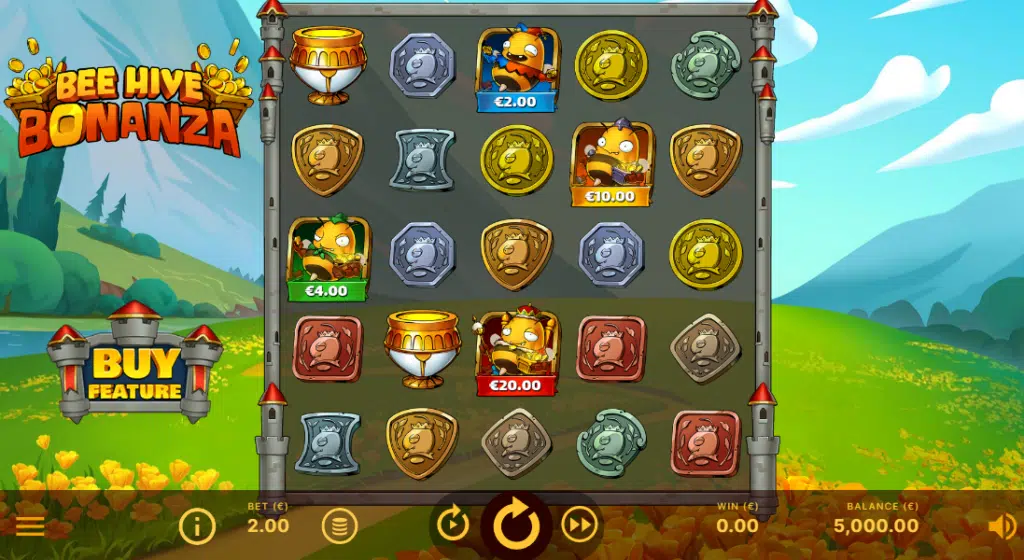 Read our full Bee Hive Bonanza review below to learn about the features and payout of this pokie.
Developed by:
info@netent.com

Spinola Park, Level one Mikiel Ang. Borg Street, SPK1000, St. Julians, MT

Basic instructions

The 5×5 scatter pay grid is in the middle of a beautiful green valley, and the whole point of the base game is to collect bee prizes using 3 different beehive collector symbols.

Some of them come with extras that increase your payout, and if you use all three of them together, you can win up to 5,000 times your bet.

This is even more likely to happen in the bonus round, where you can also collect scatters to increase the overall win multiplier.

Theme and design

The story takes place near a medieval beehive, which is like a castle for bees.

The bees that live there are shown as symbols on the reels.

The first symbols are different coins, followed by pictures of bees acting as jesters, treasurers, soldiers, or the Regent Bee.

Symbols and payout

The pay symbols are 7 different coloured and shaped tokens, which can be hard to figure out at first.

There are four low-paying symbols that pay 0.2 to 0.3 times the bet for six of a kind and 5 to 6 times the bet for 22 to 24 of a kind.

Scatter

High win symbols

Low win symbols

The three high-paying symbols pay 0.4 times the bet for six of a kind and 7-8 times the bet for 22 to 24 of a kind.

As is often the case with scatter pay pokies, there is no wild symbol in Bee Hive Bonanza.

Features

In terms of features, Bee Hive Bonanza has avalanches, Money Bee, as well as free spins.

Avalanches

When the Avalanche feature hits, all pay symbols in a scatter win are taken away.

This includes bee symbols in the Money Bee extra and scatters symbols collected by the metre during free spins.

Symbols drop down to fill the empty spaces, which can lead to new wins, bee symbols, or scatters!

Money Bee

Bee symbols that are worth 1, 2, 5, or 10 times the bet can randomly show up on the grid during base game spins or free spins.

Each beehive, adder beehive, or multiplier beehive that can be seen at the same time adds up its value.

Bee symbols

After their values have been added up, bee symbols disappear.

The following is how collector symbols act:

Beehive: Adds up the value of all bee symbols in sight.
Multiplier Beehive: Each bee symbol's value is multiplied by 2 before it is added to the beehive of the adder beehives on the grid.
Adder Beehive: The bet value is added to the value of all bee symbols in view before they are collected by the beehive, multiplier beehive, or adder beehives on the grid.

Free spins

If you get 3, 4, or the 5 scatter symbols in the main game, you get 10, 15, or even 20 free spins depending on how many scatter symbols you got.

During the free spins bonus round, the moneybee is always on. Also, every time a scatter symbol shows up, it is added to the metre next to the reels.

When you get 3, 6, 9, or 12 scatters, the multiplier goes up by 2, 3, 4, or 5. Also, getting to a new multiplier level gives you +2 free spins.

Buy feature

Free spins can be bought if they are available. To get 10, 15, or 20 free spins, you have to pay 100 times your bet.

Conclusion

Pragmatic Play's Bonanza-style scatter-pay pokies are usually the best, but the BeeHive Bonanza does seem to stand out.

Several things help it do this. One thing is that avalanche runs can be very long. When you get a good roll, it's not the scatter wins that are the most important.

Instead, it is possible to hit solid sequences of repeating Bee symbols for cash.

The multiplier values may not seem high, but they can work well together to make decent wins.

NetEnt has worked hard to make this scatter-paying pokie with multipliers, and free spins that work well together.

It might not happen every time, but when BeeHive Bonanza works out just right, wins and cash come in one after the other like honey on toast.

FAQ

Can I play Bee Hive Bonanza slot machine for free?

Yes, you can play Bee Hive Bonanza for free without having to sign up. Any gambling site that works with NetEnt would also let people try out the games for free.

Can I really win money playing Bee Hive Bonanza?

Yes, the only way to play Bee Hive Bonanza for real money and win real money is to sign up for an account on a gambling site.

Where can I play Bee Hive Bonanza best?

When real money is involved, a legitimate operator with a good name and good services must be chosen.

The best choice would depend on what each person needs.

You will find our Netent casino favorites here!